Two Time Tony-Nominee Robin De Jesus To Do Sit-down Interview with New Streaming Series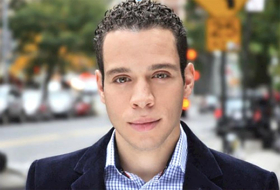 Dimitri Joseph Moïse (Book of Mormon, Beautiful: The Carole King Musical, The Last OG) and David Artavia (editor at The Advocate, Plus, Chill, Out Traveler) announce the launch of Insight, a new channel exclusively streaming on Instagram's new video platform IGTV this fall.
Some of Broadway and film's biggest talents will gather for one night only to help kick off the announcement.
With musical direction by Matt Podd (Mimi & The Podd Brothers), the evening will feature an exclusive sit-down interview with Robin de Jesús from Broadway's The Boys in the Band, a mini-screening of unapologetic me: BLACK | GAY | MAN (a "screendance" by dancer and choreographer Justin Dominic) and special performances by A Bronx Tale's Brandi Porter; award-winning singer Meghan Miles; multi-Gospel Image Award Winner Bashir Hogué (collaborations: Kim Burrell, James Fortune, and more); as well as other surprise guests.
Insight, exclusively for IGTV (Instagram's new video app) is a channel dedicated to bringing awareness of the human experience by sharing real stories that unite us all - from America's working class to well-known celebrities. The mission of Insight is to be social media for good by documenting unbiased, true-to-life stories that encourage compassion.
Follow Insight on Instagram: @@insight_people
Proceeds of the event go to production costs of Insight as well as TORCH, a non-profit that unites marginalized communities through arts entrepreneurship. Join us for an evening that is not to be missed!
Buy tickets HERE