The Lark Names Erika Dickerson-Despenza And David Zheng As 2018 Van Lier New Voices Fellows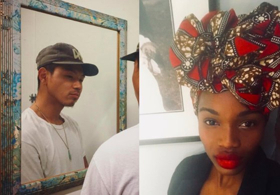 The Lark has announced that playwrights Erika Dickerson-Despenza and David Zheng have been selected as the recipients of the 2018 Van Lier New Voices Fellowship. This year long residency is designed to support extraordinary playwrights of color under the age of 30, in order to help address the lack of inclusion of early career playwrights of color in the theater field. The Fellowship includes a cash award of $15,000, plus up to $3,000 in health insurance reimbursement, as well as access to a wide range of Lark resources, including artistic program participation, office and rehearsal space, and staff support. The 2018 cycle marks this Fellowship's fifth year at The Lark. Past fellows include Brittany K. Allen (Redwood), C.A. Johnson (Thirst), Donja R. Love (soft), and Christina Quintana (Gumbo). The Van Lier New Voices Fellowship is a critical component in The Lark's acclaimed portfolio of fellowships, designed to engage a diverse community of visionary playwrights whose work collectively reflects the vibrancy and complexity of our world.
"We are so grateful to the New York community trust for the opportunity to spend the next year with these two important young voices," said
Lloyd Suh
, Director of Artistic Programs at The Lark. "Erika writes with a vibrant imagination and truly explosive poetry on urgent cultural and political issues in dazzlingly artful ways, blending a spirit of social justice with daring theatrical experimentation. David has a bold, fearless, and deeply honest voice, and he's using it to tell hauntingly personal and affecting stories from a part of Asian America that I've frankly never seen represented. The Lark is privileged to be a part of a pivotal year in their work, and I'm so excited to see what they do next." During their residencies at The Lark, Dickerson-Despenza and Zheng will be part of a community of artists at various career levels from across the country and around the world. The voices of the 2018 Fellows will be invaluable additions to The Lark's community. Dickerson-Despenza is a Blk feminist Pushcart Prize nominated poet-turned-playwright, educator, and grassroots organizer from Chicago, Illinois. Using a jook-joint literary aesthetic, her work examines the intersections of race, gender, sex(uality), imperialism, and spirituality, and seeks to offer a kaleidoscope of Blk womanhood. She is the author of the chapbook This Side of Mourning (New School Poetics, 2010). Selected stage plays include: Cult of Blk Bodies (Overture Center, directed by Christopher Walker) blk, somewhere else (Victory Gardens, directed by Simeilia Hodge-Dallaway) and cullud wattah. "What excites me most about The Lark's Van Lier New Voices Fellowship is making critical connections with folks who are just as invested as I am in reflecting on this world and creating, via writing, the next one," said Dickerson-Despenza on receiving the Fellowship. "The Lark has long vision; it looks beyond production and into the heart of the work. If I'm going to write plays about things that keep me up at night, ones that make me sweat and are full of things I want the next generations to re/member, then I want those plays to take shape with people who have long vision and will encourage me to do what has never been done before. That's the Lark." Zheng is a first-generation Chinese American Actor, Playwright, and Photographer from The Boogie Down Bronx. His plays include KINGSBRIDGE and Ghetto Baptism, which has received workshops and public sharing at The
LAByrinth Theater Company
, Cherry Lane Theater Company, and Rattlestick Playwrights Theater. Recent acting credit includes Exposure (Eugene O' Neill National Playwrights Conference). He is the recipient of the 2017 Playwriting Observer Fellowship at the
LAByrinth Theater Company
and the 2017 inaugural Greenhouse Residency at SPACE on Ryder Farm. He is a current member of Ma-Yi Writers Lab and the Gingold Theatrical Group's Speakers' Corner. David is a founding member of the Middle Voice at Rattlestick. "They say words can't come close in describing monumental moments like these - but I can talk all day about how deeply grateful I am to be selected," said Zheng. "I can't wait to start developing new work with the artistic guidance of such an amazing community of theater-makers. I look forward to challenging myself and creating conversations. And most of all, I am thrilled to have a space to grow - and to use this as an opportunity to build the bridge between where I come from and where I want to go." Though this is the Fellowship's fifth year at The Lark, The Edgar and Sally Van Lier Fund at The New York Community Trust has been underwriting similar fellowships since 1991 at other New York City organizations including
New Dramatists
,
Second Stage
Theatre, and Asian American Arts Alliance. Ms. Van Lier, the visionary behind the fund, was born into a Hungarian immigrant family at the turn of the century and struggled to launch a career in show business. She got her break in 1923 when she won a beauty contest and was subsequently cast in Florence Ziegfeld's Follies and in his production of Showboat. In later life, the Van Liers took great delight in introducing young people to the plays and music that they loved, and providing assistance to those who aspired to careers in the theater but couldn't afford training.
Read more about the fund's history
.
The Lark is an international theater laboratory, based in New York City, dedicated to amplifying the voices of playwrights by providing transformative support within a global community. Founded in 1994, The Lark provides writers with funding, space, collaborators, audiences, professional connections, and the freedom to design their own processes of exploration. The guiding principal of The Lark's work is the belief that playwrights are society's truth tellers, and their work strengthens our collective capacity to understand our world and imagine its future.
Last year, The Lark served 813 artists, including 95 playwrights, partnered with more than a dozen theaters and universities, and welcomed 2,016 audience members to 31 public presentations. In the past three years 139 Lark developed plays moved on to 274 productions, reaching over 621,130 audience members around the world. In order to provide economic flexibility to writers at different stages of their careers, The Lark has created a portfolio of major playwriting fellowships. The Lark continues to offer a free and open submission process that allows any and all writers to submit to our Playwrights' Week program and maintains free admission to the public for all readings and workshops. Recent plays substantially developed at The Lark include Cost of Living by
Martyna Majok
, Building the Wall by
Robert Schenkkan
, Today Is My Birthday by Susan Soon He Stanton, and Sweat by
Lynn Nottage
. For more information about the artists, initiatives, and plays of The Lark, please visit
www.larktheatre.org
.