Telly Leung, Kenny Ingram & More Set For Developmental Reading Of THE CORNER OF BITTER AND SWEET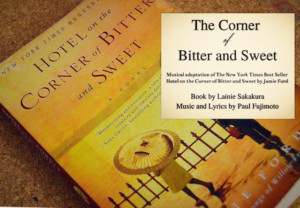 Sakakura is presenting an invitation-only developmental reading of Lainie Sakakura (producer/book) and Paul Fujimoto's (music/lyrics) The Corner of Bitter and Sweet, a musical adaptation of The New York Times Best Selling novel, Hotel on the Corner of Bitter and Sweet by Jamie Ford, at 7:30 p.m. on Monday, September 17 at The Playroom Theater, 151 W. 46th Street in New York.
The cast features Alan Ariano, Jane Bernhard, Rick Faugno, Kenny Ingram, Telly Leung, Fenton Li, Jeffrey Li, Carol To Moy, Mary Beth Purdy, Alex Sanchez, Avelina Sanchez, Yuka Takara, Allyson Tucker and Joshua Turchin.
The creative team includes director Darren Lee, Music Supervisor Mark Hummel, Music Director Shane Parus, Cantonese Consultant Fenton Li, Production Stage Manager Debora Porazzi and General Manager Joey Monda of Dailey-Monda Management.
1942 wartime Seattle. 12 year old Henry Lee, a Chinese American boy, has a secret love of jazz music and his best friend is a black jazz saxophone player. Henry's life is turned upside down when he meets Keiko, a Japanese American girl and the only other Asian kid in school. A multi-generational story about fathers and sons, coming of age, Seattle jazz, racism, blind patriotism. and unbreakable bonds.