Telegraph Quartet + Philip Glass Ensemble Join San Francisco Conservatory Of Music Students and Alumni At Carnegie Hall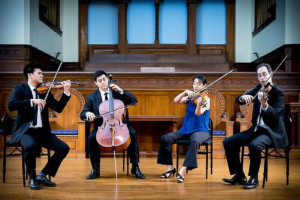 The San Francisco Conservatory of Music (SFCM) will be represented by faculty and student musicians in two uniquely compelling concerts at Carnegie Hall this February. Founded in November 1917, SFCM marks its centennial this season as the oldest and most prestigious stand-alone conservatory in the American West.
On Tuesday, February 6 at Carnegie Hall's Weill Recital Hall, the Walter W. Naumburg Foundation will present the Telegraph Quartet, winners of the Naumburg's 2016 Chamber Music Competition, one of the most esteemed prizes in chamber music. The Telegraph ­- Joseph Maile, violin; Eric Chin, violin; Pei-Ling Lin, viola; Jeremiah Shaw, cello - is Quartet-in-Residence at SFCM; three of its members met while they were students there.
At Weill Hall, they will perform the world premiere of composer Robert Sirota's third string quartet, Wave Upon Wave, which was commissioned by The Walter W. Naumburg Foundation for the competition winners. The concert will also include Kirchner's String Quartet No. 1, which the Telegraph Quartet recorded for its upcoming debut album, and String Quartet No. 1 in D Minor, Op. 7 by Arnold Schoenberg, Kirchner's teacher.
Sirota's Wave Upon Wave is the third string quartet in a trilogy spanning fifteen years, which the composer began in 2002 with Triptych, an extended meditation on 9/11. Sirota's second string quartet, American Pilgrimage, celebrates the rich diversity of the American landscape and the American spirit, and was completed in spring 2016.
Said the composer, "Each of the string quartets in my trilogy is in essence a long journal entry reflecting a response to our times. Now, given the uncertainty of this moment in our history, rife with threats of tyranny, environmental catastrophe, and the human potential for evil, I find myself turning inward to examine the topography of the human heart: our vast potential for creative energy, idealism and altruism. Wave Upon Wave is about our fears, our hopes, and our prayers that we will triumph over the forces of darkness which threaten to overwhelm us."
On Friday, February 16 at Carnegie Hall's Stern Auditorium, seven brass and woodwinds players who are students at SFCM have been invited to supplement the Philip Glass Ensemble in a performance of a revised version of Glass's 1970 masterpiece, Music with Changing Parts, the groundbreaking work which was a defining point for the genre known as Minimalism. Conductor Michael Riesman leads the ensemble, which is joined for this performance by the San Francisco Girls Chorus, conducted by Valérie Sainte-Agathe.
Music with Changing Parts was originally scored for six players, whereas the new version, revised by Philip Glass, Michael Riesman, and Lisa Bielawa, has a core of 12-14 instrumentalists. Brass, an additional keyboard, and a girls' chorus have been added to the core ensemble.
This extraordinary opportunity for SFCM students to perform with Philip Glass, who is known for his support of young artists, came about at the suggestion of Christine Lim of San Francisco Performances. Lim had been impressed by SFCM musicians who were guests in a San Francisco Symphony performance of Steve Reich's music. Following the New York concert, the same program will be performed A. Davies Symphony Hall in San Francisco on Tuesday, February 20, presented by San Francisco Performances.
Tickets for both concerts are available at the Carnegie Hall Box Office, 154 West 57th Street [57th Street and Seventh Avenue] or may be charged to major credit cards by calling CarnegieCharge at 212-247-7800 or by visiting Carnegie Hall's website, carnegiehall.org.
Founded in 1917, the San Francisco Conservatory of Music has earned an international reputation for producing musicians of the highest caliber. Its faculty includes nearly 30 members of the San Francisco Symphony as well as Grammy and Latin Grammy Award-winning artists in the fields of orchestral and chamber performance and classical guitar. The Conservatory offers its 400-plus collegiate students fully accredited bachelor's and master's degree programs in composition and instrumental and vocal performance. SFCM was the first institution of its kind to offer world-class graduate degree programs in chamber music and classical guitar. Its Pre-College Division provides exceptionally high standards of musical excellence and personal attention to more than 200 younger students. SFCM faculty and students give nearly 500 public performances each year, most of which are offered to the public at no charge. Its community outreach programs serve over 1,600 school children and over 6,000 members of the wider community. Notable alumni include violinists Yehudi Menuhin and Isaac Stern, conductor and pianist Jeffrey Kahane, soprano Elza van den Heever, Blue Bottle Coffee founder James Freeman and Ronald Losby, President, Steinway & Sons - Americas, among others. The Conservatory's Civic Center facility is an architectural and acoustical masterwork, and the Caroline H. Hume Concert Hall was lauded by The New York Times as the "most enticing classical-music setting" in the San Francisco Bay Area. For more information, visit www.sfcm.edu.
The Telegraph Quartet was formed in 2013 with an equal passion for standard chamber music repertoire and contemporary and non-standard repertoire. Described by the San Francisco Chronicle in 2017 as, "an incredibly valuable addition to the cultural landscape," and "powerfully adept... with a combination of brilliance and subtlety," the Telegraph Quartet was most recently awarded the prestigious 2016 Walter W. Naumburg Chamber Music Award. Past prizes include the Grand Prize at the 2014 Fischoff Chamber Music Competition. The Quartet has since gone on to perform in concert halls, music festivals, and academic institutions from Los Angeles and New York to Italy and Taiwan, including Carnegie Hall, San Francisco's Herbst Recital Hall and the San Francisco Conservatory of Music Chamber Masters Series and at festivals including the Chautauqua Institute, Kneisel Hall Chamber Music Festival, and the Emilia Romagna Festival. In 2016, the Quartet was invited as one of a handful of emerging professional string quartets from around the world to perform in Paris, France at the Biennale de quatuors à cordes, a showcase for major concert presenters of Europe and Asia taking place at the Philharmonie de Paris. The Telegraph Quartet gave its first Carnegie Hall appearance in Weill Recital Hall in 2015 along with violinist Ian Swensen and pianist Jeff LaDeur. A fervent champion of contemporary and 20th century repertoire, the Telegraph Quartet has co-commissioned John Harbison's String Quartet No. 6, which received its West Coast premiere in the fall of 2017 at San Francisco State University's Morrison Artist Series. In 2018, the Quartet plans to release its debut album featuring works by Anton Webern, Benjamin Britten, and Leon Kirchner. For more information, visit www.telegraphquartet.com.

Related Articles
More Hot Stories For You
When Will Broadway Re-Open? "January," Hopes Broadway League President
'I actually am a little more optimistic than those who say Broadway will reopen in the spring, but I tend to be an optimistic person, I tend to think ... (read more)

Breaking: Playwright, Author & Activist Larry Kramer Dies at 84
According to the New York Times, Larry Kramer passed away this morning in Manhattan from pneumonia. He was 84 years old.... (read more)

New Survey Shows Just 19% of UK Theatre Patrons Will Be Willing to Return When Venues Reopen
A new survey conducted shows that only 19% of audience members of U.K. arts venues and theaters will be willing to return to events, even after venues... (read more)

OLD VIC to Stream Productions From an Empty Theatre; Will Kick Off With LUNGS Starring Claire Foy & Matt Smith
The Old Vic announces a new artistic initiative OLD VIC: IN CAMERA, combining a run of socially distanced performances of Duncan MacMillan's LUNGS wit... (read more)

Voting Now Open For Broadway's NEXT ON STAGE Top 10
Voting is now open for BroadwayWorld's NEXT ON STAGE Top 10! The nominees have submitted all new songs for you to listen to before casting your vote! ... (read more)

Times Square Billboards Will Go Dark on Wednesday in Support of Restaurants, Hospitality Businesses, and Non-Profits
The iconic digital billboards will go dark to alert the nation to the very real prospect that hundreds of thousands of American restaurants, non-profi... (read more)