THE WAR PARTY To Have New York Premiere At FringeNYC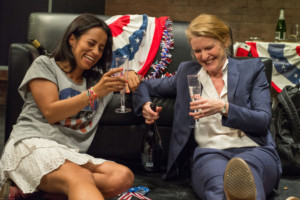 The new political satire, THE WAR PARTY will have its New York City premiere at The New York International Fringe Festival in October. Written by Vincent Delaney and directed by Broadway veteran Don Stephenson (Lincoln Center, Kennedy Center, Goodspeed, Paper Mill Playhouse), the limited run will play October 14 - 23 in Manhattan.
Originally inspired by Republican Linda Smith's hard-fought 1998 Senatorial race, which she lost to Democratic opponent Patty Murray, the play has enjoyed previous productions at the Seattle Public Theatre in Washington and Interact Theatre in Philadelphia. Further updated by playwright Vincent Delaney after a developmental reading with Up Theatre Company in January 2018, this timely and provocative satire is even more relevant today given our current political climate and culture!
It's 3 am on election night. Campaign headquarters is outfitted for a huge celebration, but the room is dead quiet. Laura Smith, the Republican incumbent and supposed favorite, lost her Senate race in a landslide. Suddenly without friends, and drunk as a skunk, Laura is thinking of cashing it all in...that is, until one of her loyal and spunky interns, Jesse, rescues her from the brink of disaster and wrestles her, quite literally, back to political life. With the uninvited ghost of FDR, THE WAR PARTY is a modern political parable about our broken two-party system.
The cast features Jennifer Piech as Laura Smith (Titanic, The Ride Down Mount Morgan, original Broadway casts), Odelia Avadi as Jesse (Diary of Anne Frank, Azalea Path/MITF), and William Youmans as FDR (Carousel-2018, Wicked, Bright Star, original Broadway casts).
The creative and production team includes Scenic Design by Rob Bissinger (Sochi 2014 Olympic Opening Ceremony), Costume Design by Elizabeth Hope Clancy (A Christmas Story, The Goat), Lighting Design by Shelby Loera (Your Alice at BAM, Lysistrata Jones), Sound Design by Shannon Slaton (The Illusionists, The Humans, Present Laughter), Production Artwork by Michele Parrella, Stage Management by Rachel Kaufman and Assistant Direction by Amanda Kate Joshi. Executive Producers: Jennifer Piech Pasbjerg and Odelia Avadi. Producers Jared Wietbrock and Jay Douglas.
In keeping with the festival spirit, this year, all audience members will meet at The FringeHUB, 685 Washington Street (Between Charles & Perry) and will be walked to the theatre by a Fringe Ambassador. All theatres are within 3 blocks of the FringeHUB. Tickets are $22 and go on sale September 1 at https://bit.ly/2wqWWDj. Running time: 1:35.
Performance dates:
Sunday, October 14 @ 4:30 pm
Monday, October 15 @ 7:30 pm
Wednesday, October 17 @ 9:30 pm
Sunday, October 21 @ 9:45 pm
Tuesday, October 23 @ 7:30 pm
For more info visit www.TheWarPartyPlay.com or www.fringenyc.org.
Vincent Delaney's plays have been produced, commissioned and developed all over the USA. His play Layoffs was a nominee for the ATCA Steinberg Award. The Sequence, commissioned by the Guthrie, has been produced around the country and in the UK, Canada and Japan. Ampersand won the Reva Shiner Comedy Award from the Bloomington Playwrights Project. Las Cruces won the New Play Festival from Premiere Stages. Other awards include McKnight and Bush Fellowships, Core Membership at the Playwrights Center, the Heideman, and a Jerome Commission.
Don Stephenson has directed numerous productions in New York City and Nationally. Highlights include Titanic at Lincoln Center, Broadway Classics at Carnegie Hall, Of Mice and Manhattan for the Millennium Stage at the Kennedy Center, The Other Place at The Alley Theatre, A Comedy of Tenors (BroadwayWorld nominated Best Director of a Play), The Producers, Vanya, Sonia, Masha, and Spike and Lend Me a Tenor at Paper Mill Playhouse, The Roar of the Greasepaint-The Smell of the Crowd (BroadwayWorld nominated Best Director of a Musical), Will Rogers Follies and Guys and Dolls at Goodspeed Opera House. As an actor, Don played the D'ysquith family in the Tony Award-winning A Gentleman's Guide to Love and Murder and starred as Leo Bloom in the Tony Award-winning Broadway production of The Producers. His other Broadway credits include Rock of Ages, Private Lives, Dracula, Titanic, Parade, By Jeeves, and Wonderful Town. He appeared in the Encores productions of Me and My Girl, The Bandwagon, and Pardon My English.