THE GUN SHOW, BABY BOOM and More Continue Inaugural Women in Theatre Festival
The inaugural Women in Theatre Festival (WiT) has announced its remaining performances. Scroll down for details!
All shows are in the Studio Theatre at Theatre Row (410 West 42nd Street). All shows in WiT Festival are on a double-bill. The two headline productions are the New York premiere of THE GUN SHOW, by E.M. Lewis and BABY BOOM by Lia Romeo.
---
Headlining Shows:
The Gun Show a NY Premiere by E.M. Lewis
Directed by Shelley Butler, featuring Andrew W. Smith.
From a farming community in rural Oregon to the big cities of Los Angeles and New York, playwright E. M. Lewis takes aim at her own relationship with firearms in "The Gun Show." An actor shares Ms. Lewis's unique perspective and true stories about America's most dangerous pastime as if they were his own, with brutal honesty and poignant humor. Leaning neither right nor left, "The Gun Show" jumps into the middle of the gun control debate, and asks "Can we have a conversation about this?"
*Nominated for a Jeff Award for Best Solo Show
Friday, July 22nd at 8pm (w/new work by PTP/NYC)
Saturday, July 23rd at 2pm (w/"STEUBENVILLE")
Saturday, July 23rd at 8pm (w/"Baby Boom")
Sunday, July 24th at 3pm (w/"Naked")
Baby Boom a NY Premiere by Lia Romeo
Directed by Michole Biancosino, featuring Elizabeth Audley, Kate Russell, and Joachim Boyle.
Mr. and Mrs. Smith are the perfect couple... except for the baby they desperately want but are unable to have. When a machine gun dressed as a baby shows up on their doorstep, they decide to raise it as their own. A play about perfect towns, shiny people, and the tricky language of blame.
Wednesday, July 20th at 8pm (w/"Fall Risk")
Thursday, July 21st at 8pm (w/new play reading "Sumatanga")
Saturday, July 23rd at 4pm (w/ "The Subtle Powers of Transmutations")
Saturday, July 23rd at 8pm (w/"The Gun Show")
One-Performance-Only Shows:
TONIGHT: Tuesday July 19th at 7pm
Baby Mama: One Woman's Quest to Give Her Child to Gay People: tracks one birth mother's true adoption journey, from conception to placement with the gay couple of her dreams-while still living her life, dating, and attending the occasional orgy. From adoption agencies to vaginal discharge, from burlesque to good­byes, this intimate night of storytelling is up close and personal. Bring hankies.
Wednesday, July 20th at 2pm
In The Gray (Adventures of an Ethio-American actor riding elevators to truth)
by Antu Yacob (playwright of "Mourning Son"). Directed by Celestine Rae.
Ever wonder what an unstereotypical Ethio-American acter is? Do you ponder on what the experiences of a quirky yet earthy Americanized African woman in the entertainment business, in relationships, in cross cultural confusion, in life, must be like? Even if you haven't, come watch as Antu Yacob tells you more about her life than you ever want to know in the premiere of her one woman show In The Gray: Adventures of an Ethio-American acter riding elevators to truth.
July 20th at 8pm
FALL RISK World Premiere solo show by Dana Jacks (David Cromer's Our Town).
This is a story about a person who woke up one morning to start her day and then found herself in ICU at King's County Hospital recovering from a traumatic brain injury. Against the backdrop of her experience acting in Our Town, a play that is all about memory, Dana Jacks opens our eyes to the risks we take every day of living our lives and never knowing where any given day will take us.
Saturday, July 23rd at 2pm
Steubenville By Eleanor Bishop. Performed by Molly Griggs.
The first rape in America to be live tweeted took place at a high school football party in Steubenville, Ohio in August 2012. Steubenville is a participatory theatrical event where one performer leads the audience through the material of the Steubenville case, allowing us to reflect on rape culture in our communities and our part in it. www.wearesteubenville.com
Saturday, July 23rd at 4pm
The Subtle Powers of Transmutation World Premiere solo show by Aaron Ballard.
Directed by Ben Charles.
In this multi-media experience, Aaron Ballard reveals stories from her sheltered upbringing in small town South Carolina while simultaneously exploring the life of trail blazer Victoria Woodhull, the first woman to run for president of the United States.
Sunday, July 24th at 3pm
Naked Short Solo work by Vanessa Shealy Younger (Younger Child Productions)
A woman shows up for an artist, this is her first time to pose as a nude model, but she is too scared and self conscious to take off her robe.
New Play Readings:
Tuesday, July 12 at 7pm
Dinner with Frenemies by Cecilia Copeland (Artistic Director, NY Madness)
Featuring Caitlin Cooke, John Concado, Imran Sheikh, and Marissa Wolf.
A new play that will make you howl at and with everything from Ms. Pacman to vegan appetizers to bidets. It's a new brand of #feministcomedy in the spirit of telling it like it is... for laughs.
The reading will be followed by a Panel of Women Playwrights including Crystal Skillman, E.M. Lewis, Cecilia Copeland, and more. Hosted by Lia Romeo.
Wednesday, July 13th at 8pm
3 new plays from Elephant Run District
Artistic Director Aimee Todoroff brings us staged readings of three new plays by playwrights Kelly Zekas, Bernie Fowler, and Ciara Ni Chuirc.
Saturday, July 16th at 4pm
Back from the Dead by Addie Walsh (Emmy Award-winning Soap Opera writer)
From the United Solo Festival award-winning playwright, comes a new play about a woman, slammed by a mid-life crisis, struggling to cope by employing soap-operatic survival skills, elevator flashbacks and a connection with a younger woman whose obsession with televised romance fuels a miraculous transformation.
Wednesday, July 20th at 2pm
MOCK by Jess Honovich. Directed by Jenny Leon.
This new play centers on a champion High School Mock Trial team as they grapple with an assignment that reveals the groups' true divide.
Thursday, July 21st at 8pm
Sumatanga by Sarah Dunivant (former director, Spaghetti Sundays)
The quirky staff of Camp Sumatanga struggle to get along after their leader abruptly resigns. Set in rural Georgia, Sumatanga is the story of loyalty, love, and friendship.
Friday, July 22nd at 8pm
New works from PTP/NYC
Artistic Director, Cheryl Faraone, brings an exploratory performance of new works for the political theatre to the stage.
---
Tickets are $25. They are available on Telecharge: www.telecharge.com/Off-Broadway/Women-in-Theatre-Festival/Overview. To order tickets by phone: Telecharge 212-239-6200 or 800-447-7400.
Pictured: THE GUN SHOW. Photo by Jeanette Sears.
Related Stories
More Hot Stories For You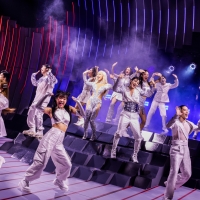 The New York Times Issues Response To Criticism Of KPOP Review

December 6, 2022

The New York Times has released a statement in response to the criticism of Jesse Green's review of the new Broadway musical, KPOP.
---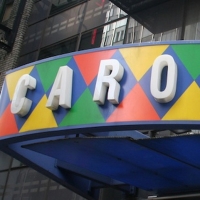 Carolines On Broadway Comedy Club To Close Times Square Location

December 6, 2022

Iconic New York City comedy venue, Carolines On Broadway, will close its doors come 2023.
---
KPOP Announces Final Performance on Broadway

December 6, 2022

Today, the producers of KPOP announced that the groundbreaking new musical will have its final Broadway performance on Sunday, December 11 at Circle in the Square Theatre.
---
Video: Bob The Drag Queen, Kornbread & More Pay Tribute to A STRANGE LOOP With New Medley

December 6, 2022

Watch A Strange Loop Medley, produced by Michael Korte and Bryson Camper, starring Bob The Drag Queen, Kornbread, Anania Williams, Kyle Freeman and Elyn.
---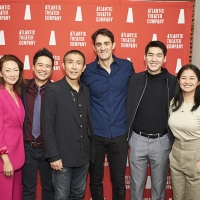 Photos: Go Inside Opening Night of THE FAR COUNTRY at Atlantic Theater Company

December 6, 2022

See photos from opening night of Atlantic Theater Company's The Far Country, an Atlantic commissioned world premiere play by Lloyd Suh, directed by Eric Ting.
---