Click Here to Visit the College Center

Blogs are the opinions of the authors and do not necessarily reflect the opinions of BroadwayWorld. BroadwayWorld believes in providing a platform for open and constructive conversation.

Student Blog: To Use the Mirror, or to Not Use the Mirror Part 2
Sabrina Duke debates the use of a mirror during dance technique courses as her and her roommate, Maggie Steimel, reminisce about the last year of mirrorless dancing.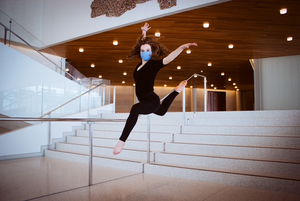 Photo Credit: Alex Bush
*Disclaimer: Neither Maggie nor I have ever researched the effect using a mirror has on dancer's technique. The ideas paraphrased down below are purely our opinions and are not backed by scientific research.
For Part 1, click here.
Maggie: Yes, but with a mirror you see and feel at the same time.
Sabrina: I personally find it to be distracting. I just watch myself the whole class. I've found not having a mirror has helped me concentrate on what my body is doing instead of what it looks like. I remember one of our first classes with George [de la Peña, University of Iowa Professor of Dance], he said "don't look in the mirror because it won't show what you're actually doing." If you want to see fantastic work, you pay attention to the good, but you can also only see the bad, if that makes sense. But when you feel things, there's no choice, in my opinion.
Maggie: Lately, I feel I can't appreciate the things I've done well because I can't see them. I only feel the things I need to work on.
Sabrina: I see it differently. For example, yesterday, the jumps combo we did downstage, I had a lot of fun because I wasn't concentrating too hard on my technique. I just jumped, and my arms were still where they needed to be, and my heels were still down. It wasn't my best technical execution ever, but I had fun, which is not something I do enough.
Maggie: I feel like when I see myself in a mirror, I have an appreciation for my body. I'm like "this is how I do this step, and this is how it looks to other people." I can put myself in that perspective. I know a lot of people can't.
Sabrina: (Points to herself).
Maggie: I feel like one thing I do to learn is I imagine myself being the best I can be. I imagine my leg as high as it can go, and I feel it get there when I see it get there. Now, I think "this is where it feels good," and I only do what feels good. I was trained in a way where I was told "don't depend on a mirror." I was taught to use it as a tool to the best of my ability to be the best I can be. Now, I don't have that option. I have to not use it. I understand there's a time and place for it, but if you know how, use it.
Sabrina: I never learned how to properly use a mirror. I apologize to any of my instructors if they taught me, and I didn't listen. I think it will be interesting to talk once we're back in front of it. For now, though, we're just going to agree to disagree.
Maggie: We'll have to do a part two once we're back in Halsey.
Sabrina: We will!