Click Here to Visit the College Center

Blogs are the opinions of the authors and do not necessarily reflect the opinions of BroadwayWorld. BroadwayWorld believes in providing a platform for open and constructive conversation.

Student Blog: Time is an Illusion
We are speeding through the year but so slowly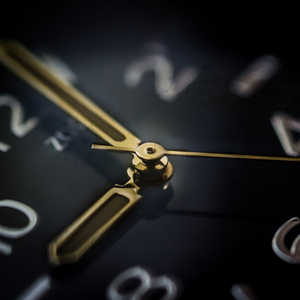 August, can you believe it. August is a funny month. It's supposed to be winter but August is always confused. The weather is cold and gloomy, one day and then shiny and warm the next. Makes me confused to be completely honest. August also means that the cold months are behind us and that is so sad! I love the cold, the rain, the clouds and the bundling. But August also means that we are in the home stretch for the end of the year!
Isn't it weird how we just go year by year, hoping for the weekend or holiday. Praying the year will end as soon as possible because next year will definitely be better.
Surely, life shouldn't be like this or is this just how my friends and me view life?
Either way, I am one semester away from being in my final year of university. Which means that I am one step closer to graduation. I don't know why I am so excited to graduate. I've never had a "graduation". I obviously matriculated high school but we don't really do "graduations" for high school. No cap and gown. Just uniform and a valedictory, which for me was a mass of tears.
Anyways, time. When I graduate, who knows what I am going to do. I should probably find a job and decide if I want to do a postgrad, which I am going to be completely honest, I don't want to but South Africa being South Africa, you can barely get a job with a masters so, me only having an undergrad wouldn't really mean anything. But I should determine what I want to do with my life beyond education.
I have no clue. In my mind I am going to become this really successful author and I won't have to think about it but I mean that's a fantasy. Such a lovely dream to have but I need to be realistic. I have not finished a single one of my books.
Yes, I am simultaneously writing multiple books. Three to be exact.
But anyway, I want to work. I want to work in an industry and be part of something. I don't know what to do with my life!
I really have a lot of options, for now writing is a hobby and it's fun. But when it comes to work, I have experience of light design so I could do that but then pandemic so I don't know if I could. I will be a qualified sound engineer by the end of the year and that is fun, I have no musical abilities whatsoever but I do love the idea of working in a studio, ADR would be fun but where does one even look for a job like that.
I'm majoring in Linguistics but let's be real, not many jobs in that realm.
So that leaves us with Journalism, next year I have to choose a discipline to focus on. Either, writing - the front runner right now, audio - I hated podcasting and what more do I need to know, I'm doing a whole sound course right now, design - I have zero design skills in my body, sounds fun but I would fail then there is communications I think, I don't know and then television, which sounds fun we get to edit and whatnot and I love editing and creating stories but I don't want to be a field reporting.
I think the best job for me is a sound mixer on set of shows and movies but again how does one get there.
We move.
Still got fifteen-ish months to figure it out.
Time just keeps moving and doesn't seem to stop to let me figure things out.
Anyways, those are my thoughts. Join me next time where I talk about how tragically single I am.