Stage Directors & Choreographers Foundation Announces Annual Gala
Stage Directors and Choreographers Foundation (SDCF), the independent, not-for-profit affiliate of SDC, Stage Directors and Choreographers Society, today announced unique plans for its 2019 award evening, which will feature original choreographic pieces resulting from a special commissioning program, with the application period now open. SDCF also announced that Victoria Traube would receive a special "Mr. Abbott" Award at the event, to be held March 25 at the French Institute Alliance Française (FIAF).
2019 marks the 60th anniversary of the founding of SDC, Stage Directors and Choreographers Society, the theatrical union that unites, empowers, and protects stage directors and choreographers throughout the United States.
The event will be chaired by Philip J. Smith, Chairman, and Robert E. Wankel, President, of The Shubert Organization, Theodore S. Chapin, President and Chief Creative Officer of the Rodgers and Hammerstein Organization, and SDC Executive Board Members Mark Brokaw (who is also an SDCF Trustee) and Rachel Chavkin.
Discussing the evening's plans, Joy Abbott, the widow of George Abbott, said, "I believe George would agree that there is no better way to celebrate SDC's 60th anniversary than to recognize the contributions of his contemporary, the great Agnes De Mille, and to honor the remarkable Victoria Traube.
"Agnes De Mille's artistry helped to remake what dance on Broadway could be at the very same time that George was also undertaking the transformation of musicals with his own work. Not only were they colleagues, but dear friends. I recall the many delightful seasons in upstate New York where George, Agnes, and other theatre colleagues held their annual summer artists retreat at Merriewold Lake.
"Agnes' creative influence was matched only by her fierce leadership at the Union. Her confidence in the power of directors and choreographers working together both on stage and off is particularly evident in the trust she placed in SDC's stewardship of the still-unread letter, protected for almost the entire history of the union.
"In the same fashion, directors and choreographers have benefited immeasurably from the advocacy and devotion of Ms. Traube since she was a teenager. I applaud SDCF's foresight and can't wait for March 25th."
The commissions
SDCF is issuing a call for applications from SDC Member choreographers for original choreographic pieces. They are all to be inspired by a letter from SDC Founding Member, the legendary Agnes De Mille, discovered in the SDC archives three years ago during an office move. In December 1963, Ms. de Mille sent a letter to the Union for safe-keeping, explaining that it contained the outline for a new theatrical work which she described as follows:
"Under separate cover, I am mailing you a manuscript in a sealed envelope. Please file it unopened, with the date carefully noted. It is the outline for a play, and I have no means of copyrighting except this way. The material is eminently stealable and I'm discussing the matter with people of equal ambitions."
SDC Member choreographers are invited to create works that imagine what Ms. de Mille might have had in mind in that turbulent year, which included Dr. Martin Luther King's "I Have a Dream" speech, the death of President Kennedy, and the start of the British Invasion in popular music, led by The Beatles. 1963 was also the year that Ms. de Mille choreographed to premiere of 110 in the Shade and A Funny Thing Happened on the Way to the Forum won the Tony Award for Best Musical.
The letter - marked "Please file unopened" and sealed with gold wax -- remains unopened to this day, and the Union has not yet determined whether it will in fact be opened following the debut of the pieces it inspires. Applicants will be asked to answer one of the following questions in their pursuit of the commissions:
· Which quote from Agnes De Mille speaks to you the most, and why? How does Agnes De Mille inspire you?
· As a Choreographer, why is it important to honor Agnes De Mille? Why is it important to carry the legacy of Agnes De Mille forward?
· If you were able to ask Ms. de Mille a question today, what would it be?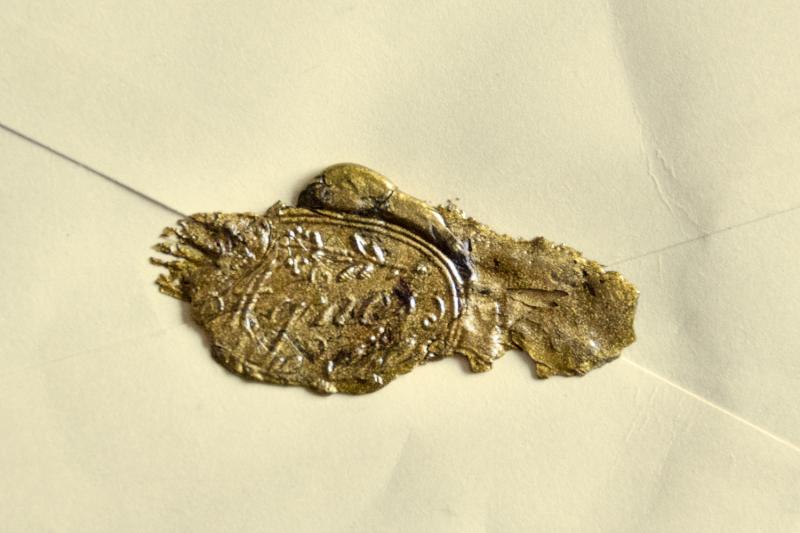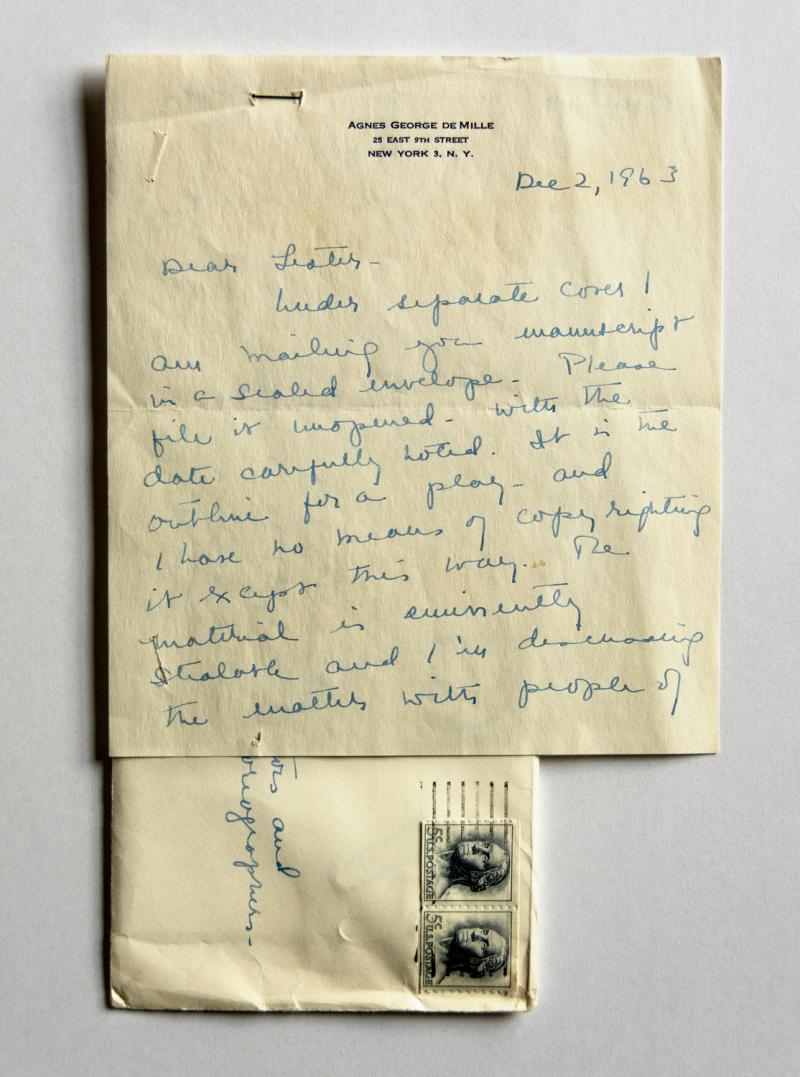 The commission recipients will be chosen by a committee consisting of Karen Azenberg, Joshua Bergasse, Donald Byrd, Ted Chapin, Graciela Daniele, Maija Garcia, Joann Hunter, Sam Pinkleton, and Susan Stroman. The committee will also serve as advisors to SDCF on the commissions and their presentation up through the event itself.
SDC Member choreographers can find full application information at sdcfoundation.org/agnesdemille. The submission deadline is October 18 and the commissions will be announced in November.
The Honoree and Key Players
SDCF will also present its first Special "Mr. Abbott" Award to theatrical attorney and industry leader Victoria Traube for her exceptional passion and commitment to, and profound understanding of, the work of directors and choreographers who bring theatre to life, both through their contemporary work and their legacies.
Victoria Traube is Senior Vice President, Business Affairs and General Counsel of Concord Music. She is responsible for the business and legal affairs of The Rodgers & Hammerstein Organization, Concord's theater, motion picture and television projects, Boosey & Hawkes and the former Imagem pop catalogue. She started work at The Rodgers & Hammerstein Organization in 1995 when it was still owned by the Rodgers & Hammerstein families. From 1987 through mid-1995, she was Vice President and Head of New York Motion Picture and Theatre Business Affairs for International Creative Management, Inc., where she worked with Sam Cohn, whose clients included Mike Nichols, James Lapine, Nora Ephron, Peter Hall, Tommy Tune, Arthur Penn, Arthur Miller, Peter Stone, Herb Gardner, Bill Irwin, Meryl Streep, Sigourney Weaver, Mandy Patinkin, Patrick Stewart, Lily Tomlin, Penn and Teller and many others. Before that she was Senior Counsel and Director of Business Affairs for Home Box Office, Inc. and an associate at the New York law firm of Paul Weiss Rifkind Wharton & Garrison. She is a Trustee of The God Bless America Fund and a board member of Dramatists Guild Copyright Management, Inc. She served as Theatre Chair of the American Bar Association's Forum on the Sports and Entertainment Industries, Chair of the Entertainment Law Committee of the Association of The Bar of The City of New York and a board member of the SDC Foundation. She is a graduate of the University of Pennsylvania Law School, where she was a member of The Law Review, and Radcliffe College. She has taught seminars and panels on theater and motion picture law and business affairs at Columbia Law School, Wesleyan University, New York University, SDC Foundation, and the ABA Forum on the Sports and Entertainment Industries, among others. Her father was Shepard Traube, director and producer, who was the first President of the SDC and one of its founders with Agnes De Mille, Hanya Holm and Ezra Stone. Her mother was Mildred Traube, the Executive Secretary of SDC from 1968-1984. The rights of directors and choreographers were the subject of discussion at the Traube family dinner table beginning in her early childhood.
Pioneering choreographer Agnes De Mille shifted the national perspective on how dance could be used in story development, both in musical theatre and balletic works. In 1943, her dream ballet choreography for Oklahoma! was the first appearance of truly story-integrated dance, using dance to advance the plot of a musical. Ms. de Mille choreographed over a dozen other musicals on Broadway, including Carousel, Brigadoon (co-winner of the inaugural Tony Award for Choreography), Gentlemen Prefer Blondes, Paint Your Wagon and 110 in the Shade, as well as the film version of Oklahoma!
One of the most important and admired men in the entire history of Broadway, George Abbott (b. Forestville, NY, 25 June 1887; d. Miami Beach, FL, 31 January 1995) was a theater director and producer, playwright, screenwriter, and film director and producer whose career spanned more than nine decades. He had a hand, one way or another, in the most historically and artistically significant New York productions of the twentieth century: Broadway (1926), Three Men on a Horse (1935), Brother Rat (1936), On Your Toes (1936), Room Service (1937), The Boys from Syracuse (1938), Too Many Girls (1939), Pal Joey (1940), On the Town (1944), High Button Shoes (1947), Where's Charley? (1948), Call Me Madam (1950), Wonderful Town (1953), The Pajama Game (1954), Damn Yankees (1955), Once Upon a Mattress (1959), Fiorello! (1959), A Funny Thing Happened on the Way to the Forum (1961), Flora the Red Menace (1965), and 103 other shows. Abbott had 40 films to his credit as screenwriter, director, or producer, among them All Quiet on the Western Front (1930), The Fall Guy (1930), and the film adaptations of his Broadway hits; his featured screen actors included Jean Arthur, Lew Ayres, and Gene Tierney.
Stage Directors and Choreographers Foundation (SDCF)'s goals are to provide opportunities to practice the crafts of directing and choreography; to gather and disseminate craft and career information; to promote the profession to emerging talent; to provide opportunities for exchange of knowledge among directors and choreographers; and to increase the awareness of the value of directors' and choreographers' work. SDCF works to create access to the field, to connect artists, and to honor the theatrical legacy of these artists, at every stage of career. Founded in 1965 as Stage Directors and Choreographers Workshop Foundation, Inc., the not-for-profit foundation of Stage Directors and Choreographers Society. SDCF is an independent, tax-exempt, non-profit 501(c)(3) organization. www.sdcfoundation.org
SDC, Stage Directors and Choreographers Society, is the theatrical union that unites, empowers, and protects professional Stage Directors and Choreographers throughout the United States. Its mission is to foster an national community of professional Stage Directors and Choreographers by protects the rights, health, and livelihoods of all of its members; facilitate the exchange of ideas, information, and opportunities, while educating the current and future generations about the role of directors and choreographers; and provide effective administrative, negotiating, and contractual support. www.sdcweb.org
To support and attend
For information on sponsorship and advance table purchases, write SDCF at MrAbbott@SDCFoundation.org
Related Articles
More Hot Stories For You
VIDEO: Get a First Look at Matthew Morrison as The Grinch in Upcoming NBC Special DR. SEUSS' THE GRINCH MUSICAL
NBC has released a trailer featuring a first look at Matthew Morrison as The Grinch in the upcoming special, 'Dr. Seuss' The Grinch Musical!' The musi...

Photo: Lin-Manuel Miranda Reveals TICK, TICK...BOOM! Has Wrapped Filming
Lin-Manuel Miranda announced yesterday that the upcoming film adaptation of Tick, Tick...Boom! has wrapped filming. ...

The Shows Must Go On Will Broadcast AN AMERICAN IN PARIS This Weekend
The Shows Must Go On will broadcast An American in Paris for free on YouTube this weekend!...

Dame Judi Dench, Sir Derek Jacobi, Sir Ian McKellen and Dame Maggie Smith Take Part in FOR ONE KNIGHT ONLY Tonight
Tonight is For One Knight Only, a special evening of intimate conversation with British acting legends Dame Judi Dench, Sir Derek Jacobi, Sir Ian McKe...

VIDEO: National Theatre's DEATH OF ENGLAND: DELROY is Available to Stream Beginning Today
Watch Clint Dyer and Roy Williams' Death of England: Delroy beginning today on YouTube! Michael Balogun stars as Delroy....

Ben Platt, Derek Klena, Adrienne Warren, and More Broadway Stars Join Kathryn Gallagher for NOSTALGIC FOR THE MOMENT
Jagged Little Pill star Kathryn Gallagher has shared her latest music video for her new song 'Nostalgic for the Moment.'...