So-Fi & Torn Page Announce Added Jan. Performances in First Annual (Winter Mini) Festival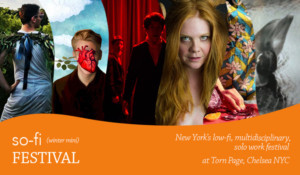 So-fi (Co-Founders; Jody Christopherson (Artistic Director), Nathan Gebhard (Managing Director) and Romy Nordlinger (Producing Director)) announce added January performances in the so-fi (winter mini) festival, a low-fi, multi-disciplinary solo performance festival, co-produced by, and at Torn Page in Chelsea (435 W 22nd Street, 2nd Floor), a performance space in the historic home of Rip Torn and Geraldine Page.
The January performance line up of critically acclaimed and audience favorite shows includes: "Saint Ex" by Nathan Gebhard/ Spaceheater, "Edgar Allan" by The Coldharts (Katie Hartman and Nick Ryan), "St Kilda" by Jody Christopherson, Pier Valentino: Show Without End (The Final Broadcast) by Nico Grelli, The Prodigal Vegan (includes food) by Lisa Huberman, and "Lady Brewster Will Burn" by Erika Phoebus. The 7pm 1/5 performance of Edgar Allan is sold out.
Each performance will seat 25 audience members, in a playing space located up a winding flight of 19th-century stairs, filled with loveseats and armchairs, beneath a crystal chandelier, creating an intimate atmosphere in which to engage with exciting new, and award-winning works. Wine and Prosecco are available for a $7 donation at all performances.
A full evening package consists of, 645pm pre-show cocktails, a 7pm performance, followed by a wicked interactive beverage interlude, Lady Brewster Will Burn by Erika Phoebus, followed by an 8pm performance, for a full run time of roughly 2.5 hours. Tickets to individual shows may also be purchased.
Full performance line-up listed below. Advance tickets are $15 for individual shows, $25 for the full evening and are on sale now. Tickets are $20 at the door for individual shows. For tickets and a full festival calendar please visit: https://www.so-fi-festival.com/
Extended line up for so-fi (winter mini) festival at Torn Page (Jan 5th - Jan 6th, 2019):
Edgar Allan
by The Coldharts
A manic lullabye inspired by the childhood and short stories of Edgar Allan Poe.
January 5 at 7pm (SOLD OUT)
January 6 at 2pm and 8:30pm
Runtime: 55 min
Eleven-year-old Edgar Allan has only one goal: to be the most remarkable boy at Manor House School. He has only one obstacle: Edgar Allan. Created and performed by Katie Hartman & Nick Ryan, In collaboration with Mark Benzel.
Awards: Best Female Performance and Best Show Orlando Fringe, Holdover Edmonton Fringe, Pick of the Fringe Cincinnati Fringe Festival, Audience Choice Award Ithaca Fringe, Encore Performance Minneapolis Fringe
A triumph of storytelling" -Edmonton Journal
"A dark, polished gem" -Winnipeg FreePress
"Katie Hartman plays the loquacious Edgar with gawkish and malevolent glee... Nick Ryan's raspy-voiced turn as Edgar's rival is delightfully odd."-CBC
"Darkly funny and dangerous... Katie Hartman exudes malice even as she beautifully sings her intent."-Global News
ST. KILDA
A horrific Scottish sound immersion/excursion with live foley looping
Written and Performed by Jody Christopherson
Directed by Isaac Byrne/ Sound and Foley Design by Andy Evan Cohen
with voice-overs featuring Michael de Roos/ Dialect Coaching by Chloe Dirksen
January 5 at 8:30pm
January 6 at 3:30pm
Runtime: 55 min
After the death of her Grandmother, an American woman travels to an abandoned island off the coast of Scotland and unearths a dark family secret.
St Kilda, uses live foley and a looper to create a foreboding soundscape for a tale of supernatural horror. Instruments include violin bows, bowls of water, cigar box guitars, pie tins full of salt, folk singing and more. Inspired by the 1930 evacuation of Hirta, St Kilda's only inhabitable island and the role that music plays in women's narratives.
Christopherson has been called "a talent to watch, not to mention a pleasure to hear" (Time Out NY) "the ANTITHESIS of the manic pixie dream girl" (Zouch Magazine) and a "Rock Monster" (Brooklyn Rail). Her work has been performed in 28 cities in 6 countries, including Canada, Detroit, New Orleans, Amsterdam and has been compared to Margaret Atwood's writing. Director Isaac Byrne has been awarded two New York Innovative Theatre Awards for Outstanding Direction, (The Other Mozart and Investments) as well as the 2018 Planet Connections award for Best Direction, (Rusalka)
"a not-so-typical, one-woman performance that completely blew away the audience . . . an amazing sight for the senses . . . enchanting. . ."- Woman About Town, New York
"Atmospheric and dreamy, St Kilda is a unique theatrical experience, an uncanny, unsettling story and world of secrets and mystery." -Minnesota Theater Love
"If you like Laurie Anderson, try St Kilda."- Minneapolis Star Tribune
"The most enjoyable evening of theatre we've had in a long time . . . a tribute to what Artaud called the "Alchemy" of the theatre." -Travalanche, New York
Pier Valentino's:Show Without End! (The Final Broadcast)
A Workshop Presentation
By Nico Grelli
Directed by Nidia Medina
January 6th at 7pm
Runtime: 45 min
Is there a tear in your eye, cuz the end is nigh? You're not alone gentle freaks and humble geeks! As the asteroid careens toward our trembling planet, spend your remaining hour of not being cosmic debris with Pier Valentino, on the very last broadcast of Show Without End! Broadcast normally on Mondays and occasional Thursdays after midnight to various public access channels across the Bay Area, and to homes across the country with mighty antennae.
Nico began development on this project with the support of the Grange Hall Cultural Center in Waterbury, VT and will be returning in February to perform the full length show. Nico's other solo shows include: American Sideshow (Emerging Artists Theatre), Gather Fuel in Vacant Lots (NYU/Tisch). This piece is part of a thematic trilogy, the other two of which are plays: Private Catholic Mixtape '89-'01 and A Priori A Posteriori.
Nidia Medina is a Latina theatre artist of various disciplines who is dedicated to challenging and advancing American Theatre in any and every way she can. She believes ferociously in new voices and a diverse community. She is currently Associate Producer and Director of the Studio at Theatre for a New Audience.
"wonderfully campy and deeply hilarious...a play of such clear promise... layered in dark humor.... a treat for anyone with a fondness for hammy theatrics and charming oddities."- All About Solo
"Grelli has mastered the role of Pier. The well?meaning TV host is something of a neurotic mess, albeit kind, soft?spoken and endlessly endearing.... adorably sympathetic"- All About Solo
SAINT EX
by Nathan Gebhard
with live music by Natalia Steinbach
A physical poem that confronts the relationship between artist and muse.
January 5th at 330pm
Runtime: 50 min
Saint Ex confronts the relationship between muse and artist, unravel the love behind Antoine de Saint-Exupéry's "The Little Prince." Created by Spaceheater, Saint Ex combines elements of theatre and dance as it embodies what it's like to be human, to love and to love something so much that it breaks.
THE PRODIGAL VEGAN
Written and Performed by Lisa Huberman, Devising Director Michole Biancosino
Part memoir. Part vegan dinner parts. All Feelings.
January 5th at 2pm
Runtime: 55 min
For most people, salads don't carry a lot of emotional baggage. They provide nutrition. Weight-loss. And maybe a couple of artful Instagram hashtags.
But Lisa does not have a normal relationship to salads.
In The Prodigal Vegan: A Culinary Solo Show, playwright takes her audience on a colorful, comic, interactive culinary journey through her relationship with food. Previously performed at La MaMa and Project Y's WIT Festival.
LADY BREWSTER WILL BURN: Parts 1 & 2
by Erika Phoebus
A wicked beverage interlude in 2 parts.
Runtime: 15 min
Brewing beer was a woman's sport until they were accused and hunted for witchcraft. Come drink with a Brewster who burned from this tale, and may the wine in your belly resurrect her. Written and performed by Erika Phoebus, Artistic Director of Theater 4the People, recipient of the awards for Planet Connections 2018 Best Leading Actress (Rusalka) and Best Play (Rusalka), former Manderley cocktail waitress at The McKittrick Hotel.
Part 1: Jan 5, During intermission
Part 2: Jan 6, During intermission
ABOUT So-Fi and Torn Page:
So-fi FESTIVAL is a curated festival comprised of low-fi, multi-disciplinary, new work with a focus on solo performance, which challenges the boundaries of form. Founded in 2018 by Perfomer/ Creator/ Producers, Jody Christopherson, Nathan Gebhard and Romy Nordlinger. Advisory Board: Katie Hartman, Tony Torn
TORN PAGE is a performance space for established and emerging artists located in the historic home of Rip Torn and Geraldine Page, a 19th century Victorian/Bohemian Brownstone in Chelsea NYC. In association with the W.B. Yeats Society, Torn Page recently presented the APT 929 production of The Only Jealousy of Emer, as part of Origin's First Irish Theatre Festival, which was awarded Best Design and extended twice. Torn Page looks forward to welcoming The Civilians "Paul Swan Is Dead and Gone", Directed by Steve Cosson, April-25th- May 19th, 2019. http://torn-page.squarespace.com/
TICKET INFORMATION
Tickets start at $15 and are available now. Single advance tickets to So-fi shows are $15 or $25 for a double bill and can be accessed online at https://www.so-fi-festival.com/, beginning Thursday, November 29th.