Click Here for More Articles on BC/EFA
Shop for a Cause with BroadwayGirlNYC's 2016 BC/EFA Holiday Gift Guide!
Ice skating in Bryant Park. The lighting of the Rockefeller Center Christmas tree. Seeing The Rockettes at Radio City Music Hall. The holiday windows on 5th Avenue. Fighting crowds at the airport with the promise of family on the other side of a long flight. Curling up with hot chocolate to watch Rudolph the Red Nosed Reindeer for the millionth time. The rich, familiar nuttiness of egg nog.
There are so many holiday traditions we look forward to every year. One of the most special annual activities has the added benefit of helping a great cause: shopping for gifts through the BCEFA Catalog of Giving, choosing Broadway-themed presents to benefit Broadway Cares/ Equity Fights AIDS!
This year, you'll be thrilled to find a delightful mix of updated favorites and freshly curated items. Here is a selection of highlights.
The centerpiece of the Catalog of Giving is the gorgeous, sculptural BROADWAY SNOW GLOBE. Each year, BCEFA commissions a beautiful, New York-themed globe that features every show that ran that year, which doubles as a music box - twist the key under the globe and hear chimes of a favorite Broadway tune. This year, the globe was designed by Tony Award nominee David Korins, he of Hamilton, Dear Evan Hansen, and more than 20 other New York City shows. The featured song is "Give My Regards to Broadway," and as the music plays, a tiny plane within the globe circles a bejeweled star in its center, as silver glitter twinkles all around. At nearly 8 inches tall and weighting in at close to 4 pounds, it will hold a prominent place on the mantle, as both an art piece and a reminder of the beautiful past 12 months on Broadway.
The Broadway Cares Collection is a curated selection of gifts the each feature the logos of more than 20 musicals. Updated each year, they represent the variety & scope of productions that Broadway offers, and are perfect for fans of the musical theatre genre as a whole.
The Broadway Cares Collection CANDLE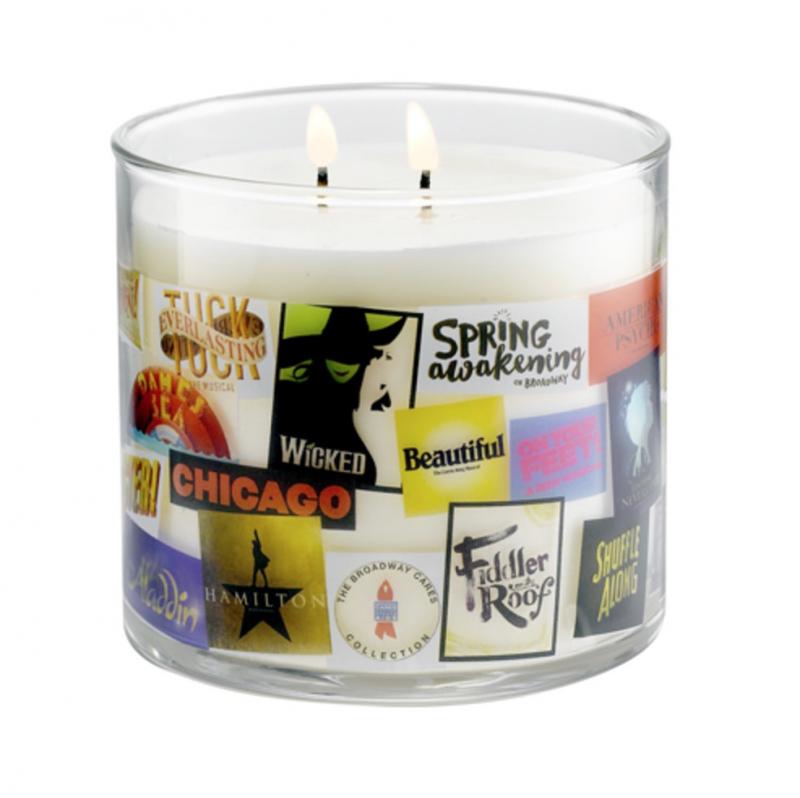 The Broadway Cares Collection CAP & T-SHIRT (sold separately)
The Broadway Cares Collection CLOCK
The Broadway Cares Collection TOTE BAG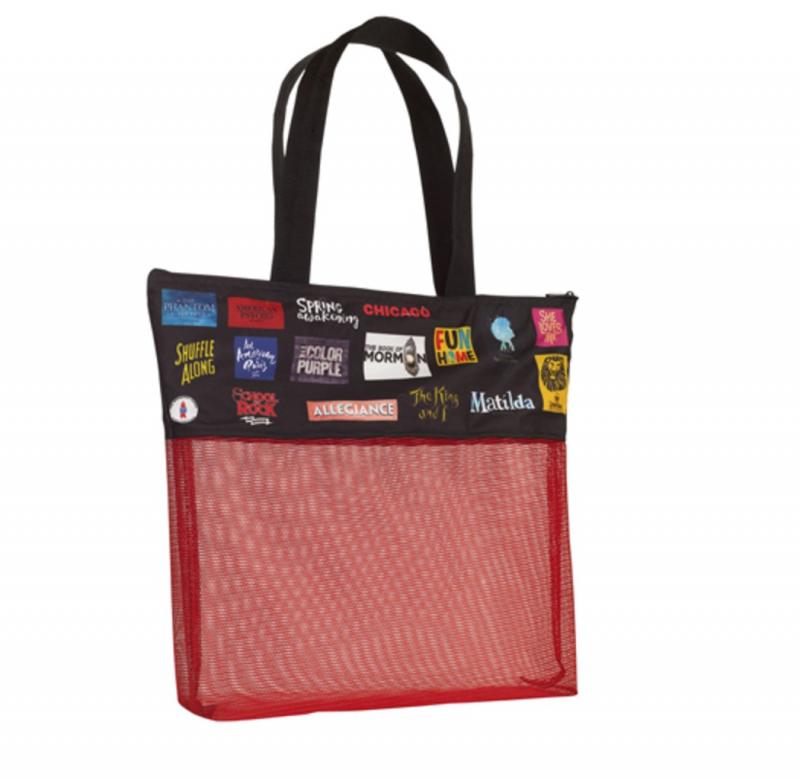 The Broadway Cares Collection PILLOW
The Broadway Cares Collection ORNAMENT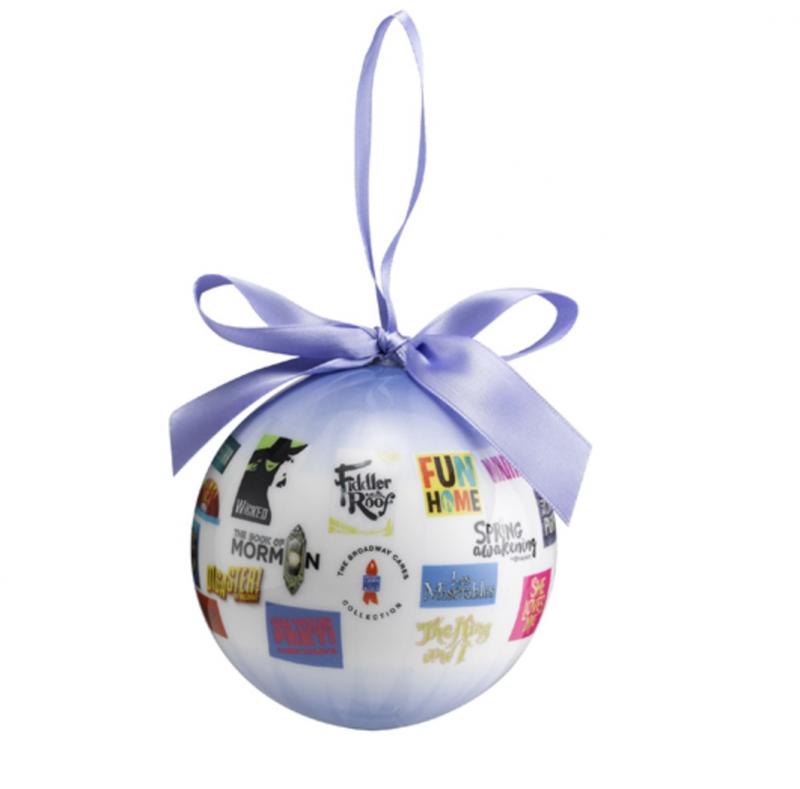 Other items include a BEACH TOWEL, two different EYEGLASS CASES, an UMBRELLA, a SHOWER CURTAIN, a FLEECE BLANKET - even GIFT WRAP that you can use to wrap up all of the other gifts you find within the catalog!
Want to decorate your tree (or mantle, window sill, workspace, or bedroom) with Broadway holiday flair? The Catalog of Giving offers a wide variety of new & classic ornaments. This year's star item is the Patti LuPone in Evita glass BROADWAY LEGENDS ORNAMENT, which captures the classic balcony scene, complete with Patti/Eva's arms raised high.
Created exclusively for BCEFA, the Broadway Legends ornament collection also includes Barbara Streisand, Liza Minnelli, Julie Andrews and Gwen Verdon.
Cover your tree in classic Playbills with the PLAYBILL ORNAMENTS VOLUME V set, new to the catalog this year. This year's featured shows are Rock of Ages, Oklahoma, Smokey Joe's Cafe, Pippin, South Pacific, and The Magic Show. Previous sets, which feature Broadway's longest running musicals in Broadway history, are also available!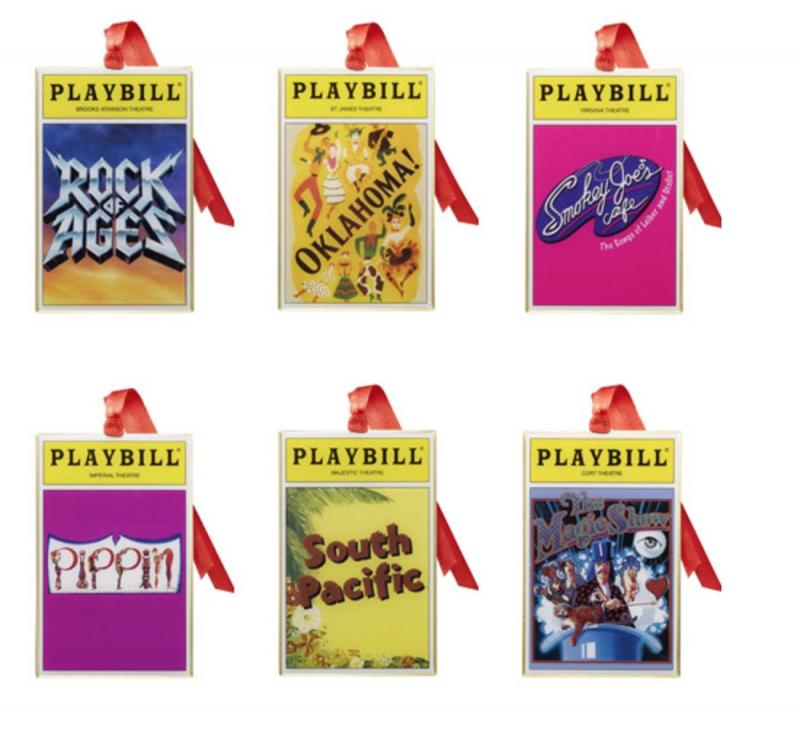 For everyone whose soul is fueled by music, the catalog is packed with gift options. Front & center is the annual CAROLS FOR A CURE two CD set. 2016 brings us Volume 18, which includes a mix of original songs and holiday classics from the casts of Hamilton, Waitress, Cats, Something Rotten, The Color Purple, On Your Feet, School of Rock, Wicked, Holiday Inn, and more.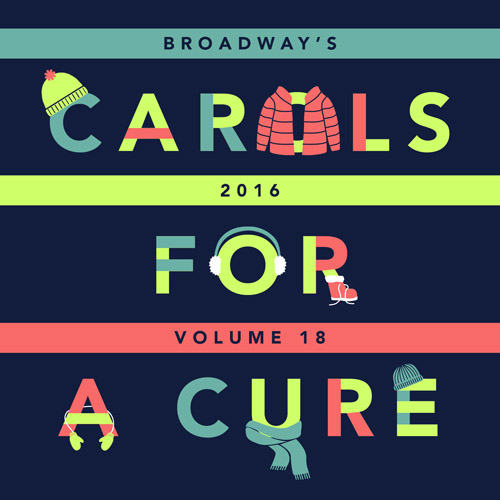 Every past edition of Carols for a Cure is also available - and for those who want to really blow their loved ones away, the catalog features a boxed set including all 18 editions (more than 30 discs of music)!
Speaking of buying music in bulk: did you know you can buy all twelve new Broadway cast recordings form the 2015-16 season in one fell swoop? The Catalog of Giving offers the full set (Allegiance, Amazing Grace, Bright Star, The Color Purple, Disaster!, Fiddler on the Roof, Hamilton, On Your Feet, School of Rock, She Loves Me, Tuck Everlasting and Waitress) for under $20/each when bought together.
Prefer your CDs signed? Autographed solo albums from a plethora of Broadway stars are on offer, and make perfect stocking stuffers. Cheyenne Jackson, Marin Mazzie, Tony Yazbeck, Donna McKechnie, Kristin Chenoweth, Judy Kuhn & more have signed their albums, which are ready for you to take home.
Also signed: books! Andrea Martin's Lady Parts, My First 100 Years in Show Business by Mary Louise Wilson, Neil Patrick Harris' Choose Your Own Autobiography, The Godspell Experience by Stephen Schwartz and Carol de Giere, and Stella & Charlie: Friends Forever by Bernadette Peters are among the many autographed selections available.
For babies & kids, consider the Broadway monkey (his tie says "I Love Broadway!"), the piggy bank labeled "Saving for my 1st Broadway Show," or Broadway Baby onesies & bibs in multiple colors.
Bigger kids in the family? Consider the BROADWAY MUSICALS PUZZLE, featuring 50+ Playbill covers; the Four Sides of Will SHAKESPEARE NOTE CUBE; or the BROADWAY PILLOW featuring show art and a logo by Squigs!
Jewelry is always an excellent choice at the holidays! The catalogue is full of sparkly gifts that display love for theatre and support for AIDS research. The RED RIBBON RETRACTABLE CHARM BRACELET displays Love, Strength & Hope charms along with a jeweled red ribbon in a heart. Pendants, brooches, and watches are available all featuring the classic red ribbon logo.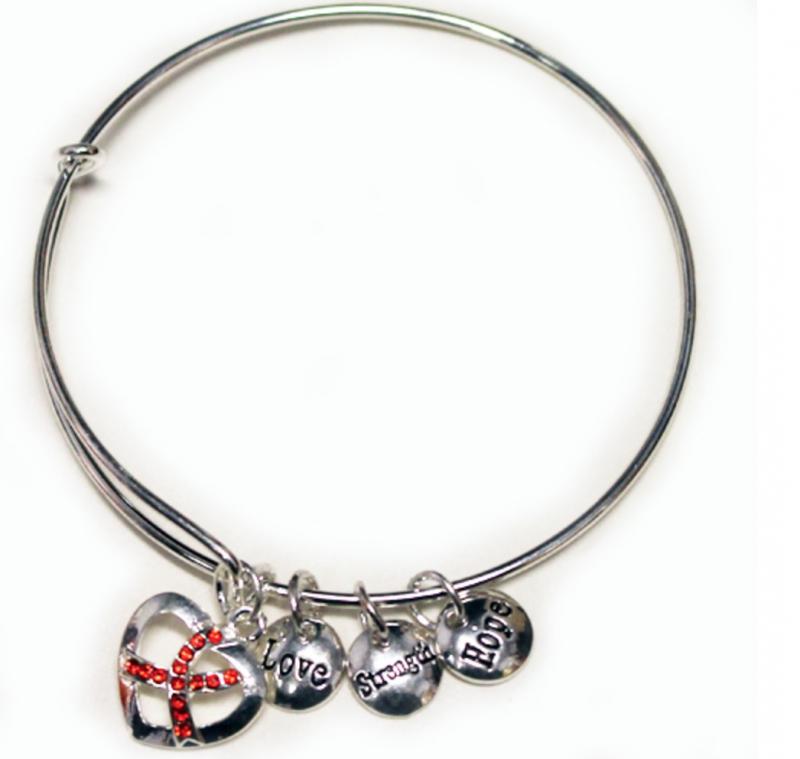 Perfect for the holidays, the Catalog of Giving is also available year round, for birthdays, graduations, opening nights, and all other "just because I love you" occasions. While you give to your loved ones (or yourself), you're also giving to people in need - every purchase benefits BCEFA every day of the year.
Let's get shopping!
Featured This Week on Stage Door
Shoutouts, Classes, and More from Your Favorite Broadway Stars
Related Articles