SWEET CHARITY In The #MeToo Era Comes to The Harlem Repertory Theatre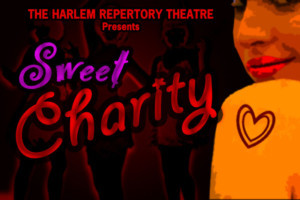 The Harlem Repertory Theatre's chamber version of the musical Sweet Charity unabashedly ventures into Bob Fosse's adult-themed musical drama about women who make their living in the sex trade. HRT's company of seven talented actor/singers/dancers tell the tale of the abusive (emotionally and physically) cycle in which our star, Charity Hope Valentine, finds herself inextricably trapped. She falls in love with the same wrong man over and over again. The current #MeToo movement inspired HRT's AUDELCO award-winning director and choreographer, Keith Lee Grant, to take on the challenge of mounting this production of Sweet Charity. The #MeToo era has thankfully forced the way we perceive the treatment of women as depicted in this musical from the late 1960s. Charity's desperate yet ever hopeful search for love is in stark contrast to the vicious cycles of abuse that are the "accepted" realities of her workplace.
Emily Rodriguez, who trained at Pace University, plays the title role. Camille Sims, Miss New York 2016 and the second runner up at that year's Miss America contest, plays Nickie. Classically trained baritone and professional model Anlami Shaw plays Vittorio, and actress Paula Galloway, just seen at the Classical Theatre of Harlem's A Harlem Christmas Carol, plays Frenchie. With reasonable ticket prices, $15 General/$30 premium, there is no reason not to take the trip up to Harlem to catch this intimate, sexy, and entertaining revival filled with the Cy Coleman and Dorothy Field hits "Big Spender", "If My Friends Could See Me Now", and "Where Am I Going?".
Sweet Charity plays at the Harlem Repertory Theatre's Experimental Black Box theatre at 221 East 122nd Street, between 2nd and 3rd avenue. Playing most Saturdays until June 8th, with only 60 seats available at each performance. This production contains partial nudity, sexual situations, and language meant for a mature audience.
Also this season at the HRT is a revival of Jamaica, the musical that made Lena Horne a Broadway star; Lorraine Hansberry's A Raisin in the Sun, now in its 4rd smash year, and a popular, jazz-infused version of The Wizard of Oz. Opening in June will be a revival of the Tony Award-winning musical, Pippin.
The Harlem Repertory Theatre is a small non-profit professional theatre company based in the heart of Harlem. Founded in 2004 by Keith Lee Grant, the HRT is committed to offering first-rate and affordable theatrical performances to the Harlem community and to the greater Tri-State area.
Trailer: https://youtu.be/iTcatCZNqxc
Visit our website for dates and more info www.harlemrepertorytheatre.com
The Black Box Theater is located at 221 East 122nd Street in Taino Towers NYC 10035
Accessible via the Lexington Avenue trains to 125th Street.