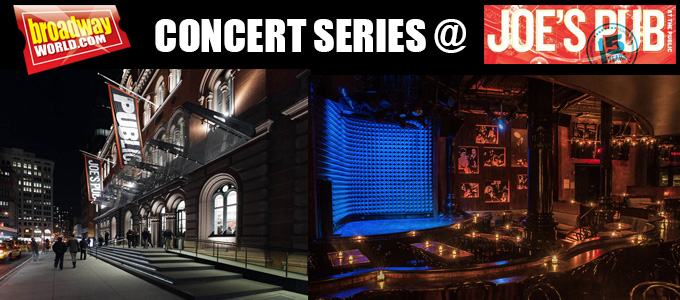 Click Here for More Articles on BWW CONCERT SERIES
SOUND OFF Special Edition: BroadwayWorld.com Visits Oz!
Today we are taking a behind the scenes look at the incredible preparation and awesomely impressive final production celebrating BroadwayWorld's 10th anniversary: BROADWAYWORLD.COM VISITS OZ!
So You Wanted To See The Wizard? Over the last ten years, BroadwayWorld has established itself as one of the most unique and attention-worthy entertainment sites on the internet and the many additional channels now available - including BroadwayWorld TV, Movies, Music, Fashion and more - afford visitors even more avenues of enjoyment, yet this Monday fans old and new were offered the chance to experience a special event only as magical a place as Oz could provide. Indeed, BROADWAYWORLD.COM VISITS OZ was beyond anyone's wildest imaginations insofar as the sheer theatrical flair and inspired performances contained within it. No doubt, it was the ideal expression of the passion, dedication, inspiration and joy so amply evident in so many of the facets of this magnificent site and thereby the true theatrical realization of the dream originally birthed by Rob Diamond back in the early 00s when work on the site first began. Since 2003, we have established ourselves as the premier theatrical database on the internet in addition to covering every single possible facet of the performing arts - and, since our expansion, much, much more. What Richard Jay-Alexander and Marybeth Abel crafted on Monday night capsulized that special kind of magic into a 90-minute extravaganza at hallowed NYC showplace Joe's Pub. "The Lollipop Guild" to Mumford & Sons; Andrew Lloyd Webber, Stephen Schwartz, Harold Arlen, E.Y. Harburg, Andrew Lippa, not to mention a generous serving of a half-dozen showstoppers from THE WIZ, the sheer diversity of musical material was enough to make the night stand out, but the commitment and special spark imbued by the performers brought everything to an entirely new level of ecstasy. Hyperbole? I'm biased - but the forthcoming DVD and CD, not to mention the livestream, display the delectable delights exquisitely. I first arrived on the rehearsal to the rapturous sounds of legendary Broadway star Ken Page and 15-year-old virtuoso Olivia Hardy belting THE WIZ's propulsive "Be A Lion" - accompanied by Page's characteristic gentle giant affability in fine form, complete with stirring staging and showmanship. Needless to say, THE WIZ is overflowing with triumphant and theatrically rich performance pieces and BROADWAYWORLD.COM VISITS OZ was in many ways a celebration of that show's singularly contemporary style and pizzazz - not unlike that which is so apparent on this very site, as it happens. As Richard Jay pointed out in his speech at the conclusion of the show, THE WIZ acted as an instrumental element in his own life as the very first show he saw when arriving in New York nearly forty years ago and that pure emotional and sentimental power infused so very many parts of Monday night's show. Witnessing all of the young talent on display was surely one of the highlights in an evening punctuated by countless memorable moments, with the aforementioned Olivia Hardy also joined by three young talented Broadway performers in Luke Mannikus, Mitchell Sink and Nicky Torchia. Additionally, St. Louis Muny LES MISERABLES Gavroche, Jimmy Coogan, stepped in for a suddenly unavailable Kristin Chenoweth (blame GLEE) and made it count with a spectacularly entertaining star turn infused with palpable swagger and smart showbiz razzle dazzle, especially enhanced by Marybeth Abel's guiding hand with some last-minute suggestions, well-played. As if all of that were not enough, the most unexpected and modern of the musical performances was given by front-singer from The Dan Band, Samia Finnerty - 17-year-old daughter of recognizable comic actress Kathy Najimy, who also appeared at the 9:30 show. On that topic, while both shows were ideal entertainment events, the 9:30 show had a freer and even more enlivened energy, while the 7 show was more outwardly reverential. Nonetheless, the expert musical direction provided by master MD Mary-Mitchell Campbell added immeasurably to the incalculable pleasures clear to see, hear and feel throughout the night - and, I'll also add, in rehearsals and sound check, as well. She is a dazzler and surely many hats must go off to her and the talented musicians for making the show sound this stupendous. The true coup of the entire event was undoubtedly the eleventh hour addition of what would turn out to be theatrical history in the making - a reunion of original THE WIZ stars Andre De Shields, Ken Page and Dee Dee Bridgewater on the score's biggest breakout hit, "Ease On Down The Road" in a high-flying arrangement pitched to deliver us all home - with a click of our red-heeled shoes, unquestionably - in a rainbow-high blast. Hot as a hot air balloon! No doubt about it, the tears flowed freely in rehearsal and beyond, to say nothing of the roof-raising live shows themselves - and rightly so; moments like this are as good as it gets on Broadway or off. THE WIZ was also given an early 40th anniversary reprise byway of Andre De Shields blowing the roof off of The Public Theater with a rousing and awe-inspiring reprisal of his signature character song "So You Wanted To See The Wizard" - ending on a sheer vocal explosion lasting for 30 seconds or more. Original Glinda Dee Dee Bridgewater reminded us again why her 1975 Tony Award was so very well deserved - not to mention those three Grammy Awards since - with the eleven o'clock barn-burner "If You Believe". If that woman singing that song doesn't make a believer out of you then you have lost your faith in Oz. Perfection - and then some. Thrilling. On the note of narration and the non-musical elements of the evening, Sam Champion's amusing weather forecast and Michael Crawford's personable introduction added a further layer of star power to the affair while bolstering the overall celebratory feel. Furthermore, the inspired comedic scene by Natalie Toro along with Josh Walden and Kurt Domoney - as THE RITZ's Googie Gomez and her towel-clad bathhouse boys, of course - was a true hoot, as was the biting and delicious assessment of Oz as offered by Michael Urie, in a sketch penned by BUYER & CELLAR's own Jonathan Tolins. Plus, Toro's "Defying Gravity" and accompanying black-caped coup de theatre provided just the right amount of campy opulence to offset the biting and sarcastic nature of Urie's monologue. And, without a doubt, refined and affable host Richard Ridge's assured and informative commentary was a particularly pleasing additional element to the non-musical side of the evening (well, besides some sensitively accompanied stage business for him with the lucky lady winning the ruby red slippers, that is). As far as the set-list of the night itself played out, BROADWAYWORLD.COM VISITS OZ was all any Oz fan could ask. Samia Finnerty provided a Mumford & Sons track inspired by not only the cowardly lion, but, also, the unusual mating rituals of lions themselves byway of "Little Lion Man" whereas Jennifer Diamond presented an ode to the Friends Of Dorothy, aka gay men, via a dramatic and persuasively played gay marriage anthem by Andrew Lippa. Pristine. Similarly, show opener and original ANNIE Andrea McArdle gave moving gravitas and graceful power to "I'm Always Chasing Rainbows", which she herself once sang in the Judy Garland TV biopic RAINBOW. The original THE WIZARD OF OZ was also represented by a medley of "Optimistic Voices" along with the Broadway chestnut "Lullaby Of Broadway" led by spunky and elegant Roslyn Kind along with the Optimistic Voices themselves - in this case: Mandy Gonzalez, Jennifer Diamond and Katie Sarno, lending some slinky, sexy and sweet back-up harmonies (and how!). Speaking of Judy, Sierra Boggess met the challenge of tackling the night's most eagerly awaited song with a spine-tingling take on "Over The Rainbow", even including a pettable pooch in the proceedings - with expectedly aww-worthy (and, vocally, awe-worthy) results. Fellow Broadway superstar Norm Lewis also was joined by a furry friend for his spectacular showpiece - no less than "Home" from THE WIZ, brought to heavenly heights with his reliably jaw-dropping vocal prowess. Wow. With the New York premiere of a song by Andrew Lloyd Webber and Tim Rice from the recent West End mounting of THE WIZARD OF OZ, vocal powerhouse Mandy Gonzalez tantalizingly milked "Red Shoes Blues" for every ounce of its myriad majesties - and, oh, my pretties, there are a-plenty. In a word: awesome. The Wizard of the night was surely the man behind the smoke and mirrors and sequins - and the one who made magic out of thin air before my very eyes over a mere weekend - Richard Jay-Alexander. To take a cue from THE WIZ's "So You Wanted To See The Wizard", anyone who saw this show can now say that they have been kissed by lightning - and liked it. A lot.
It is nights like this that have the power to remind us exactly just how privileged and proud we are to have a site as entertaining, useful and just-plain cool as BroadwayWorld undoubtedly is and forever shall remain.So, what's next? Stay tuned.
Photo Credits: Pat Cerasaro & Walter McBride