Click Here for More Articles on MY FAIR LADY REVIVAL
Rosemary Harris Takes Over as 'Mrs. Higgins' in MY FAIR LADY Today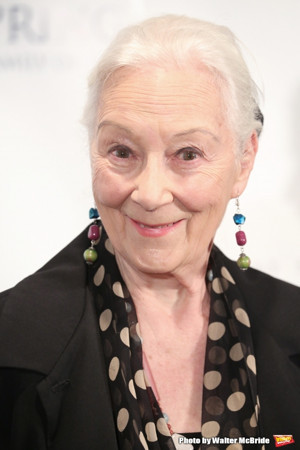 Tony Award winner Rosemary Harris will return to the Broadway stage when she assumes the role of Mrs. Higgins in its award-winning production of Lerner & Loewe's My Fair Lady, directed by Bartlett Sher, beginning today at the Vivian Beaumont Theater (150 West 65 Street).
Ms. Harris joins a cast of 37 headed by Lauren Ambrose, Harry Hadden-Paton, Norbert Leo Butz, Allan Corduner, Jordan Donica, Linda Mugleston, and Clarke Thorell. The production's ensemble features Cameron Adams, Shereen Ahmed, Kerstin Anderson, Heather Botts, Rebecca Eichenberger, SuEllen Estey, Christopher Faison, Steven Trumon Gray, Adam Grupper, Michael Halling, Joe Hart, Todd A. Horman, Sasha Hutchings, Kate Marilley, Liz McCartney, Justin Lee Miller, Rommel Pierre O'Choa, Keven Quillon, Joanna Rhinehart, Tony Roach, Lance Roberts, Blair Ross, Christine Cornish Smith, Paul Slade Smith, Samantha Sturm, Matt Wall, Michael Williams, Minami Yusui, and Lee Zarrett. Harry Hadden-Paton is appearing with the support of the Actors' Equity Association.
Rosemary Harris returns to Lincoln Center Theater after her Tony nominated performance in the acclaimed 1996 production of Edward Albee's A Delicate Balance, directed by Gerald Gutierrez. A Tony, Emmy, and Golden Globe Award winner, she made her Broadway debut in 1952 when Moss Hart brought her to New York from her native England to be in his play The Climate of Eden (Theatre World Award). Other Broadway credits include The Road to Mecca, Waiting in the Wings, An Inspector Calls, Hay Fever, A Streetcar Named Desire, The Lion in Winter (Tony Award), and The Royal Family(1975 and 2009). She was a founding member of the APA-Phoenix, 1960-67. At the Royal National Theatre, she played Ophelia opposite Peter O'Toole in Laurence Olivier's Hamlet and Yelena in Olivier's celebrated production of Uncle Vanya. John Gielgud chose her to star opposite him in his final stage appearance in London, The Best of Friends at the Apollo Theatre. Films include Aunt May in Sam Raimi's Spider-Man trilogy and Tom and Viv (Oscar nomination). TV: "Notorious Woman" (Emmy Award), "Holocaust" (Golden Globe Award).
MY FAIR LADY is performed Tuesday and Thursday evenings at 7pm and Wednesday, Friday, and Saturday evenings at 8pm, with matinees Wednesday and Saturday at 2pm and Sunday at 3pm. Kerstin Anderson plays the role of Eliza Doolittle at all Sunday matinee performances. Tickets, priced from $97 to $187, are available at the Lincoln Center Theater box office, at telecharge.com, or by visiting www.MyFairLadyBway.com. A limited number of tickets priced at $32 are available at every performance through LincTix, LCT's program for 21 to 35 year olds. For information and to enroll, visit LincTix.org. A limited number of tickets priced at $42 are also available through the digital lottery. For information and to enter, visit MyFairLadyLottery.com.
Lincoln Center Theater is producing Lerner & Loewe's My Fair Lady in association with Nederlander Presentations, Inc.
Photo Credit: Walter McBride / WM Photos