Rob Riley, William Dick, Deanna Dunagan, Mary Beth Fisher and More to Star in BLIND DATE at Goodman Theatre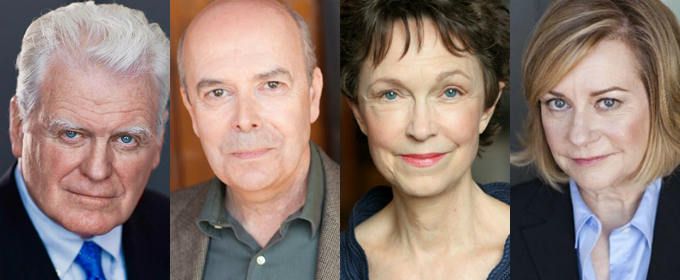 Ronald Reagan and Mikhail Gorbachev go head-to-head in Blind Date, a new play by Rogelio Martinez directed by Goodman Theatre Artistic Director Robert Falls. Today, Falls announced his cast for the world-premiere production, which features as characters some of the figures who shaped the political landscapes of the 1980s and beyond, including:
Former U.S. President Ronald Reagan (Rob Riley) and his wife, Nancy (Deanna Dunagan); Former President of the Soviet Union Mikhail Gorbachev (William Dick) and his wife, Raisa (Mary Beth Fisher); former U.S. Secretary of State George Shultz (Jim Ortlieb); former Minister of Foreign Affairs for the Soviet Union Eduard Shevardnadze (Steve Pickering); and Reagan biographer Edmund Morris (Thomas J. Cox). The ensemble includes Torrey Hanson, Gregory Linington and Michael Milligan.
Blind Date appears January 20 - February 25, 2018. Tickets ($20 - $75; subject to change) go on sale Friday, December 1 at GoodmanTheatre.org/BlindDate, by phone at 312.443.3800 or at the box office (170 N. Dearborn).
"More than three decades after the Geneva Summit, Rogelio Martinez's provocative, surprising Blind Date unites two of the late 20th century's most towering historical figures in ways that reflect the mystery and significance of these events when they first unfolded-yet allow us to keenly asses them from a modern perspective," said Director Robert Falls. "I'm thrilled to work with our brilliant cast on this final play in Rogelio's Cold War Era trilogy-in which he brings his observant intellect and biting sense of humor to subjects not necessarily primed for laughs. The play is at once a thoughtful investigation of history and a witty, timeless examination of human nature."
Playwright Rogelio Martinez is a Guggenheim Fellow (2017) and Princess Grace Award-winner whose works have appeared at theaters across the nation and abroad. After receiving an Alfred P. Sloan Foundation New Science and Technology Initiative Grant, Martinez wrote When Tang Met Laika, a post-Cold War space exploration play that was subsequently produced by the Denver Center. This inspired Martinez to bring the Cold War itself on stage in a three-play cycle exploring the time period. Ping Pong, the first play in the trilogy, is about U.S.-China relations during the Nixon administration and was presented at The Public Theater. The second play, Born in East Berlin, tackled the impact a Bruce Springsteen concert had on East Germans just prior to the fall of the Berlin Wall. The play was workshopped at the Atlantic Theater Company and has since been translated into both Hungarian and Romanian. Blind Date marks the trilogy's conclusion.
In Blind Date, the fate of the world depends on chemistry. In an era before Twitter, Tinder and Townhall.com, two of history's oddest couples seek to thaw the seemingly intractable tension between the United States and Soviet Russia. Despite their advisors' best efforts to keep Ronald Reagan and Mikhail Gorbachev on track, a crafty game of one-upmanship ensues, as the world's two most powerful leaders eschew conventional protocols to discuss pop culture and old movies-while their wives mirror their husbands' negotiations in a passive-aggressive tango over tea and fashion choices. The Creative Team includes Riccardo Hernandez (Set Designer), Amy Clark (Costume Designer), Aaron Spivey (Lighting Designer) and Richard Woodbury (Sound Designer).
Following Blind Date, Goodman Theatre's Tony Award-winning Artistic Director Robert Falls will direct a new production of Henrik Ibsen's An Enemy of the People (March 10 - April 15, 2018) at the Goodman, and also remount his Lyric Opera of Chicago production of Mozart's Don Giovanni for the Dallas Opera (April 2018). Most recently, Falls directed the world premiere of Jim McGrath's Pamplona, starring Stacy Keach as Ernest Hemingway, and a new production of Annie Baker's adaptation of Uncle Vanya at the Goodman.
ABOUT THE ARTISTS:
Rob Riley (Ronald Reagan) returns to the Goodman, where he previously appeared in The Crowd You're in With, Moonlight and Magnolias, The Beard of Avon, A Touch of the Poet, The Dining Room and The Front Page. He was Jeff Award-nominated for his work in Good for Otto at The Gift Theatre and in Chicago Dramatists' Cadillac. Additional Chicago credits include Q.E.D. (Collaboraction); I Sailed with Magellan, Unspoken Prayers, Cahoots, The End of the Tour, A View of the Dome and Before My Eyes (Victory Gardens Theater); Heartbreak House (Remy Bumppo Theatre Company); The Merry Wives of Windsor at Chicago Shakespeare Theater; The Front Page at TimeLine Theatre Company; The Weir and The Playboy of the Western World at Steppenwolf Theatre Company; Seasons Greetings and The Cripple of Inishmaan (Northlight Theatre); and Travesties and The Importance of Being Earnest (Wisdom Bridge Theatre Company). He has performed on The Second City mainstage and co-wrote, directed and performed in the musical Wild Men! at The Body Politic and The West Side in New York, as well as appearing in Paul Sills' Sills and Company at Actors' Playhouse in New York. Regional credits include Ground (Actors Theatre of Louisville). He has also written for and acted in film and television.
Deanna Dunagan (Nancy Reagan) returns to Goodman Theatre, where her credits include Other Desert Cities, Bounce, A Touch of the Poet and Sunday in the Park with George. Broadway credits include August: Osage County (Tony and Drama Desk Awards). Off-Broadway credits include The Treasurer (Playwrights Horizons). Chicago credits include August: Osage County (Steppenwolf Theatre Company, Jeff Award), Death Tax (Lookingglass Theatre Company, where she is an artistic associate), Marvin's Room (Shattered Globe Theatre), A Little Night Music (Writers Theatre), A Delicate Balance (Remy Bumppo Theatre Company, After Dark Award), James Joyce's The Dead (Court Theatre, Jeff Award) and A Lie of the Mind (American Theater Company). Regional credits include The Revisionist (Annenberg Center) and Bounce (Kennedy Center). Film credits include The Visit and The Pages. Television credits include The Exorcist, The Strain, House of Cards, Unforgettable and Prison Break.
William Dick (Mikhail Gorbachev) returns to the Goodman, where he first appeared in the 1983 John Guare cabaret Hey, Stay a While. Additional Goodman credits include Griller; Spinning into Butter; House and Garden; The Goat, or Who is Sylvia and Moonlight and Magnolias. Chicago credits include The Merry Wives of Windsor, Cyrano de Bergerac, Henry VIII, Timon of Athens, The Madness of George III and Macbeth (Chicago Shakespeare Theater); We All Went Down to Amsterdam (Steppenwolf Theatre Company); The Odd Couple (Northlight Theatre); The Hammer Trinity (The House Theatre of Chicago) and The Pitmen Painters (TimeLine Theatre Company). He was a repertory company member for the last two seasons at Asolo Repertory Theater, appearing in Ah, Wilderness; Guess Who's Coming to Dinner; The Little Foxes; All the Way and The Great Society. He has also performed extensively with Milwaukee Repertory Theater. Film and television credits include Oz the Great and Powerful, The Merry Gentleman, Fred Claus, Stranger than Fiction, The Break-Up, The Company, The Exorcist, Crisis, Chicago Fire, The Mob Doctor and Leverage.
Mary Beth Fisher (Raisa Gorbachev) made her Goodman Theatre debut in Marvin's Room in 1993. Since then, she has been a frequent collaborator at the Goodman, appearing in The Night of the Iguana, Light up the Sky, Design for Living, Spinning Into Butter, Boy Gets Girl, The Guys, The Rose Tattoo, Heartbreak House, Dinner with Friends, The Clean House, Frank's Home, Rock 'n' Roll, The Seagull, God of Carnage, Luna Gale, Vanya and Sonia and Masha and Spike and The Little Foxes. Other Chicago credits include Domesticated (Jeff Award), Dead Man's Cell Phone, The Dresser and The Memory of Water at Steppenwolf Theatre Company; Long Day's Journey into Night, Angels in America, Three Tall Women, The Year of Magical Thinking (Jeff Award), The Wild Duck, What the Butler Saw, Arcadia, Travesties and The Importance of Being Earnest at Court Theatre; Roz and Ray at Victory Gardens Theater; The Taming of the Shrew at Chicago Shakespeare Theater; The Laramie Project, The Little Dog Laughed and Theatre District at About Face Theatre; The Marriage of Figaro at Remy Bumppo Theatre Company; My Own Stranger at Writers Theatre and White Guy on the Bus and Away at Northlight Theatre. New York credits include Frank's Home at Playwrights Horizons; Boy Gets Girl (Drama League honoree, Drama Desk and Lucille Lortel nominations); The Radical Mystique and By the Sea, By the Sea, By the Beautiful Sea at Manhattan Theatre Club; The Night of the Iguana at Roundabout Theatre Company; Extremities at Westside Arts and Are You Now or Have You Ever Been? at the Promenade Theatre.
Jim Ortlieb (George Schultz) returns to the Goodman after previously appearing Candide in 1984. Chicago credits include Life Sucks (Lookingglass Theatre Company), Scapin (American Blues Theater), Picasso at the Lapin Agile and The Man Who Came to Dinner (Steppenwolf Theater Company) and The Book of Will (Northlight Theatre). Broadway credits include The Farnsworth Invention, Of Mice and Men and Guys and Dolls. Additional credits include Billy Elliot (national tour), Tartuffe and Candide (Weston Playhouse), The Grapes of Wrath (Ford's Theatre, directed by David Cromer), Hughie and The Homecoming (Gare St. Lazare Players in Paris), M the Murderer (Organic Theatre) and Marriage Play (Merrimack Repertory Theatre). He is an Independent Reviewers of New England (IRNE) Best Actor nominee. Television and film credits include Masters of Sex, Bones, The Closer, CSI, Grey's Anatomy, The Shield, Felicity, Roswell, Magnolia, A Mighty Wind, Flatliners, Latter Days, Drunkboat, Contagion, The Crash, and Inheritance.
Steve Pickering (Eduard Shevarnadze) returns to the Goodman, where he last appeared in The Little Foxes, one of more than 30 productions with the company since 1987, including Romeo and Juliet, On the Open Road, Good Person of Setzuan and Robert Falls' productions of Long Day's Journey into Night, King Lear and Death of a Salesman (also on Broadway, for the national tour and in London's West End). Recent credits include Tin Woman (Theatre at the Center), The Audience and The Last Wife (TimeLine Theatre Company), Treasure Island (Lookingglass Theatre Company and Berkeley Repertory Theatre) and the title role in Macbeth (Santa Cruz Shakespeare). He received a 2013 Helen Hayes Award nomination for Wallenstein at the Shakespeare Theatre in Washington, D.C., and has performed with many of the country's regionals, includ ing Pittsburgh's City Theatre Company, Milwaukee Repertory Theatre, Indiana Repertory Theatre, Clarence Brown Theatre, Arena Stage, The Old Globe, as well as the Illinois and Alabama Shakespeare Festivals. Formerly the artistic director for Next Theatre in Evanston and a 2016 Lunt-Fontanne Fellow with the Ten Chimneys Foundation, he is currently a Goodman Theatre Creative Partner and project manager for Shanghai Low Theatricals, a stage adaptation development group. SLT credits include co-adapting George Orwell's Animal Farm for the Steppenwolf Young Adult Program in 2014, Alastair Reynolds' Diamond Dogs for The House Theatre of Chicago last season, and, with David Kersnar, the upcoming 20,000 Leagues Under the Sea for Lookingglass Theatre Company. ShanghaiLow.org
Thomas J. Cox (Edmund Morris) returns to the Goodman, where he last appeared in Rock N Roll, directed by Charles Newell. As an ensemble member with Lookingglass Theatre Company, he has appeared in many productions since 1988, including Cascabel, The Jungle, The Odyssey, West, Arabian Nights, The Great Fire, Nelson Algren: For Keeps and a Single Day (Jeff Award nomination for Best Solo Performance), Old Curiosity Shop (Jeff Award nomination for Best Supporting Actor), 1984 and Peter Pan. He serves Lookingglass' education program as a master teacher. He has appeared in Chicago and regionally at Steppenwolf Theatre Company, Northlight Theatre, Court Theatre, The House Theatre of Chicago, The Gift Theatre and Milwaukee Repertory Theatre. Mr. Cox also worked for 10 years at the Weston Playhouse Theatre in Vermont, performing in shows such as Tartuffe and Urinetown and directing Weston's Young Company. Film and television credits include Chicago Fire, Brotherhood and Since You've Been Gone.
Robert Falls (Goodman Theatre Artistic Director) previously directed at the Goodman the Chicago premiere of Rebecca Gilman's Soups, Stews, and Casseroles: 1976, and partnered with Goodman Playwright-in-Residence Seth Bockley to direct their world premiere adaptation of Roberto Bolaño's 2666 (Jeff Award for Best Adaptation). Recent productions also include The Iceman Cometh for the Brooklyn Academy Of Music, Rebecca Gilman's Luna Gale for the Center Theatre Group in Los Angeles, Measure for Measure and the world and off-Broadway premieres of Beth Henley's The Jacksonian. Among his other credits are The Seagull, King Lear, Desire Under the Elms, John Logan's Red, Jon Robin Baitz's Three Hotels, Eric Bogosian's Talk Radio and Conor McPherson's Shining City; the world premieres of Richard Nelson's Frank's Home, Arthur Miller's Finishing the Picture, Eric Bogosian's Griller, Steve Tesich's The Speed of Darkness and On the Open Road, John Logan's Riverview: A Melodrama with Music and Rebecca Gilman's A True History of the Johnstown Flood, Blue Surge and Dollhouse; the American premiere of Alan Ayckbourn's House and Garden; and the Broadway premiere of Elton John and Tim Rice's Aida. Mr. Falls' honors for directing include, among others, a Tony Award (Death of a Salesman), a Drama Desk Award (Long Day's Journey into Night), an Obie Award (subUrbia), a Helen Hayes Award (King Lear) and multiple Jeff Awards (including a 2012 Jeff Award for The Iceman Cometh). For "outstanding contributions to theater," Mr. Falls has been recognized with such prestigious honors as the Savva Morozov Diamond Award (Moscow Art Theatre), the O'Neill Medallion (Eugene O'Neill Society), the Distinguished Service to the Arts Award (Lawyers for the Creative Arts), the Illinois Arts Council Governor's Award and induction into the Theater Hall of Fame.
Goodman Theatre is a premier not-for-profit organization distinguished by the excellence and scope of its artistic programming and civic engagement. Led by Artistic Director Robert Falls and Executive Director Roche Schulfer, the theater's artistic priorities include new play development (more than 150 world or American premieres), large scale musical theater works and reimagined classics (celebrated revivals include Falls' productions of Death of a Salesman and The Iceman Cometh). Goodman Theatre artists and productions have earned two Pulitzer Prizes, 22 Tony Awards, over 160 Jeff Awards and many more accolades. In addition, the Goodman is the first theater in the world to produce all 10 plays in August Wilson's "American Century Cycle" and its annual holiday tradition A Christmas Carol, which celebrates its 40th anniversary this season, has created a new generation of theatergoers. The Goodman also frequently serves as a production partner with local off-Loop theaters and national and international companies by providing financial support or physical space for a variety of artistic endeavors.
Committed to three core values of Quality, Diversity and Community, the Goodman proactively makes inclusion the fabric of the institution and develops education and community engagement programs that support arts as education. This practice uses the process of artistic creation to inspire and empower youth, lifelong learners and audiences to find and/or enhance their voices, stories and abilities. The Goodman's Alice Rapoport Center for Education and Engagement is the home of such programming, most offered free of charge, and has vastly expanded the theater's ability to touch the lives of Chicagoland citizens (with 85% of youth participants coming from underserved communities) since its 2016 opening.
Goodman Theatre was founded by William O. Goodman and his family in honor of their son Kenneth, an important figure in Chicago's cultural renaissance in the early 1900s. The Goodman family's legacy lives on through the continued work and dedication of Kenneth's family, including Albert Ivar Goodman, who with his late mother, Edith-Marie Appleton, contributed the necessary funds for the creation of the new Goodman center in 2000.
Today, Goodman Theatre leadership also includes the distinguished members of the Artistic Collective: Brian Dennehy, Rebecca Gilman, Henry Godinez, Dael Orlandersmith, Steve Scott, Chuck Smith, Regina Taylor, Henry Wishcamper and Mary Zimmerman. David W. Fox, Jr. is Chair of Goodman Theatre's Board of Trustees, Cynthia K. Scholl is Women's Board President and Justin A. Kulovsek is President of the Scenemakers Board for young professionals.