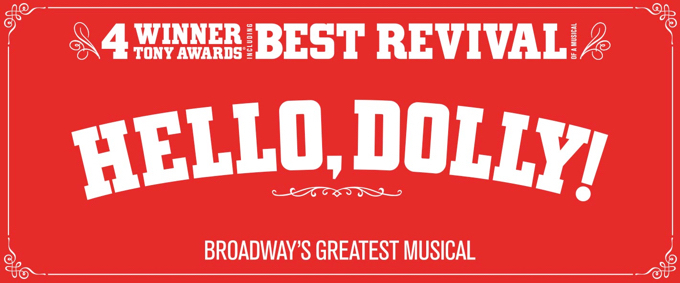 Click Here for More Articles on HELLO, DOLLY!
Ribbons Down Their Backs: The Supporting Ladies of HELLO, DOLLY!
Hello, Dolly! is one of the most famous Broadway star vehicles, and no production has yet made that clearer than the one with Bette Midler's name floating high atop the marquee (along with the 'sold out' sign). But what about the supporting ladies that fill the stage alongside the whirlwind Dolly Levi?
Horace Vandergelder's original first conquest, the dissatisfied milliner Irene Malloy, was played by Eileen Brennan. By the time she took on the featured role in the 1964 production, Brennan was already an established star of the stage. Her big break came from a 1959 Off-Broadway show Little Mary Sunshine for which she won an Obie and a Theatre World Award. Following a tour of The Miracle Worker and a run as
Anna in The King and I, Brennan made her Broadway debut in The Student Gypsy, an unofficial sequel to her award-winning stage debut. After only a few weeks, the show closed, and Brennan turned to Hello, Dolly! where she stayed for about two years. Brennan then jetted off to Hollywood where she landed an Oscar nod for her supporting role in the film Private Benjamin. She reprised her role as drill captain Doreen Lewis in a TV series of the same name for which she received both Emmy and Golden Globe Awards. Brennan racked up an extensive filmography, but never returned to the Broadway stage. The closest she came could arguably be in the recognizable role of Zandra on Will & Grace, Jack McFarland's haughty and hilarious acting instructor.
The Minnie Fay to Brennan's Irene was originated by Sondra Lee, best known at the time as Tiger Lily in the 1960 film Peter Pan opposite Mary Martin (who would later go on to star as Dolly on the West End). Lee never had to audition for her role as Minnie; also an accomplished stage performer and dancer, though primarily in Europe, she got a call from Gower Champion while working in Rome and was offered the part outright. Lee stayed in the role for a whole rotation of Dollys that included Ginger Rogers, Betty Grable, and Martha Raye. Lee went on to work at the Stella Adler Conservatory, then became an acting and dialogue consultant on films including Places in the Heart (1984) and The Last of the Mohicans (1992). She currently teaches and privately coaches acting.
Alice Playten played the original wailing Ermengarde and counted Gypsy, Oliver!, Seussical, and more among her Broadway credits. She earned a 1968 Tony nomination for her role in Henry, Sweet Henry. On screen, she is perhaps best known recently for her recurring guest spot as Martin Crane's lovable girlfriend Bonnie alongside current Hello, Dolly! star David Hyde Pierce on Frasier. Playten passed away in 2011 due to juvenile diabetes and complications from pancreatic cancer.
Mary Jo Catlett, the OBC's comic relief Ernestina, has made a prolific career in television guest spots and voiceover work on series such as M*A*S*H, Rugrats, That's So Raven, Kimpossible, Desperate Housewives, and Rizzoli and Isles. Catlett has also been the voice of Mrs. Puff on Spongebob Squarepants since the show's inception in 1999.
Many other iconic women have graced the stage in support of Dolly Levi including Broadway star Mary Louise and one of Ronnie Spector's 'Ronettes' Laverne "Chip" Fields, who appeared alongside Pearl Bailey in an all-black revival that ran for 42 performances in 1968.
Florence Lacey wore ribbons down her back in both of Carol Channing's Broadway revivals, one in 1978 and the other in 1995. She also performed "It Only Takes A Moment" at the 1993 concert 'Jerry Herman's Broadway at the Hollywood Bowl'.
On screen, the role of Irene Malloy can be traced all the way back to Hollywood legend Shirley MacLaine. Hello, Dolly! has a long history of adaptations and source material, most notably the Broadway play The Matchmaker written by Thornton Wilder. MacLaine starred as Irene alongside Shirley Booth as Dolly in the 1958 film adaptation of the play, which ultimately bore a striking resemblance to the musical. Just check out the trailer:
When Hollywood said hello to Barbra Streisand as Dolly, the casting of Irene took an odd turn. Marianne McAndrew auditioned for the role at the urging of her agent. Despite not being a singer or dancer, she had played the role of Irene in a production of The Matchmaker. McAndrew was flown out to LA and put through multiple screen tests and table reads before being placed on retainer while the casting team searched in London. Unable to find someone else, McAndrew won the part. She was the only cast member whose singing was dubbed. Gilda Maiken, lead singer of the 1940's band The Skylarks sang Irene's ensemble vocals. The solo vocals were recorded by Melissa Stafford, who was one of the longest running performers on Dean Martin's television show - 1966-74 - and was known as one of Dean's Girls.
With one of the longest resumes of any actress on Broadway, it's no surprise that current revival star Kate Baldwin has played Irene Malloy before. The effervescent redhead showed off her elegance in the 2006 production at Paper Mill Playhouse alongside Tovah Feldshuh. She then reprised the role at the Muny in 2007 amongst a starry cast including Randy Graff, Telly Leung, James Clow, and Jennifer Cody.
In the current revival, Baldwin is joined by Beanie Feldstein making her Broadway debut as Minnie Faye. Melanie Moore whines up a storm as Ermengarde; Moore's recent credits include Fiddler on the Roof and Finding Neverland, and she was the season 8 winner of 'So You Think You Can Dance'. 2016 Tony nominee for Disaster! Jennifer Simard rounds out the supporting ladies with her unforgettable appearance as Ernestina Money.
Star vehicle or not, there's more to Hello, Dolly! than the meddling matchmaker who saunters down the stairs of the Harmonia Gardens. It may take a woman to run Horace Vandergelder's household, but it takes a whole group of talented women to bring Dolly's magic to life. And with or without ribbons, they all deserve to catch the eye.