Click Here for More Articles on LOVE NEVER DIES
Rialto Chatter: Is LOVE NEVER DIES Headed to Broadway?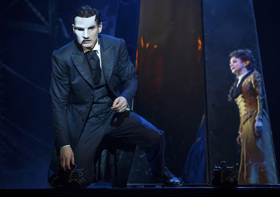 Could Love Never Dies be heading to Broadway next? Randy Buck, CEO of Troika Entertainment, seems to think so!
"We've got eight shows on the road right now, and 'Love Never Dies' is outselling them all," Buck said, as reported by Variety.
"Broadway is certainly a possibility," he said. "We are looking at that for early next year. I think we would come in, in a limited-engagement scenario, but we'll see. That's still up in the air."
Love Never Dies is a romantic musical composed by Andrew Lloyd Webber with lyrics by Glenn Slater and a book by Lloyd Webber, Ben Elton, Frederick Forsyth and Slater. It is a sequel to The Phantom of the Opera and was loosely adapted from Forsyth's novel The Phantom of Manhattan.
The show was originally staged by Jack O'Brien and Jerry Mitchell in 2010 on the West End, opening to negative reviews. The show closed in August 2011 and never made it to Broadway.
After some reworking, the show has played in Melbourne and Sydney, Tokyo, Hamburg, and now is touring the U.S.
"There's no comparison to 'Phantom,' which is still the king of the road," said Gina Vernaci, executive director of Cleveland Playhouse Square. "But people vote with their feet, and an awful lot of feet showed up for 'Love Never Dies.' "
Read more here.
Related Articles