Review Roundup: What Did the Critics Think of THE BEAST IN THE JUNGLE?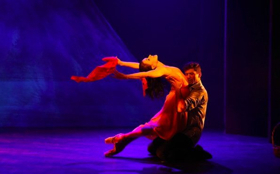 The world premiere of The Beast in the Jungle officially opened last night, May 24 at Vineyard Theater - 108 East 15th Street, NYC.
Irina Dvorovenko ("The Americans"), a former American Ballet Theatreprincipal dancer, Tony Award nominees Tony Yazbeck (ON THE TOWN, FINDING NEVERLAND) and Peter Friedman (RAGTIME, The Vineyard's THE SLUG BEARERS OF KAYROL ISLAND...), and Teagle F. Bourgere (THE CRUCIBLE, A RAISIN IN THE SUN) are featured in the world premiere of The Beast in the Jungle, an original work fusing dance, drama and music by legendary composer and four-time Tony Award winner John Kander(CABARET, CHICAGO), Tony Award nominee playwright David Thompson(STEEL PIER; FLORA, THE RED MENACE), and five-time Tony Award-winning director and choreographer Susan Stroman (THE PRODUCERS, CONTACT).
Adapted from Henry James' classic 1903 novella, The Beast in the Jungle is the story of John Marcher, a man haunted by personal demons, whose great yet unfulfilled love affair with an unforgettable woman spans decades and continents. With a waltz-inspired instrumental score, and dazzling choreography that traverses the worlds of ballet and contemporary dance, this powerful and romantic tale of love and loss reunites the remarkable creative team behind The Vineyard's acclaimed THE SCOTTSBORO BOYS.
Let's see what the critics are saying...
---
Ben Brantley, The New York Times: As in much of James, the story's power is inescapably linked to its style - a close third-person that curls into itself in labyrinthine introspection. Though you could call James's "Beast" a sort of love story manqué, his protagonist would seem to be celibate (though a Jamesian gentleman never tells).
The John of this new adaptation - which features a script by David Thompson ("The Scottsboro Boys," on which he also collaborated with Mr. Kander and Ms. Stroman) - is in quest of what he calls "the great mystical [four-letter word for copulation]." So while James's "Beast" is about life-denying emotional paralysis, this latest version focuses on the more active perils of promiscuity and its tedious cousin: commitment phobia.
Frank Scheck, The Hollywood Reporter: The cast is similarly first-rate, with the leading roles played by Peter Friedman, a veteran of dozens of Broadway and off-Broadway shows; Tony Yazbeck, who wowed audiences with his starring turn in the last Broadway revival of On the Town and more recently in Prince of Broadway; and Irina Dvorovenko, a former principal dancer for American Ballet Theatre who has delivered impressive leading performances in the Encores! productions of On Your Toes and Grand Hotel.
But the bounty of talent counts for little in a tedious, inert piece that awkwardly shoehorns numerous dance interludes into a thin storyline.
Joe Dziemianowicz, Daily News: The show has pluses and minuses. Stroman knows her way around shadows and light in dance-driven shows. She guided the multitextured Tony-winner "Contact" in 2000. Music by Kander, represented on Broadway with "Chicago," is pretty and stirring. The dancing is strong and elegant. Dvorovenko is light on her feet and powerful. Yazbeck reeks ease and athleticism. But a twirling, leaping, posing chorus of women at times gets silly. As directed, Marcher's fear sometimes appears to be acute appendicitis.
More distracting is clunky narration and dialogue that keeps interrupting the flow of the 105-minute show. Between Marcher's banter with women in his crosshairs and a melodramatic conclusion the talking in the show is the equivalent of dancing with two left Capezios.
Thom Geier, The Wrap: Full credit to Michael Curry's scenic and costume design, with its deployment of puppetry and even bolts of cloth to enchanting effect. And Ben Stanton's lighting is a revelation, adding new layers of meaning and heightening key moments.
But for all the stunning visuals and the spirited and balletic movement of the talented cast, "The Beast in the Jungle" remains steadily earthbound when it comes to David Thompson's book.
Sara Holdren, Vulture: I have a very hard time keeping my eyebrow from rising (and twitching) in these stories of charming, cowardly men-children who carry what they believe to be their damage like a holy cross, making a fetish of their brokenness. What I don't know, though, is this: Are such stories still worth telling because they force us to examine a real phenomenon, a very prevalent and very disturbing mode of masculinity? I think it depends on how the story is told - how much it glorifies (knowingly or not) its wayward, self-flagellating protagonist along the way, and how much it falls prey to stereotype and cliché (those red and pink dresses, say) in the telling. Ten minutes into A Beast in the Jungle, I could tell that it was going to teach me the same thing as High Fidelity's Rob Gordon - undoubtedly among pop culture's Top Five self-pitying, self-defeating men-children, and one whose story is unerringly smart - when he sits on that bench in the rain after the funeral of his ex-girlfriend's dad: "I can see now I never really committed to Laura. I always had one foot out the door ... I guess it made more sense to commit to nothing. Keep my options open. And that's suicide. By tiny, tiny increments."
David Cote, Observer: While this creative team (last at the Vineyard Theatre, where Beast is playing, with 2010's The Scottsboro Boys) brings plenty of craft, the result is that of conventional artists straining to experiment. Tender slides into crass; subtlety jostles with overstatement. If Agnes De Mille unfurled a passion project in 1975, it might resemble this: pop-balletic passion that verges on pantomime silliness.
Deb Miller, DC Metro Theater Arts: The production's phenomenal cast is in full synch with the creative concept. Peter Friedman brings an understated tone of circumspection, vexation, regret, and ultimate realization to Marcher, as he narrates the story of his ill-fated association with May and relives their defining moments in his mind's eye. Tony Yazbeck (who distinctively doubles as the lovelorn lesson-learning nephew) delivers a potent combination of acting and dance as Marcher's younger self, embracing the pleasures of youth, tormented by his disquieting premonitions, prone to expressing himself physically not verbally, moving his sexual conquests in and out of his life as quickly as the masterpieces he buys and sells (with little regard for their intrinsic value), then growing increasingly conflicted by his forsaken opportunities with May. Yazbeck's superb performance and agile moves are matched by those of the enchanting Irina Dvorovenko (formerly a principal dancer with the American Ballet Theatre) as May, who embodies a wistful spirit of grace and elegance, mixed with inner strength, passion, confusion, and pain, as she ages and comes to terms with her lingering memories and unresolved feelings for Marcher - though long married to a wealthy and devoted husband (portrayed with authority by the excellent Teagle F. Bougere).
Related Articles