Click Here for More Articles on THE MUNY
Review Roundup: The Muny's SINGIN' IN THE RAIN Starring Corbin Bleu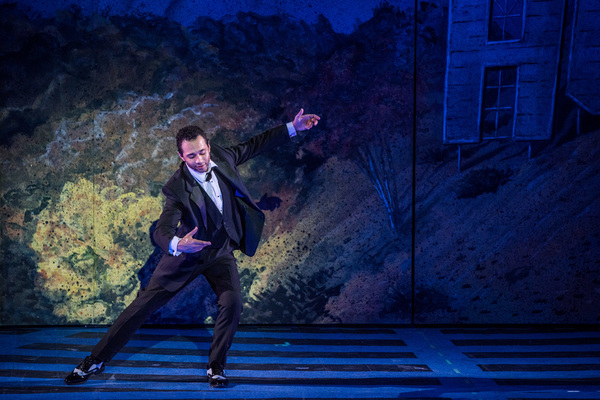 The Muny's centennial season production of Singin' in the Rain is now on stage through July 3!
Based on the famous 1952 film, Singin' in the Rain has all the makings of a Tinseltown tabloid headline-the starlet, the leading man, a love affair for the ages and the unexpected transition from the silent film era to "talkies." Known for its unforgettable hit-parade of Hollywood standards, splashy production numbers, hilarious situations and snappy dialogue, this timeless Muny favorite is sure to be a downpour of pure delight.
The exceptionally talented cast includes Corbin Bleu (Don Lockwood), Berklea Going (Kathy Selden), Jeffrey Schecter (Cosmo Brown), Megan Sikora (Lina Lamont), Jeff McCarthy (R.F. Simpson) and George Merrick (Roscoe Dexter). A sensational ensemble completes this cast, including Ward Billeisen, Patrick Blindauer, Emma Gassett, Gary Glasgow, Madison Johnson, Zachary Daniel Jones, Evan Kinnane, Debby Lennon, Dionna Thomas Littleton, Dory Lorenz, Halle Morse, Kaitlin Nelson, Lizz Picini, Jeremiah Porter, Cassie Austin Taylor, Daryl Tofa, Cayel Tregeagle and Victor Wisehart. The company is also joined by the Muny Kid and Teen youth ensembles.
An outstanding creative team leads this production with direction by Marc Bruni, choreography by Rommy Sandhu, music direction by Ben Whiteley, scenic design by Paul Tate DePoo III, costume design by Tristan Raines, lighting design by Nathan W. Scheuer, sound design by John Shivers and David Patridge, video design by Greg Emetaz, wig design by Leah J. Loukas and production stage management by Matthew Lacey.
Tickets are currently on sale for this historic season. In addition, Muny gift cards for the 100th season are now available online and at The Muny Box Office. For more information, visit muny.org or call (314) 361-1900.
Let's see what the critics have to say!
Tanya Seale, BroadwayWorld: Hollywood and Broadway star Corbin Bleu (Disney's High School Musical, among many others) performs pleasingly as Don Lockwood, his dancing energetic, and his voice smooth and pure. The audience appreciated his performance especially in "Broadway Rhythm," for which the applause was abundant. Bleu is an indisputable triple threat, and his adroit, umbrella-twirling version of "Singin' in the Rain" left everyone smiling and cheery at intermission. After all, it's what we all came to see.
Judith Newmark, St. Louis Post Dispatch: A superb tapper, Bleu takes the title solo in joyous, rhythmic stride, then leads everyone in the reprise at the finale. "Singin' in the Rain" is not considered the Muny family show this season; that's "Annie" and perhaps "The Wiz." But "Singin' in the Rain" is so full of life, motion and color that no one's too young or too old for it.
Kevin Brackett, Reviews STL: There is so much to take in during the show, and most of the numbers feel big in the best way. It's a non-stop flow of endorphins for the audience, as each scene seamlessly flows into the next. Director Marc Bruni ensures that fans of Singin' in the Rain, who have enjoyed the classic film and timeless songs for decades, will be wearing a smile for two-and-a-half magical hours of theatre.
James Lesch, MAX: "Singing in the Rain" is a wonderful choice for the Muny. Bleu, a star on the rise, has the voice and footwork to take on these classic characters and bygone legends. Even with an all-star supporting cast, his talent shines brilliantly and he's clearly capable of keeping the audience charmed. One can only hope he'll return to the Muny stage soon.
Chuck Lavazzi, KDHX: Under the direction of Ben Whitely the Muny orchestra sounded at the top of their game on opening night, the humidity not withstanding. Director Marc Bruni keeps everything moving briskly and looking polished, while Rommy Sandhu's choreography is a neat mix of classical dance moves and vintage styles of the 20s and 30s. Sets by Paul Tate dePoo III, video projections by Greg Emetaz, and lighting by Nathan W. Scheuer all help to create a properly glitzy Hollywood ambience, as do Tristan Raines's period costumes.