Click Here for More Articles on SAINT JOAN
Review Roundup: The Critics Weigh In on SAINT JOAN on Broadway!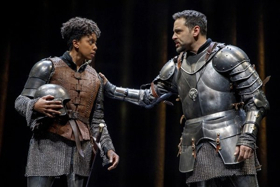 MTC presents a powerful new production of Saint Joan, which opens on Broadway tonight at the Samuel J. Friedman Theatre.
Saint Joan stars three-time Tony Award nominee Condola Rashad (A Doll's House, Part 2; "Billions"). Joining Rashad are Walter Bobbie (marking the theatrical director's first return to Broadway as an actor in over 20 years), Adam Chanler-Berat (Peter and the Starcatcher), Jack Davenport ("Smash"), John Glover (The Cherry Orchard), Patrick Page (MTC's Casa Valentina), Daniel Sunjata (MTC's The Country House), Maurice Jones (MTC's Linda), Russell G. Jones (MTC's Ruined), Max Gordon Moore (Indecent), Matthew Saldivar(MTC's Important Hats of the 20th Century), Robert Stanton (MTC's Fuddy Meers), Lou Sumrall (Frankie & Johnny in the Clair de Lune). the company also includes Tony Carlin (JUNK), Ben Horner (War Horse), Mandi Masden (MTC's August Wilson's Jitney), Howard W. Overshown (Julius Caesar), Michael Rudko (The Audience) and RJ Vaillancourt (Broadway Debut).
Condola Rashad stars as one of history's greatest heroines in a major new production of Bernard Shaw's epic work directed by Daniel Sullivan. Set in 15th century France, Saint Joan follows a country girl whose mysterious visions propel her into elite circles. When the nation's rulers become threatened by her popularity and influence, they unite to bring her down and she finds herself on trial for her life. This timeless and powerful play dramatizes the limits of an individual in a society dominated by overwhelming political and religious forces.
Let's see what the critics had to say!
Jesse Green, The New York Times: Any production of the play thus hangs on how the director and star decide to deal with the negatively defined presence at its center. In Daniel Sullivan's thoughtful if mostly becalmed staging at the Samuel J. Friedman Theater on Broadway, he and Condola Rashad, his chipper Joan, stick close to the author's brief. Their Maid of Orleans is, as Shaw writes in the play's preface, "a born boss."
Matt Windman, amNY: On the heels of Lincoln Center Theater's acclaimed revival of "My Fair Lady" (which is based on Shaw's 1913 comedy of manners "Pygmalion"), Manhattan Theatre Club is presenting a straightforward, generally effective production of his 1923 tragedy "Saint Joan" with three-time Tony nominee Condola Rashad ("A Doll's House, Part 2," the Showtime series "Billions") as Joan of Arc.
Adam Feldman, Time Out New York: Despite a capable cast, led by a composed and steely-eyed Rashad (and including the excellent Robert Stanton in a trio of small roles), Saint Joan doesn't rise to meet the contemporary energy of youthful protest with which it coincides. It flickers with intelligence but doesn't burn.
Frank Scheck, The Hollywood Reporter: Burn me at the stake for heresy if you must, but I'll say it. Even when done well, Bernard Shaw's Saint Joan is a slog. And since Manhattan Theatre Club's Broadway revival of the 1923 play isn't done very well, it's even more of a slog than usual. The production has been anticipated for the starring turn of three-time Tony nominee Condola Rashad in the title role. Unfortunately, this talented actress fails to galvanize the lengthy proceedings, making the play feel longer than it is. And at nearly three talk-filled hours, it's already very long.
Frank Rizzo, Variety: But they could also be talking about the actress who portrays her. Playing a part that is as daunting as it is dazzling, Condola Rashad steps into the starring role in a blaze of glory and claims it as her own. Rashad's depiction of the wide-eyed, visionary youth of fierce determination, unwavering faith and beguiling innocence - not to mention a beatific smile that radiates to the balcony - makes you a believer, too
Joe Dziemianowicz, The Daily News: Bernard Shaw's 1923 drama follows a young woman pitted against the patriarchy in a story packed with faith, miracles and martyrdom. Dramatic stuff. But the revival at the Friedman Theatre has as much crackle as soggy kindling.
Barbara Schuler, Newsday: Director Daniel Sullivan couldn't do much in his staging of George Bernard Shaw's "Saint Joan," now at Manhattan Theatre Club's Friedman Theatre, to save the French heroine from her horrific fate, though he did manage to inject the uneven production with a few moments of levity (more on that later).
Leah Greenblatt, Entertainment Weekly: The 1923 vintage of Shaw's play hardly shows its age in Scott Pask's staging (though his rich, gold-tinted set does lean toward the Art Deco) or in the loose, slightly winky direction by Daniel Sullivan (The Little Foxes). But color-blind casting and the occasional 20th-century colloquialism feel mostly like modern window-dressing on a story that's been marinating in the collective psyche for more than half a millennium.
Sara Holdren, Vulture: if your first experience of Shaw or his Joan is Sullivan's tepid production and its disappointingly soft starring turn by Condola Rashad, you could be forgiven for writing this vigorous play and its fascinating playwright off as a collective bore.
Greg Evans, Deadline: Directed by Daniel Sullivan with an easy flow that appears to modernize the 1923 play and keep all that Shavian verbiage moving at a smart clip, Saint Joan would seem an ideal resurrection for an era of #MeToo and the rejection of binary gender cages, but this Joan doesn't quite drive its sword into that ground as forcefully as you might hope.
Tim Teeman, The Daily Beast: In this under-charged production of Shaw's 1923 play, first performed three years after Joan of Arc's canonization by the Roman Catholic Church, Rashad plays the iconic martyr as a lost-seeming, somewhat dreamy young woman. As directed by Daniel Sullivan, she is resolute, but gently so. She stays strong for sure, she leads an army, but our impression is of someone who is happier staring devotedly skyward.
Roma Torre, NY1: On the surface, George Bernard Shaw's "Saint Joan" is a great choice to produce now. In a sense, Joan of Arc was the ultimate feminist in an ultra-patriarchal world, and she certainly paid the price for her convictions. But while the Manhattan Theatre Club's timely selection of this great play raises high expectations, the production falls a bit short.
Elysa Gardner, New York Theatre Review: Condola Rashad, who assumes the role in Manhattan Theatre Club's stirring new Broadway revival of Saint Joan, exudes a very different kind of purity. With her doe eyes and sweetly resonant voice, Rashad's Joan is a distinctly feminine presence, even a girlish one at points, though it's clear that gender is of no consequence to her.
Robert Hofler, The Wrap: Rashad does not turn Joan into John, but her maid of Orleans looks as though she could wallop any of the 17 men in the cast. With some help from heels and buoyant hair, she matches, if not exceeds, the height of the guys around her. Only John Glover's Archbishop towers over her. Then again, under his robes, like so many men in their priestly drag, he too may be wearing high heels.