Click Here for More Articles on AMERICAN UTOPIA
Review Roundup: AMERICAN UTOPIA Opens on Broadway; What Do the Critics Think?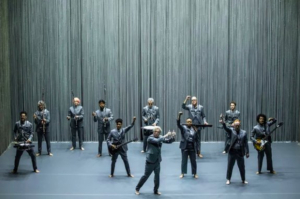 David Byrne's American Utopia officially opened tonight, October 20 at the intimate Hudson Theatre on Broadway.
The once-in-a-lifetime theatrical concert delivers "an experience unlike anything else" (Billboard) and marks a major cultural milestone in the worlds of music and theatre. Innovative pop/rock icon David Byrne (Talking Heads, Here Lies Love) shares the spotlight with a diverse ensemble of 11 musical artists from around the globe. With staging and choreography by Annie-B Parson, and with Alex Timbers serving as production consultant (his collaborators on Here Lies Love).
David Byrne's American Utopia features David Byrne with Jacquelene Acevedo, Gustavo Di Dalva, Daniel Freedman, Chris Giarmo, Tim Keiper, Tendayi Kuumba, Karl Mansfield, Mauro Refosco, Stéphane San Juan, Angie Swan and Bobby Wooten III.
Let's see what the critics are saying...
---
Ben Brantley, The New York Times: Enter the opposite side, person by person, through the magically porous, shimmering gray curtains that encase the stage. The musicians and backup singers materialize as a multiplying, multinational ensemble. Annie-B Parson's exacting, exultant and altogether astonishing choreography often have them moving in a single, tidal wave. Yet each of these gray-clad beings is irreducibly individual, and even with Byrne center stage, you want to watch everyone else all the time, too.
Michael Dale, BroadwayWorld: While this neophyte to David Byrne's work found American Utopia to be an entertaining, sometimes moving, change of pace from his typical Broadway assignments, he'll defer to his Byrne-loving theatre companion who found the evening absolutely thrilling. Judging from the audience's response, she wasn't alone.
Thom Geier, The Wrap: They sound terrific, which is another smart move because the 67-year-old Byrne, never the strongest vocalist, can warble a bit on sustained notes. The song list is old and new, from Kurt Schwitters' nearly decade old "Primeval Sonata" with its Dadaesque lyrics to a Janelle Monáe protest song that he asked permission to cover after hearing the hip-hop and R&B chanteuse perform it at the Women's March. Yes, he includes plenty of Talking Heads hits to get fans on their feet. Byrne has a showman's command of the stage, but you may ask yourself why he bothered with his between-song riffs about the science of neural connections or pro forma shout-outs to progressive causes ("We're all immigrants!" "Register to vote!"). During these lulls, which are at least mercifully brief, you may be tempted to cry out: Stop making sense! Start making more music!
David Cote, Observer: I must admit I found the mix of ecstatic music-making and aesthetic constraint similarly joyful and puzzling. Is this coolly mechanized realm the utopia referred to by the title, a place we want to be, a monochromatic escape from the overstimulating particularities of life? Or are we witnessing what it's like inside the prison of being David Byrne? Of being ourselves? You know the etymology of utopia, right? Fittingly, Byrne chooses Little Creatures' nihilist frontier anthem, "Road to Nowhere," for the encore. If the road ends here, I'm totally OK with that.
Elysa Gardner, New York Stage Review: Life-affirming isn't a term that should be thrown around casually, but it's the first one that came to mind as I left a performance of David Byrne's American Utopia that was interrupted by several spontaneous standing ovations-not to mention audience members dancing at their seats, with the titular singer/songwriter's encouragement.
Michael Sommers, New York Stage Review: A choice gallery of thoughtful songs given a classy staging and headlined by a charismatic star, the exhilarating American Utopia will please David Byrne fans and probably win him plenty of new ones.
Jem Aswad, Variety: Continuing that theme, the musicians return for an encore of the Talking Heads' 1985 hit "Road to Nowhere" - a fittingly paradoxical close to a stunning show from an artist whose much-vaunted quirkiness masks his intensely focused and disciplined creativity. While Byrne's more recent solo recordings may not always approach the brilliance of his earlier work - really, not many creators' work does - particularly in concert, he remains a vital, compelling and deeply relevant artist who, at 67, continues to challenge his audience and himself.
David Rooney, The Hollywood Reporter: Teaming up with a crew of 11 prodigiously talented and hard-working musicians, backup singers and dancers of diverse ages and ethnicities, Byrne gathers a vibrant community onstage, over which he presides as part professor, part preacher, part partying proletarian. The sheer jubilation being transmitted by the performers, not to mention the dynamic staging, seem to demand a new kind of sensory intake. It's less a concert than a participatory religious experience, honoring the primal pleasures of music, dance and song as collective celebration, a rite to be savored more than ever in dark times.
Peter Marks, The Washington Post: The 100-minute performance is a pretty stripped-down affair, and yet it is consistently eye- as well as ear-filling. Byrne and his 11 musician-cohorts, all dressed in identical, monochromatic gray, are the entirety of the stage furnishings, their bare feet signaling a serendipity and lack of pretense. (Rob Sinclair's gorgeous lighting design is a particular enhancing factor.) "Us and you: That's what this show is," Byrne declares at one point, explaining how he sought a production with as few artificial barriers as possible between the instrumentalists and the audience.
Alexis Soloski, The Guardian: More than a concert and less than a musical, a one-man show with a full backing band, American Utopia brings David Byrne - gray-haired, gray-suited, barefoot, magnificent - to Broadway. A loose agglomeration of songs, sometimes linked by brief monologues and get-out-the-vote exhortations, it is both an introduction to Byrne's particular psychology and catalogue and an oblique consideration of America today and how it might be bettered. Resistance is musical.
Chris Jones, Daily News: The show has a futuristic look, all right, and by presenting everyone dressed the same, conceived as part of a whole, the vibe is resoundingly, Ted Talk-y egalitarian. You might even say Byrne has evolved into a cooler, trimmer Bernie Sanders, directing an ensemble of enlightenment and inclusivity, welcoming to all. Even a cover of the Janelle Monae protest song "Hell You Talmbout" is performed with the collective sense that a community of caring, decent people can solve this problem together.
Jerry Portwood, Rolling Stone: At times, the dozen bodies on stage - nine musicians (six of them percussionists) and the two singer/dancers - feel like an ecstatic Mardi Gras marching band in neutral duds, at others they are transformed into a collective circle that's discovered a primitive ritual that will unlock some hidden cosmic truths. It's the kind of work that you might find in a church basement in New York's East Village: wacky, weird, and slightly awkward - not typically on a Broadway stage.
Tim Teeman, The Daily Beast: The show is a call to come together, and a call for change. Byrne is seen as a quiet man, wry and cerebral, but the political era we are in has made him determinedly loud, an activist even. Don't let the grey suit and beautiful theater curtain fool you. This excellent show isn't a misty harkening to an "American utopia," but a charged, focused challenge to create and maintain one. Cynicism and defeat haven't yet claimed Byrne. As this show makes resoundingly, eloquently clear, Byrne believes in his vision. He knows how tough the fight will be to achieve it. He still thinks we can do it, and he still believes in its beauty.
Greg Evans, Deadline: Featuring songs from his chart-topping 2018 album that gives the show its title, American Utopia (in case you're wondering) also includes a crowd-pleasing selection of hits from his Talking Heads days, flawlessly performed by Byrne and an onstage ensemble of 11. In fine voice (if he's lost any range over the years, it's unnoticeable beneath an ear-catching blend of Bowie croon and Dylan whine), Byrne remains a constant traveler of his own rabbit holes, and it becomes our job and pleasure to keep up.