Resident Acting Co. Reads Pirandello's IT IS SO (IF YOU THINK IT SO) At Players Club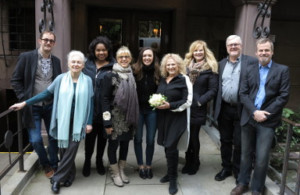 The Resident Acting Company (www.racnyc.org), a new troupe drawn from the performing ensemble of The Pearl Theatre Company, will present a staged reading of "It Is So (If You Think So)" by Luigi Pirandello on Monday, November 19 at 7:00 PM at The Players Club, 16 Gramercy Park South. The reading is the final installment of the troupe's "The Language Series," which is devoted to plays that delve into the use of words to lie, deceive, manipulate, conquer, tell the truth, work out the meaning of life and even to find love.

The three-part series is being entirely presented at The Players Club. It began September 24 with a reading of Shaw's "Don Juan in Hell" and also includes "The Belle's Strategem" by Hannah Cowley on Monday, October 29. The three plays explore questions of fake or real, true or false and truth that isn't truth. Through the lens of these classics and their approach to language, the company aims to help us sharpen our perception of the rumors, reports, misleading statements and alternative facts we now experience every day.

ABOUT "IT IS SO (IF YOU THINK SO)"
What do you do when a new family moves into your small town? You visit them, and invite them over, and ask them where they came from and why they moved there. However when each member of that family gives you a vastly different version of their story, what happens then? You launch a full scale investigation! In this wonderfully absurd piece of theater Pirandello asks us to examine why we think we know certain things about people, and what is the difference between gossip and reality. The play creates a hilarious world in which one doesn't know who to trust, and the more we learn the less we know. It is possible to learn the truth, right? Translated by Arthur Livingston.

The cast is Bradford Cover, Dan Daily, Michael Keyloun, Matt Boston, Oliver Wadsworth, Daren Kelly, Desi Oakley, Elizabeth Rouse, Aisha de Haas, Robin Leslie Brown, Janet Sarno and Waltrudis Buck. Director is Margarett Perry.

Tickets are $35 and can be purchased at http://www.racnyc.org/project/think-luigi-pirandello/. Cash bar begins at 6:00 PM and the reading starts at 7:00 PM.

The Resident Acting Company (RAC), an actor-led ensemble, contains former members of the Pearl Theatre Company's resident troupe. The roster includes Jolly Abraham, Rachel Botchan, Robin Leslie Brown, Bradford Cover, Dominic Cuskern, R.J. Foster, Dan Daily, Chris Mixon and Carol Schultz. Last Spring, the company launched itself with "The Power Series," a series of four readings at The Players Club that included "The Three Sisters," "Much Ado About Nothing," "Electra" by Sophocles and "The Big Night" (1928) by Dawn Powell. All four plays explored the concept of power and how it relates to issues women have faced in the past and today.

RAC is a fiscally sponsored project of Fractured Atlas. In the past year, it has been assembling a Board of Directors and writing by-laws. Goals include a fundraising event in October and a full production this Spring.

Bradford Cover, Artistic Director of the new troupe, was a member of the Pearl's Resident Acting Company. He describes the Pearl Theatre's programming model as a broader range of classics than is done by any other Equity classical company in NYC including the New York Shakespeare Festival. Besides Elizabethan Drama, genres include Restoration Comedy, Jacobean Comedy and Tragedy, Commedia dell' Arte and the entire classical canon from Sophocles to Tennessee Willliams and Eugene O'Neill. Mixed into this is "a new play every so often that interacts with the classical repertory in some profound way."
Related Articles
More Hot Stories For You
VIDEO: On This Day, July 9- Lin-Manuel Miranda, Phillipa Soo, Ariana DeBose, and Leslie Odom, Jr. Say Goodbye to HAMILTON
On this day in 2016, original Hamilton cast members, Leslie Odom Jr., Phillipa Soo, and Ariana DeBose along with the musical's star and composer, Lin-...

Broadway League Approves 15-Second COVID-19 Test For Actors and Crew; League President 'Cautiously Optimistic' About Early 2021 Return
Broadway League President Charlotte St. Martin told the New York Post that for the first time, she feels 'cautiously optimistic' about Broadway being ...

BROADWAY AT HOME on PBS Continues With GREAT PERFORMANCES: SHE LOVES ME & More
Beginning July 24, GREAT PERFORMANCES will continue to keep the performing arts alive with Broadway at Home, broadcasting a theatrical favorite every ...

Actors' Equity Files Grievance Against Walt Disney World for Retaliating Over Request for Testing at Disney World
With days until Walt Disney World's scheduled reopening, Actors' Equity Association has filed a grievance against Disney for retaliating against membe...

QUIZ: Spend a Day at North Shore High and We'll Tell You Which Mean Girls' Plastic You're Most Like!
Are you a Cady, Regina, Karen, or Gretchen? Take our quiz to find out which of the North Shore plastics are you!...

Will Broadway Be Back in Early 2021? Charlotte St. Martin is 'Cautiously Optimistic'
As the Broadway League continues to work with city and state officials as well as leaders in science, technology, and medicine to formulate the best p...