Remembrance, Redemption, And 'Rainbow Fields'; Bidyut Kotoky Discusses His Very Personal, Historical Film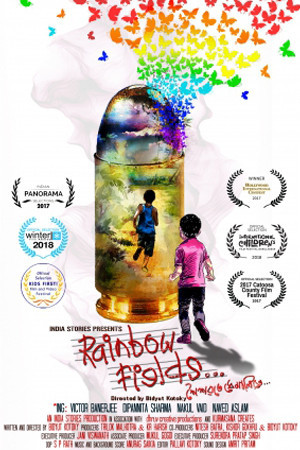 Against a backdrop of bitter intolerance and terrible violence in the Indian state of Assam in the 1980's, filmmaker Bidyut Kotoky's semi-autobiographical tale, Rainbow Fields (Xhoixobote Dhemalite), is told through the eyes of children impacted by events they don't fully understand. The children's playtime games lead to an incident that changes them forever, and years later as adults they must grapple with coming to terms with what happened, and with themselves. First rate acting, notably by Victor Banerjee (A Passage to India) and by the child actors, plus the rich cinematography, add to the depth of the film. For those who are familiar with, and especially for those who are unfamiliar with, this period of Indian history, this arresting film is a must-see.
See the North American Premiere of 'Rainbow Fields' on February 24, 2018 @1:00pm at Cinema Village (22 East 12th Street) as part of New York City's 7th Annual Winter Film Awards International Film Festival. Winter Film Awards' Christy Addis spoke with Director Bidyut Kotoky about his film.
Christy Addis: Tell us a little bit about your background and what led you to tell this particular story about a violent time in the history of Assam, India.
Bidyut Kotky: I was born and brought up in Assam...You can take a boy out of Assam, but you can't take Assam out of the boy...a part of my soul remained in that evergreen land. From my childhood, I dreamed of being a filmmaker. And finally when I got the chance to live my dreams, I didn't have to look far for the inspiration of my films. I strongly believe, if we don't learn from our history, we are condemned to repeat it. I grew up in a violent period of Assam history (in the 1980s) and it did disturb my impressionable mind greatly...And it also disturbs me to find that almost nobody wants to visit that period of Assam's history in literature or in films...
Christy: What movies and other resources did you consult to prepare to make this film?
Bidyut: Actually, none. For this particular film, I just had to take a trip down memory lane...The film is inspired by a true time - a time which I lived. A lot of this film is semi-autobiographical in nature.
Christy: I read that there are 45 languages spoken in Assam, with Assamese being the most prevalent. For your audience outside of India, please tell us, what languages are more usual for Indian films? Was making a film in Assamese an important decision?
Bidyut: Making an Assamese language film in Assam is pretty common actually. Assam has a pretty long history of film making. The first Assamese film was made way back in 1935... In India, movies are made in close to 20 different languages every year. And many of these regional languages do have a vibrant film industry, unlike Assam. Yes, it is true that making an Assamese language film in the present time doesn't make a lot of economic sense, given the current state of Assamese film industry. However, I strongly believe that every film decides its own language. In the case of Rainbow Fields, I'm convinced that the only language in which this film could have made is Assamese. But I was not looking at making an "Assamese film" so to say - I am making a film for the world audience in the Assamese language. I strongly believe that the color of emotions is the same across the world... and the very fact that you have selected the film in your prestigious festival shows that you could relate to those emotions.
Christy: Did making an Assamese film help attract the likes of Victor Banerjee (award-winning actor) and Amrit Pritam (award-winning sound engineer), who are tops in their fields and who are also associated with Assam?
Bidyut: I would like to believe that it is the content of the film that attracted them. Yes, the fact that both of them are strongly connected to the land did help. And knowing the current state of the Assamese film industry, both of them did the film without bothering to charge even a fraction of their market price!
Christy: For the child parts, your young cast is quite compelling. What was the casting process for them like?
Bidyut: We did an extensive audition and to a large extent depended on my gut feeling while finalizing the selection. Of course, we didn't put any emphasis on their previous acting experience. In fact, the challenge was to make them not to "act" but to "react". And I did have a couple of excellent teachers with me - Tapan Baruah and Jyoti Narayan Nath - who did an extensive workshop with my young cast.
Christy: Your story touched on the class differences between the boy and his childhood friend, outlined by the boy's mother's comments and comments among the boys playing. This class difference became most pronounced with the striking difference in outcome for each family to the childhood incident. Would you say these types of class differences manifest themselves similarly today as they did in the 80s when the story took place, or have they changed?
Bidyut: Unfortunately, the more things change, the more they remain the same...In my film, I made an effort to show that we react subconsciously without realizing the actual impact...and I guess across the world, things are not very different...At times, it could be the economic background, or the color of one's skin, but the results remain the same...Yes, I'm an eternal optimist and I strongly believe that things will change for the better sooner than later...
Christy: Upon learning of the death of his childhood friend, the main character is compelled to return to his hometown in Assam. It becomes clear that he doesn't know much about what has happened with his friend since they were separated after the incident, and he is driven to find out more. Do you think they didn't stay in touch because of their parents, their class difference, or some other reasons?
Bidyut: You have to keep in mind that here we are talking about the 1980s - much before the dawn of the internet or cell phone era. In those days, at least in India, communication was not easy. A telephone was a luxury which only a few could afford...the mode of communication for the general population was letter writing, which obviously growing up children are not great at...And we are talking about children who were just about to hit their teenage years- an age which, more often than not, means "out-of-sight, out-of-mind". A combination of all these factors had created the distance between Niyor and Pulak. Yes, the fact that they belong to two different strata of society doesn't help the matter in any way.
Christy: Your film shows the ravages of social violence through the eyes of children. Most of the violence takes place off camera, and we never see the "why" behind the violence, but we understand it is towards those who are outsiders, who don't "belong" in Assam. Do you think these notions concerning "outsiders" are the same as they were in the 80s when so many were killed, or do you think they have changed?
Bidyut: Again, the more the things change, the more they remain the same! Not only in Assam, this is the bitter truth of today's world - the concept of "us" vs. "them". I consciously didn't want to get into the 'why' behind the violence - in today's violent world, we always find one excuse or the other for resorting to violence...What is more important for me is how the violence impacts the young, innocent minds...
Christy: Your film has a soft style and quiet beauty. How did you achieve this?
Bidyut: Thanks, I was consciously trying to achieve that. I wanted to make a film about violence without showing bloodshed - a film which the kids can enjoy at their level and which will give some food for thought to grownups too...
Christy: What were some of the challenges making this movie?
Bidyut: The main challenges were financial in nature. As Assam doesn't have a sustainable film industry, getting finances for the film was a big challenge. We had to operate within a shoe-string budget, with no buffer whatsoever. We were, however, determined not to allow this constraint to effect the final look of our film - if we wanted to take this story to the outside world, it is imperative that technically we make a world class product.
Christy: What do you want viewers to take away from your film?
Bidyut: If we say that we don't own this world but borrowed it from our children, than what kind of world are we leaving behind for them? This question used to haunt me strongly, especially after my daughter Mou' came to my life four years back... Well, I'm under no illusion that my film will change the world, but I needed to make this film if I wanted to look straight into the eyes of my daughter, un-flinched...
Christy: Towards the end, we feel the heartbreak of events not so much through the main character as we do through witnessing the shattered and broken mother of his childhood friend. What do you see in this film is the redemption for the main character?
Bidyut: Well, I think I will leave that to my viewers to decide. I strongly believe a film should speak for itself.
Christy: Do you have a future movie project currently being planned?
Bidyut: I do have a few scripts ready...Given a choice, I would like to concentrate on A Shot in the Dark - a story about how game of soccer got a bunch of extremists back to the mainstream.
By Christy Addis. Christy Addis is a writer, curator, designer, and educator. Among other things, she studied filmmaking at New York University and worked for a decade in the art departments of feature films in New York and Los Angeles. She is an associate member of the Set Decorators Society of America (SDSA).
About Winter Film Awards
New York City's 7th Annual Winter Film Awards International Film Festival runs February 22-March 3 2018. Check out our jam-packed lineup of 93 fantastic films in all genres from 31 countries, including Animation, Drama, Comedy, Thriller, Horror, Documentary and Music Video. Hollywood might ignore women and people of color, but Winter Film Awards celebrates everyone!
Winter Film Awards is an all volunteer, minority- and women-owned registered 501(c)3 non-profit organization founded in 2011 in New York City by a group of filmmakers and enthusiasts. The program is supported, in part, by public funds from the New York City Department of Cultural Affairs in partnership with the City Council and the NY State Council on the Arts.
Related Articles
More Hot Stories For You
DVR Alert: Hollywood Bowl Concert Series Kicks Off Tonight With MUSICALS AND MOVIES, With Audra McDonald, Kristin Chenoweth, and Sutton Foster
As BroadwayWorld previously reported a new weekly concert series, IN CONCERT AT THE HOLLYWOOD BOWL, will air on PBS. The series kicks off today with t...

VIDEO: On This Day, January 16 - Happy Birthday, Lin-Manuel Miranda!
On this day we're celebrating the birthday of the great Lin-Manuel Miranda! ...

Philip J. Smith, Chairman Emeritus of The Shubert Organization, Has Passed Away at Age 89
The Shubert Organization has announced the passing of its beloved Chairman Emeritus, Philip J. Smith. Mr. Smith passed away peacefully on January 15, ...

Michael Ball Releases 'Leaning on a Rainbow' From BLITHE SPIRIT Film
Last year, Michael Ball recorded 'Leaning on a Rainbow' for the soundtrack to the new film 'Blithe Spirit'. The full track is now available on Spotify...

MARY POPPINS RETURNS is Now Streaming on Disney Plus
When and where can you find Mary Poppins Returns streaming? We have your answer here!...

Haley Swindal's TO NEW YORK, WITH LOVE to Stream for 30 More Days
By popular demand, Birdland's all new concert event from Broadway perennial Haley Swindal, To New York, With Love, filmed as part of the "Radio Free B...