Reel Sisters Celebrates 20th Anniversary with Tribute Awards Ceremony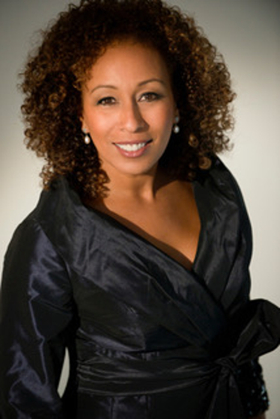 On Saturday, Oct. 7, 6:30 pm, Reel Sisters of the Diaspora Film Festival & Lecture Series will present the Reel Sisters Hattie McDaniel Award to legendary actress Vinie Burrows ("Walk Together Children") and the Reel Sisters Trailblazer Award to Tamara Tunie (Law & Order: SVU) and Nicole Beharie (Sleepy Hollow). Award-winning filmmaker Kasi Lemmons (Eve's Bayou) and LaZette McCants, founder of Volunteer Divas & Divos, Plus, are among the many luminaries paying tribute to our honorees. Join us for an exciting evening of dance, poetry and film. Toni Yates (ABC News NJ Correspondent) will serve as Mistress of Ceremonies.
The event will include performances by Spoken Word artist/African Voices Art Director D. Cross and Urban Bush Women's Love Muwwakkil will perform the company's signature solo Bitter Tongue, a dance of resistance. Reel Sisters will premiere That's Why They Calls Us Colored, a short directed by Malika Franklin, featuring Reel Sisters Hattie McDaniel Award honoree Vinie Burrows as the lead actress.
The event will be held at the newly renovated Billie Holiday Theatre, 1368 Fulton Street, in Brooklyn. Tickets: $45 ($35 - Bring a Pal Discount for 2+ tickets) For tickets visit: reelsisters.org or call 347-534-3304/212-865-2982.
The awards ceremony kicks off the Reel Sisters film festival, which will be held in Brooklyn at the Alamo Drafthouse Cinema on October 21, 2017 and in Harlem at AMC Magic Johnson 9 on Oct. 21-22, 2017.
"We're very proud to have Tamara Tunie, Vinie Burrows and Nicole Beharie as our distinguished honorees for our Hattie McDaniel and Trailblazer Awards. Our honorees are exemplary of the generations of Black Women Magic that keep our communities and families whole - they are artistic geniuses who have paved paths for us to follow," said Reel Sisters founder Carolyn A. Butts. "Thank you for being the artist, mother, grandmother and sister we can depend on for leadership and inspiration. Congratulations on embodying the spirit of our 2017 Reel Sisters Awards!"
The festival established the Reel Sisters Hattie McDaniel Award to honor women who are PIONEERS in the fields of theater, film and media. Ms. Daniel excelled as an actress and performer in all areas of media including radio and television. The Reel Sisters Trailblazer Award recognizes honorees in the film and television industry for their outstanding accomplishments and professional integrity in opening doors for other women of color.
In 1940, Hattie McDaniel became the first African-American woman to receive an Oscar. Her stellar performance in the role of Mammy in Gone With the Wind earned her an Academy Award for supporting actress. Black audiences harshly criticized Hattie for portraying menial and stereotypical characters in films. McDaniel's ability to add her own flair to her characters caused her to stand out when hired in the limited roles-in number and scope-that were available in Hollywood. Born JoAnna Rose, Hattie was a talented singer-songwriter and comedienne who continued working in television and theater after her Oscar win, procuring her legacy.
Previous Reel Sisters award winners include Cathy Hughes, Naturi Naughton, Issa Rae, Ebony Jo-Ann, Jessica Williams, Margot B., Neema Barnette, Julie Dash, Michelle Materre, Pearl Bowser, Shola Lynch, Lonette McKee, Mahen Bonetti, Mable Haddock, Moikgantsi Kgama, Irene Cara and Kojo Ade.
About Reel Sisters of the Diaspora Film Festival & Lecture Series
A Brooklyn-based film festival founded by African Voices magazine and LIU Brooklyn Campus, Reel Sisters was founded to support women of color in the film industry. Since 1997, Reel Sisters has showcased over 1500 films produced, directed and written by women filmmakers in every genre. Reel Sisters attracts more than 1,200 film lovers from across the nation and globe including California, Chicago, Florida to as far away as Britain, Germany, AFRICA and India. The festival screens over 25 films each year. Reel Sisters also provides scholarships to emerging women filmmakers and offers other resources for women filmmakers.
The Reel Sisters of the Diaspora Film Festival is supported, in part, by Council members Laurie Cumbo (35 C.D.) and Jumaane Williams (45 C.D.), New York State Council on the Arts, New York City Dept. of Cultural Affairs, Brooklyn Arts Council and ALOFT Hotel.
Related Articles
More Hot Stories For You