Rebel Playhouse presents World Premiere of LOUDMOUTH, A Show Empowering Children To Use Their Own Voices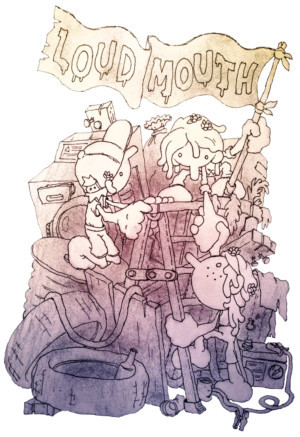 The Tank (Meghan Finn and Rosalind Grush, Artistic Directors) in association with Rebel Playhouse is thrilled to present the World Premiere of LOUDMOUTH, a new devised show for young audiences, directed by Suzannah Gratz and Clara Kundin with choreography by Phoebe Rose Sandford, at The Tank's new home at 312 West 36th Street. Performances will be Thursday, November 16 at 6:30pm, Friday, November 17 at 6:30pm, Saturday, November 18 at 10am, and Sunday, November 19 at 2pm. Weekend shows will be followed by an optional workshop for kids. Tickets ($30 for adults; $20 for children) are available for advance purchase at www.thetanknyc.org.
In LOUDMOUTH, ten year old AJ doesn't like to speak much. Her friends don't mind, but her parents and teachers sure do! When AJ and her pals meet up after school to play their favorite made up game, it gives AJ the courage to use her voice in her own way. LOUDMOUTH is a show for all ages with music, dance, and a really cool game that audiences will leave the theater wanting to play. The show deals with issues of selective mutism, friendship, and self worth. (Recommended for ages 4 and up.)
Rebel Playhouse's production teaches kids and grownups alike that it's ok to do things a little differently.
The cast features Miles Butler (The Blind, The Flea); Richie Dupkin (NYC Debut); Clara Kundin (Pedro Reyes' Doomocracy); Malinda Logan (The Portrait the Wind the Chair, Kitchen Theatre Company); Jaspreet Saund (Forever Yours, The Gallery Players).
Suzannah Gratz (director) is an actor and yoga instructor based in Brooklyn. A movement artist with a passion for healing arts, Suzannah seeks to create work which focuses the theatrical experience on being accessible to all bodies. Her participation in performance encourages community building and seeks to reimagine a more inclusive world. Currently Suzannah is a devising member of Bluelaces Theater Company creating productions which challenge theatrical convention with multi-sensory experience theater for young audiences on the autism spectrum. This fall Suzannah performed as a deviser in a Meredith Monk inspired structured musical improv, 'Are You the One" at The Brick Theater. Suzannah holds a B.A. in Theater Arts Performance from California State University of Long Beach. She has studied at The Studio New York, Upright Citizens Brigade, Praxis Studio (Michael Chekhov Technique) and healing trauma workshops with Gibney Dance. Other New York Theater credits include; The Tempest with Torn Out Theater and The Wedding with The Motor Company Garden Plays.
Clara Kundin (director) is an actor and teaching artist specializing in devising. She received her B.A. in theater from St. Olaf College and continued her studies in physical theater at the École Jacques Lecoq in Paris. Clara is the executive director of Rebel Playhouse. She previously served as the associate education director and company member for The Ume Group. With The Ume Group she was the associate director for The Lysistrata Project presented at the Irondale Center, as well as a deviser in several shows including Dream Dances and Social Action Project. In Paris she served as the assistant director for L'Opéra de Deux'Sous presented at the Vingtième Théâtre. She has also directed many shows for children including Annie, Rent, and Wonka Jr. for Mainstages and the Lawrence Arts Center among others. As an actor, she has performed with Creative Time, Torn Out Theater, the GYM at Judson, the Guthrie Theater, and many more. www.clarakundin.com
Phoebe Rose Sandford (choreographer) is a modern dancer, choreographer, and singer with a background in classical ballet. She received her BFA from NYU's Tisch School of the Arts, dancing in works by notable choreographers such as Trisha Brown, Benoit-Swan Pouffer, Deborah Jowitt, and Gus Solomons jr. Phoebe was a founding member of RedCurrant Collective. She has performed with Anne Zuerner, MoveWorks, Jonathan Matthews, The Charles Weidman Foundation, and AMS Project. Phoebe has presented her own work at La MaMa, Dixon Place, Triskelion Arts, Green Space, NYU's Jack Crystal Theater, Gibney Dance Center, and Cameo Gallery and was the choreographer and co-director for A Presentation by the People of Lake Victory for Our Leader at The Gym at Judson. Phoebe is the director of Copy That Dance, a modern dance company formed in 2016. Her choreography is consistently inspired by the young ballet dancers she teaches and their non-virtuosic, but earnest, bursts of movement energy. She participated in the devising workshop for Loudmouth in the summer of 2017, and dedicates this performance to the stuffed rabbit she sleeps with, Olivia. She asks that Olivia forgive her for coming home late after rehearsals! www.copythatdance.com
Rebel Playhouse is an emerging non-profit, educational theater company in NYC. Founded in the fall of 2016, Rebel Playhouse is a theater for young audiences committed to empowering, educating, and entertaining NYC audiences. Rebel Playhouse produces work for children and families based on stories that break traditions and challenge normative thinking, and offers classes designed to foster creative development. In May 2017, Rebel Playhouse presented their inaugural production Old Turtle and the Broken Truth in NYC to critical acclaim with an encore run in Troy, NY. Their world premiere of Edna the Stomper was the best seller at the 2017 Chicago Fringe Festival Kids Fringe.
The Tank is a non-profit arts presenter serving emerging artists engaged in the pursuit of new ideas and forms of expression. We serve over 1,000 artists every year in over 400 performances, and work across all disciplines, including theater, comedy, dance, film, music, public affairs, and storytelling. Our goal is to foster an environment of inclusiveness and remove the burden of cost from the creation of new work for artists launching their careers and experimenting within their art form. The heart of our services is providing free performance space in our 98 seat proscenium and 56 seat blackbox that we operate in Manhattan, and we also offer a suite of other services such as free rehearsal space, promotional support, artist fees, and much more. We keep ticket prices affordable and view our work as democratic, opening up both the creation and attendance of the arts to all. Since its founding in 2003, artists who have come through The Tank include Alex Timbers, Amy Herzog, Lucy Alibar, Mike Daisey, Reggie Watts, Kyle Abraham, Andrew Bujalski, We Are Scientists, and tens of thousands of others. Go to www.thetanknyc.org.