Randy Rainbow's Album 'Hey Gurl, It's Christmas!' Debuts at #1 on Billboard Comedy Album Chart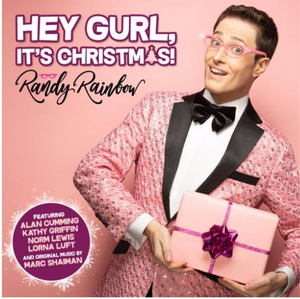 Randy Rainbow's debut album Hey Gurl, It's Christmas!, released by Broadway Records (Van Dean, President), debuted in the number one spot on Billboard's Comedy Album Chart. The album marks the first entry from Broadway Records in the Comedy Album charts. Hey Gurl, It's Christmas!, is currently available for order at BroadwayRecords.com and is available digitally everywhere music is sold.
On his debut Christmas album, comedian, singer, and viral star Randy Rainbow puts his signature twist on holiday classics and premieres a brand-new Christmas song (the title track) with music by Marc Shaiman (Hairspray, Smash, Mary Poppins Returns) and lyrics by Randy Rainbow and Shaiman. Backed by a swingin' band and exciting new musical arrangements byJesse Kissel (Chicago, The Visit, Randy Rainbow Live), Randy is joined by special guests Alan Cumming, Kathy Griffin, Norm Lewis, Lorna Luft, and even the President of the United States... sort of.
Track Listing:
1. Hey Gurl, It's Christmas!
2. I Saw Mommy Kissing Santa Claus (featuring Kathy Griffin and Alan Cumming)
3. Merry Christmas Darling / What Are You Doing New Year's Eve? (featuring Norm Lewis) 4. Trump's Favorite Things
5. Santa Claus is Coming to Town (featuring Lorna Luft)
6. The Christmas Movie Medley
7. Make Someone Happy
Randy Rainbow is an EMMY® nominated American comedian, actor, singer, writer and satirist best known for his popular series on YouTube,The Randy Rainbow Show. His musical parodies and political spoofs have garnered him worldwide acclaim and in 2019 an EMMY nomination for Outstanding Short Form Variety Series. Randy's first album, Hey Gurl, It's Christmas!, made #1 debuts on Billboard's Comedy chart and on iTunes Holiday chart. Touring the U.S. to sold-out crowds, the influencer and internet sensation's viral comedy videos, receive millions of views across all social media and digital platforms. His fresh take on politics and current events has led to interviews/profiles by venerable media outlets such as The Washington Post, The New York Times, CNN, NPR, ABC News, OUT, People and Entertainment Weekly. American author and media pundit, Dan Savage, called him "the best thing to come from the GOP race," and "BRAGGADOCIOUS!" (his musical tribute to the first presidential debate of 2016) received 28 million views in its first two days. Rainbow (yes, that's his real name) enjoys a star-studded fan base that regularly retweets and shares his work. Some of Randy's most notable admirers include Hillary Clinton, Debra Messing, Mark Hamill, Stephen Sondheim, Jane Lynch, Ana Navarro, Barry Manilow, Ron Perlman, Rosie O'Donnell, Martin Short, Lin-Manuel Miranda and Steve Martin.
Related Articles
More Hot Stories For You
Breaking: BEETLEJUICE Announces Closing Date; National Tour Will Launch in 2021
Broadway's smash hit musical BEETLEJUICE will play its final performance at the Winter Garden Theatre (1634 Broadway) on Saturday, June 6, 2020. Final... (read more)

THE SPONGEBOB MUSICAL: LIVE ON STAGE is Available to Purchase on Amazon Prime
Last night, Nickelodeon aired The Spongebob Musical: Live on Stage, a filmed version of the Broadway musical, which reunited members of the original c... (read more)

Voting Open For The 2019 BroadwayWorld Regional Awards Worldwide
Voting is NOW OPEN for the 2019 BroadwayWorld Regional Awards Worldwide, brought to you by TodayTix! The nominees are set, and now you can vote to mak... (read more)

Stage and Screen Actor Rene Auberjonois Has Died at 79
BroadwayWorld is saddened to report that Rene Auberjonois, a stage and screen actor best known for his work on Star Trek, has died. According to Varie... (read more)

BWW Exclusive: JAGGED LITTLE PILL Cast Tries To Name Alanis Morissette Lyrics In A Word Association Game!
You oughta know that we're quizzing the cast of Broadway's Jagged Little Pill on their knowledge of the lyrics of Alanis Morissette's music! At the sh... (read more)

Breaking: Jason Gotay, Arielle Jacobs & More Will Star in BETWEEN THE LINES Musical
Producer Daryl Roth announced today full casting for the new Off-Broadway musical Between the Lines . The production will star Arielle Jacobs (Aladdin... (read more)