Click Here for More Articles on BONNIE & CLYDE
Photo Flash: Osnes & Jordan Star in BONNIE & CLYDE
Last week, Asolo Repertory Theatre announced the complete cast of its upcoming production of Bonnie & Clyde a thrilling new musical with book by Ivan Menchell (The Cemetery Club, Chitty Chitty Bang Bang); music by Frank Wildhorn (Jekyll & Hyde, The Scarlet Pimpernel); lyrics by Tony Award-winner Don Black (Sunset Boulevard, Song and Dance); Music Supervision, Arrangements and Orchestrations by John McDaniel; and direction and musical staging by Tony Award- winner Jeff Calhoun (Deaf West's Big River and Pippin, Grease!). The production runs from November 16 - December 19, 2010 on the Asolo Rep mainstage-The Mertz Theatre. The press opening is November 19, at 8 p.m.
We're very excited to present the show's first official promo photos of the two stars!
Rehearsals begin in Sarasota on October 19th for the company of 20 that includes several cast members from the acclaimed 2009 La Jolla Playhouse production in San Diego, complemented by some of the hottest talent from Broadway and popular regional artists.
Bonnie Parker is played by Laura Osnes, who originated the role in the World Premiere at La Jolla Playhouse last fall, and won a San Diego Theater Critics Circle Award for her performance. She recently starred as Nellie Forbush in Lincoln Center's Broadway revival of South Pacific and made her Broadway debut as Sandy in Grease!, having won the role on NBC's reality competition "Grease: You're The One That I Want." Her partner in crime is Jeremy Jordan, who takes on the role of Clyde Barrow following his Broadway performances in the revival of West Side Story (Tony) and Rock of Ages.
Osnes and Jordan are joined by Melissa Van Der Schyff (Deaf West's Big River) as Blanche Barrow, Mimi Bessette (Little Shop Of Horrors) as Emma Parker, Kevin Massey as Ted Hinton, Claybourne Elder as Buck Barrow, Wayne Duvall as the Sheriff, Leslie Becker as Cumie Barrow/Governor Ferguson, Zach Rand (Les Misérables and Mary Poppins) as Young Clyde, Kelsey Fowler (Mary Poppins) as Young Bonnie. Ensemble members include Daniel Cooney, FSU/Asolo Conservatory MFA student Dane Dandridge, Victor Hernandez, Laura Hodos, Heather Kopp, Michael Lanning, Kevin Rose, Casey Shea and Tim Shew; and local performer Holly Rizzo as the Young Bonnie understudy. For more information, visit www.AsoloRep.org.
Vintage car photos by Frank Atura with thanks to Classic Car Museum/Vintage Motors of Sarasota
Other photos by photos by Cliff Roles


Holly Rizzo, Zack Rand, Kelsey Fowler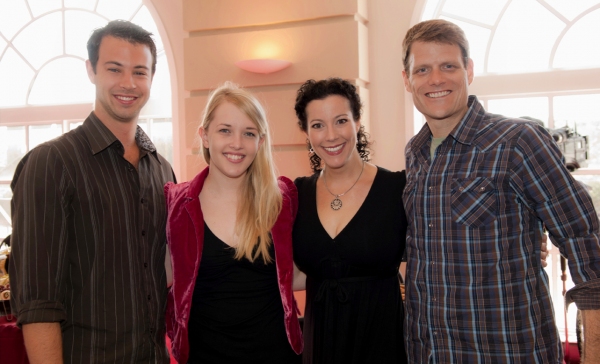 Dane Dandridge, Heather Kopp, Laura Hodos, Victor Hernandez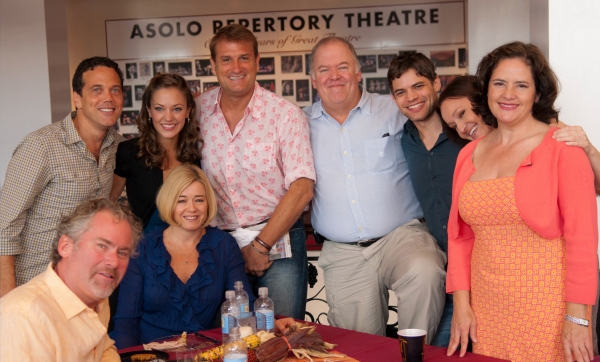 Ivan Menchell, Laura Osnes, Jeff Calhoun, Wayne Duvall, Jeremy Jordan, Melissa Van Der Schyff, Mimi Bessette, (Left front) Timothy Shew, Leslie Becker

Laura Osnes at a press reception today in Sarasota. Interviewed by SNNLocalNews6 A&E reporter Marsha Panuch