Photo Flash: Jay O. Sanders' UNEXPLORED INTERIOR at the Museum of Jewish Heritage
In recognition of the 20 year anniversary of the genocide against the Tutsi in Rwanda, actor/writer Jay O. Sanders' play Unexplored Interior, directed by James Glossman, received an unprecedented presentation on Sunday, May 11 at the Museum of Jewish Heritage (www.mjhnyc.org). This first of its kind, technological and creative partnership with Google+, allowed the play to be seen in NYC and at the Kigali Genocide Memorial Center (www.kigaligenocidememorial.org) in Rwanda. Scroll down for photos!
Unexplored Interior follows an old Tutsi story-teller, who invites us to join him in the most beautiful place on earth - Rwanda. He becomes our guide through the history and people of the land he loves. In the wake of the 1994 genocide, multiple stories unfold: A Hutu government minister, engaged in encouraging the killing falls deeply in love with a Tutsi woman; The head of the U.N. peacekeepers, haunted by the hundreds of thousands of people he couldn't save, struggles with his own will to live; A young Rwandese film student, away at school in New York City when his country implodes embarks on an eye-opening journey to find out what has become of his family and craft a film that will bring his country's story to the world. The play weaves together the lives of these and other characters, who experience the genocide from many different perspectives and ultimately come together to move forward into the uncertain future, reaching for hope. Unexplored Interior is a tale about the universality of grief and an inspiring tale of friendship, love, strength of will, kindness and empathy.
Directed by James Glossman, the reading featured a cast of fifteen actors including: Fritz Weaver, Sharon Washington, Arthur French, Michael McKean, Owiso Odera, Marlyne Barrett, Charles Parnell, Irungu Mutu, Craig Alan Edward, Nile Bullock, Matthew Murumba, Clark Jackson, Benjamin Thys, James A. Williams, and Glenna Grant.
Ten years after the genocide, still haunted by the images from the nightly news and frustrated by his own continued ignorance - as well as that of those around him - Sanders set out to learn everything that he could about what happened and use his theatrical expertise to, in turn, share it with the world. The son of activist parents who spent their lives working with the Civil Rights movement and a series of worldwide humanitarian organizations, Sanders, who had just become a parent himself, was particularly affected by the reports of the 1994 genocide in Rwanda, and the world's refusal to engage. Driven by this sense of purpose, in April of 2004 Jay attended the 10-year Commemoration of the start of the genocide in Kigali, Rwanda's capital, and set out from there, relentlessly studying, discussing, writing, and rewriting for the next 10 years.
This event marked a landmark artistic and technological partnership between the United States and Africa, highlighting the great strides that have been made in technology. Allowing this production to engage with an audience in Africa is amazing feat which the producers hope to continue with future artistic partnerships between two very different parts of the world. This event is made possible through the time, effort and dedication of The Genocide Survivors Network, The Brotherhood Synagogue, Daniel Neiden, Paula Gil, Eugenie Mukeshimana, Emmanuel Ruranga MS, L.P.C., Luna Kaufman, Erika Feldman, The Flea Theater, and The Public Theater; with technical support fromGoogle.
Photo Credit: Joe Goldman


Olivier Nduhungirehe, Deputy Permanent Representative to the U.N. for Rwanda speaks at the reading of Unexplored Interior.

Eugenie Mukeshimana, founder and director, Genocide Survivors Support Network introduces the reading.

Michael McKean, Fritz Weaver, and James A. Williams in a scene from Unexplored Interior.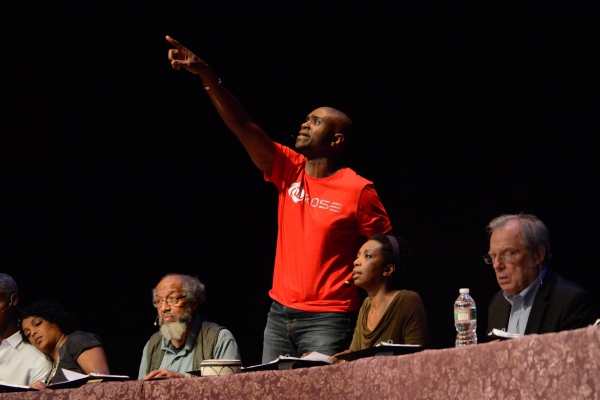 Charles Parnell, Marlyne Barrett, Arthur French, Owiso Odera, Sharon Washington, and Michael McKean in a scene from Unexplored Interior.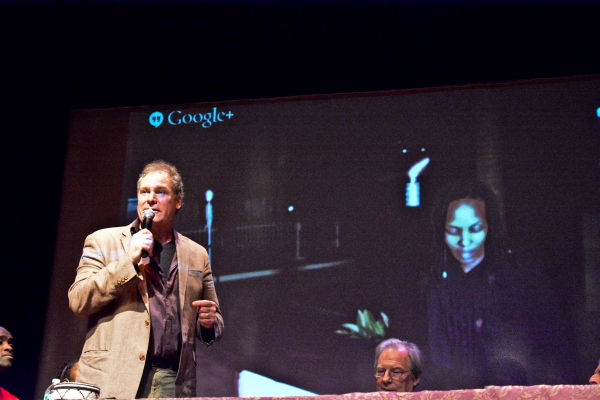 Owiso Odera, Jay O. Sanders, Hope Azeda (on screen), and Michael McKean talk between NY and Kigali after the reading.

Actor Playwright Jay O. Sanders and the cast of Unexplored Interior greet the audience in Rwanda (seen behind them onscreen)


Related Articles
More Hot Stories For You
When Will Broadway Re-Open? "January," Hopes Broadway League President
'I actually am a little more optimistic than those who say Broadway will reopen in the spring, but I tend to be an optimistic person, I tend to think ... (read more)

Breaking: Playwright, Author & Activist Larry Kramer Dies at 84
According to the New York Times, Larry Kramer passed away this morning in Manhattan from pneumonia. He was 84 years old.... (read more)

New Survey Shows Just 19% of UK Theatre Patrons Will Be Willing to Return When Venues Reopen
A new survey conducted shows that only 19% of audience members of U.K. arts venues and theaters will be willing to return to events, even after venues... (read more)

OLD VIC to Stream Productions From an Empty Theatre; Will Kick Off With LUNGS Starring Claire Foy & Matt Smith
The Old Vic announces a new artistic initiative OLD VIC: IN CAMERA, combining a run of socially distanced performances of Duncan MacMillan's LUNGS wit... (read more)

Voting Now Open For Broadway's NEXT ON STAGE Top 10
Voting is now open for BroadwayWorld's NEXT ON STAGE Top 10! The nominees have submitted all new songs for you to listen to before casting your vote! ... (read more)

Times Square Billboards Will Go Dark on Wednesday in Support of Restaurants, Hospitality Businesses, and Non-Profits
The iconic digital billboards will go dark to alert the nation to the very real prospect that hundreds of thousands of American restaurants, non-profi... (read more)