Photo Flash: Grammy Winner Will Calhoun Performs at Opening Reception for Solo Exhibit at Casita Maria Gallery
Casita Maria Center for Arts & Education, Dancing in the Streets and City Lore in collaboration with SceneFour and KCC Productions celebrated multi-Grammy award winning Bronx musician, composer and artist-photographer Will Calhoun during the opening reception for his solo exhibition AZA: Rhythm on Canvas at Casita Maria Gallery in New York on April 22, 2016. Scroll down for photos.
After Calhoun played a selection of compositions that are the basis of AZA: Rhythm on Canvas, he was presented with The South Bronx Culture Trail Fusion Fest 2016 Lookin' Up in the Boogie Down Pioneer Award.
The vibe was warm and friendly in the intimate gallery space during the reception with fellow Bronx born drummer Bobby Sanabria and Dr. George Preston, scholar of African art, curator, poet, enstooled Akan chief, a Founding Director of the Museum of Art and Origins, in the house. But it turned electrifying when Calhoun began playing, as he literally lit up the night with glowing drum sticks.
Both Calhoun's exhibition and performance are part of the South Bronx Culture Trail Fusion Fest 2016: Lookin' Up in the Boogie Down which kicked off on April 16th and runs through May 22nd. Casita Maria Gallery is located at 928 Simpson Street, 6th Floor, Bronx, NY 10459. For more information, check out www.casitamaria.org.
On view in the gallery through July 21st is Calhoun's AZA: Rhythm on Canvas collection of vividly interpretative prints that visualize the physicality within the creation of his music as well as embody the underlying poetry, psychology and socio-political concepts behind his cross-disciplinary artistic practice. Through the interplay of percussion, color and light, Calhoun transforms his signature style and original compositions into multimedia-based, abstract expressions of his rhythms onto canvas. Gallery Hours Mon-Fri: 10 AM - 6 PM Sat-Sun: By appointment.
The languages within the aural, kinesthetic and visual arts have the capacity to "speak" to the viewer-listener in ways that verbal communication cannot achieve. Throughout the AZA: Rhythm on Canvas collection (2014) there is an interdisciplinary synthesis between all three of these diverse aesthetic vocabularies. Together they define the underlying narratives woven throughout Calhoun's expansive musical repertoire, translating his ideas, methods and rhythms into graphically dynamic digital images with a vernacular all his own.
Will Calhoun is a two-time Grammy award winning drummer, composer and producer from the legendary rock band Living Colour. He has composed, produced, and toured with Wayne Shorter, Pharoah Sanders, The Rolling Stones, Yasiin Bey aka Mos Def, Lauryn Hill, Marcus Miller, Herb Alpert, Mike Stern, Public Enemy, Paul Simon, Stanley Jordan, Oumou Sangare, Jaron Lanier (virtual reality inventor) and many more. Calhoun's unique approach to both acoustic and electronic drumming makes him the foremost percussionist on the scene today.
Calhoun spends most of his limited down time in West and North Africa researching ancient rhythms and musical styles. He is presently working on a recording with Indigenous sacred musicians. He is one of the world's leading Ethnomusicologists, combining his expertise and ancestral research with many years of commercial success in jazz, rock, urban, alternative, ambient, and other music of the world into a beautiful, swirling expression of life. He has recently broadened his artistic expression to include film scores, photography and multimedia projects including "AZA: Rhythm on Canvas," a collection of vivid, abstract prints that visually capture his signature rhythms. His online gallery is available for viewing at willcalhounart.com. He just released his new jazz project "Celebrating Elvin Jones" on Motema Music and is presently in the studio with Living Colour recording their latest CD titled "SHADE" for MEGAFORCE records due to be released in the Fall of 2016. willcalhoun.com
Photo Credit: Lia Chang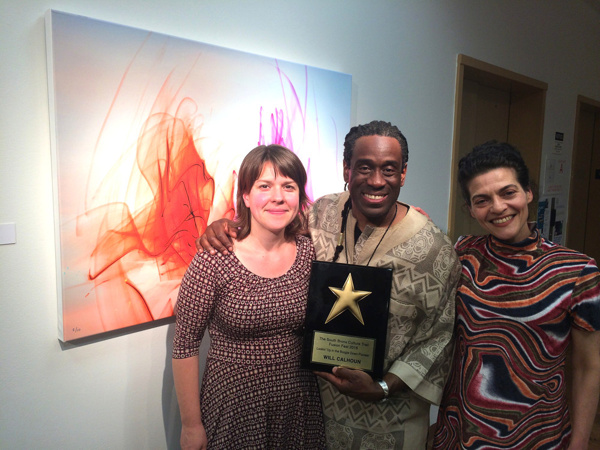 Gail Heidel, Manager of Performing and Visual Arts at Casita Maria Center for Arts and Education, Will Calhoun and Christine Licata, Director of Performing and Visual Arts at Casita Maria Center for Arts and Education.

Will Calhoun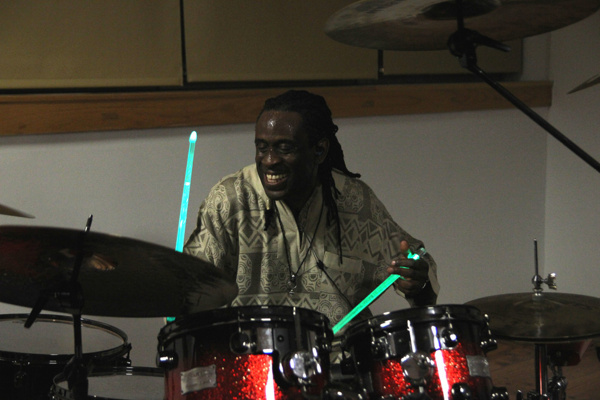 Will Calhoun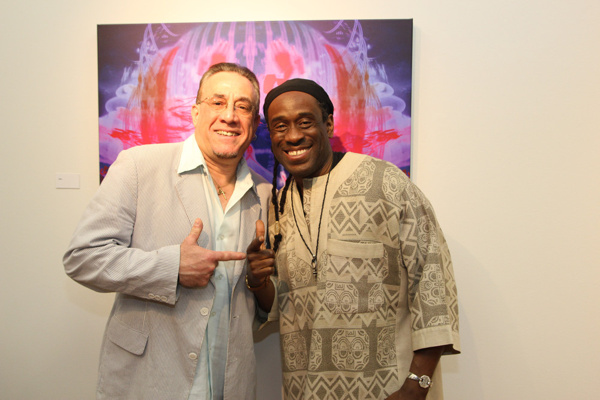 Award-winning drummers Bobby Sanabria and Will Calhoun.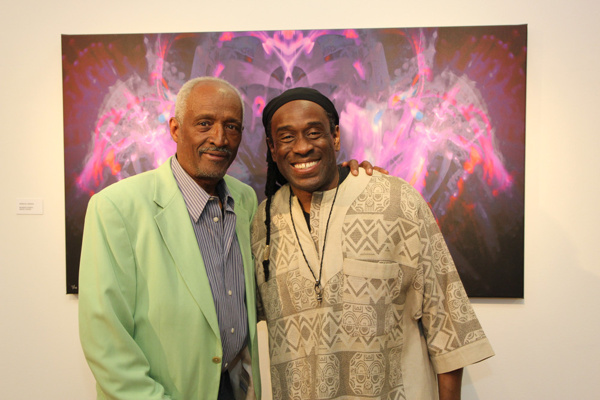 Dr. George Preston and Will Calhoun.

On view at Will Calhoun's AZA: Rhythm on Canvas exhibition.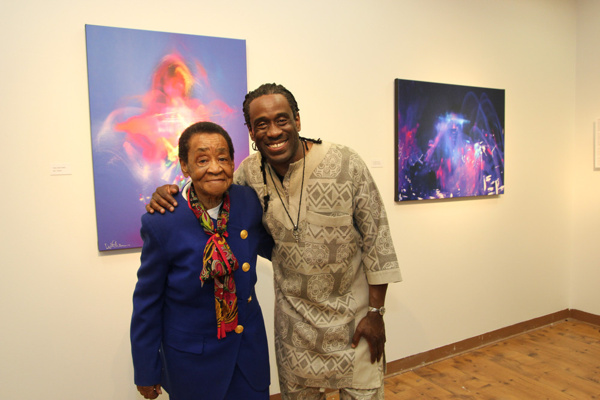 Will Calhoun with his mother.