Photo Flash: First Look at iStar Theatre Lab's GAY BRIDE OF FRANKENSTEIN and VEILS
The iStar Theatre Lab is currently work shopping two projects selected for the 2012 inaugural theatre lab in New York City: VEILS, a new play by Tom Coash with direction by
Camille Saviola
, and GAY BRIDE OF FRANKENSTEIN, a new musical by
Billy Butler
and Dane Leeman directed by
Rachel Klein
. The Lab whose mission is to provide a safe environment for the development of contemporary plays and musicals is taking place at Pearl Studios under the supervision of Producing Artistic Director
Tony Spinosa
and Managing Director Laura Bultman. Get a first look at the productions in the workshop photos below!
Gay Bride of Frankenstein features the talents of
Ashley Kate Adams
(B'way - La Cage aux Folles),
Dan Cooney
(B'way Mamma Mia),
Megan Kane
(Junie B. Jones – Nat'l Tour),
Wade Elkins
(Blue Man Group – Chicago),
Bradley Gale
,
Maggie Politi
(Suessical – Nat'l Tour) and Derek Carly is a musical gothic fairy tale that follows the exploits of four high school friends on one Halloween night. Will the girl get the girl? Never has there been a Halloween love story like this with rock and roll, mystery, magic and a cartoon caper that will scare audiences silly.
Veils featuring the talents of Shyko Amos (National Theatre London) and Liz Malarkey (Actors Theatre of Louisville) is the story of Intisar, a veiled African-American Muslim student and her non-veiled Egyptian roommate, Samar who enlists her help in creating an internet blog debating the controversial practice of wearing veils. The Arab Spring intervenes, however, and the Egyptian revolution threatens to overtake the young women and their project. In the violent struggle, Intisar and Samar find themselves on opposite sides of a bitter and dangerous cultural divide.
The iStar Theatre Lab is a three-week workshop designed to provide mentorship and guidance in a risk-free environment for emerging or established artists who wish to develop and nurture their work. Artists who participate in the iStar Theater Lab benefit from a day-on day-off rehearsal structure which allows each participant to nurture ideas and explore his or her own work without the pressure of producing new pages every day. After three weeks of intensive work, each project is presented to the iStar Theatre Lab community in a closed session. The presentation is followed by a feedback session led by the iStar Theatre Lab's Producing Artistic Director and creative team.
iStar Theatre Lab is a nonprofit organization founded by Tony Spinosa in 2012. Through its program, the iStar Theatre Lab provides playwrights, directors, composers, and librettists with a safe creative space in which to cultivate their work. The Lab supports its writers by providing directors, choreographers, full casts, stage management, and other professionals who can encourage, support and enrich the projects. For more information, visit www.istartheatrelab.org.
Photos courtesy iStar Theatre Lab.


Billy Butler, Dane Leeman, Dan Cooney, Ashley Kate Adams, Maggie Politi, Megan Kane, Rachel Knein, Tony Spinosa, Wade Elkins, Derek Carley and Bradley Gale (Gay Bride of Frankenstein)

Ashley Kate Adams, Maggie Politi, Derek Carley and Bradley Gale (Gay Bride of Frankenstein)

Billy Butler (Gay Bride of Frankenstein)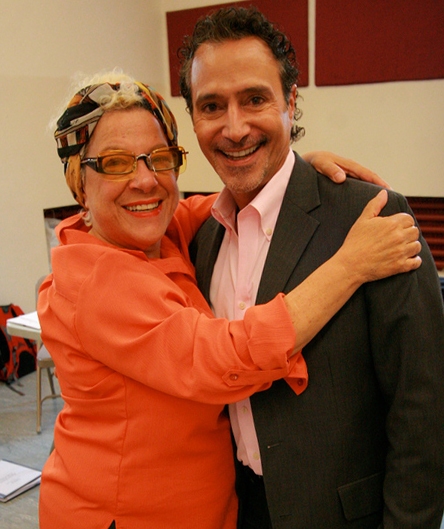 Camille Saviola and Tony Spinosa (Veils)

Camille Saviola, Tony Spinosa, Liz Malarkey, Shyko Amos and Tom Coash (Veils)

Camille Saviola, Shyko Amos and Tom Coash (Veils)

Shyko Amos (Veils)

Related Articles
More Hot Stories For You