Photos: First Look At The New Comedy DICK PIX
Playwright Daniel McCoy's new plays, Perfect Teeth and Dick Pix are set to run in rotation at Theaterlab in mid-town Manhattan, July 18 - August 12. Opening night is slated for Sunday July 22.
Heidi Handelsman directs Dick Pix, a six-character comedy about harassment and artistic integrity, set in the visual arts world. David Hilder directs Perfect Teeth, a two-character drama about consent and artistic value, set in the theater world.
Calvin is a photographer and self-proclaimed provocateur in desperate need of an idea for his next installation. Grace, his girlfriend and publicist, and Fin, his best friend and art dealer, are turning up the heat as the deadline approaches. Meanwhile, two eponymous Art Handlers begin to complicate the situation when they become the target of Grace's unwanted attention. Mrs. Marbleblatt, a widowed patron of the arts, further queers the equation when she takes a prurient interest in Calvin's work. Ambitions and visions collide in a satirical comedy about identity, harassment, and narcissism in the age of social media.
Dick Pix stars Kate Abbruzzese (As You Like It/workshop, at The Public Theatre), June Ballinger (Pack of Lies/Broadway), David Gelles (Deception/NBC), Erinn Holmes (The Guest at Central Park West/Workshop Theater), Bruce Jones (The Chalice with Austin Pendleton at The Stonewll Inn), and Lynne Marie Rosenberg (CastAndLoose Live!/Joe's Pub). Movement director Wendy Seyb.
Dick Pix Schedule
Thursday, July 19 @ 7:30 pm
Saturday July 21 @ 7:30 pm
Sunday July 22 @ 7:30 pm (Opening Night)
Wednesday July 25 @ 7:30 pm
Friday July 27 @ 7:30 pm
Saturday July 28 @ 8:30 pm
Thursday August 2 @ 7:30 pm
Saturday August 4 @ 6:00 pm
Sunday August 5 @ 3:00 pm
Wednesday August 8 @ 7:30 pm
Friday August 10 @ 7:30 pm
Saturday August 11 @ 8:30 pm
Running in rotation with Dick Pix - Perfect Teeth
Kyle and Dylan hooked up several months ago after a few too many drinks. Now they're meeting for the first time since that night, and an unexpected accusation pits both men against each other in a struggle for dignity, status and control. As the two men find themselves unable, or unwilling, to escape each other's orbits, they are forced to decide if "what happened" in the past really matters when the present stakes are high enough.
Perfect Teeth features Maxwell Eddy (Shows for Days/Lincoln Center) and Jose Joaquin Perez (2015 Drama Desk Nomination/My Manana Comes).
Perfect Teeth Schedule
Wednesday, July 18 @ 7:30 pm
Friday, July 20 @ 7:30 pm
Sunday, July 22 @ 5:00 pm (Opening Night)
Thursday July 26 @ 7:30 pm
Saturday July 28 @ 6:00 pm
Sunday July 29 @ 3:00 pm
Wednesday August 1 @ 7:30 pm
Friday August 3 @ 7:30 pm
Saturday August 4 @ 9:00 pm
Thursday August 9 @ 7:30 pm
Saturday August 11 @ 6:00 pm
Sunday August 12 @ 3:00 pm
More info available at www.perfectpixplays.com
The Creative team includes lighting design by Cecilia Durbin, sound design by Emily Auciello, costume design by Liam O'Brien, scenic/properties design by Sarah Pencheff, projection design by Alexandra Kelly Colburn and Mark Costello, stage management by Phoebe Duncan (Perfect Teeth), stage management by Christopher Denver (Dick Pix), company/house manager Sarah Livant. Erin Cronican is the Creative Producer, Lauren Parrish serves as the Production Manager.
Performances take place at Theaterlab, 357 West 36th Street (between 8th and 9th avenues), 3rd Floor, New York, NY 10018. Subways: 1, 2, 3, A, C, E to 34th Street. Tickets are $20 and can be purchased at www.perfectpixplays.com/tickets.
Tickets are $32 for both shows and can be used in any combination of dates, including double feature nights on July 22, 28, August 4 and 11. Running times: Perfect Teeth 65 minutes, no intermission - Dick Pix 85 minutes, no intermission.
Daniel McCoy (Playwright) is a performer and playwright based in New York City. His plays include Dick Pix, Perfect Teeth, Nothing Beyond the Light Matters, Four and Twenty Draculas, Cleave, and Epimythium. Daniel's work has been produced and developed with Theaterlab, Primary Stages, Dreamwell Theatre, Project Y Theatre, IATI Theatre, Dutch Kills Theatre, Simple Machine Theatre, and Source Theatre Festival. He is an alumni member of the Project Y Playwrights Group and the Cimentos Play Development Program at IATI Theatre. Daniel has written and performed as an ensemble member of the New York Neo-Futurists since 2009 and has toured nationally and internationally with the company. Daniel is a graduate of the Rita and Burton Goldberg MFA Playwriting Program at Hunter College, where he studied with playwrights Tina Howe and Arthur Kopit and dramaturg Mark Bly. He was twice awarded the Vera Mowry Roberts Fellowship and received a production grant from the Anne Freedman Foundation. He directs every spring for the Writopia Lab Worldwide Plays Festival, showcasing the work of young playwrights. www.newplayexchange.org/users/3515/daniel-mccoy
Photos by Esther Ko.


Bruce Jones, David Gelles and Kate Abbruzzese.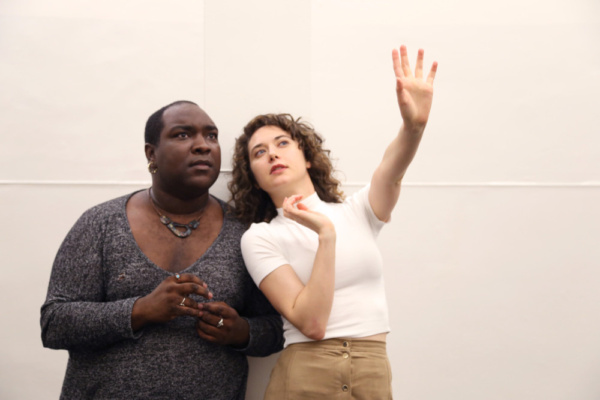 Bruce Jones and Kate Abbruzzese.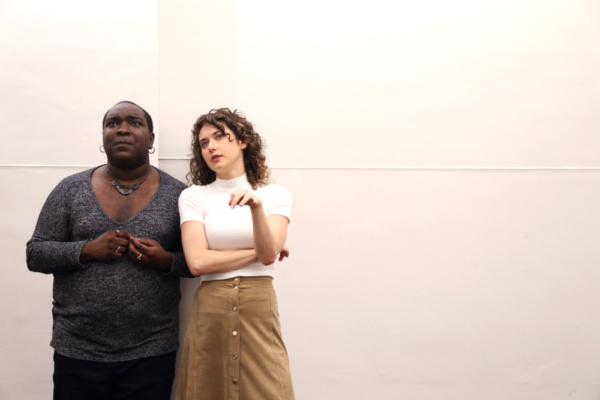 Bruce Jones and Kate Abbruzzese.

June Ballinger and David Gelles.

Lynne Marie Rosenberg and Erinn Holmes.