Photos: David Hyde Pierce, Victor Garber, et al. at Forget-Me-Not Gala
David Hyde Pierce, James Keach, Jane Seymour, Victor Garber, Sarah Jessica Parker, Jonathan Groff, Michael Tucker, Jill Eikenberry, John Glover, Zachary Quinto, and John Hickey were among the stars joining forces with members of New York City's philanthropic, business, health care and Alzheimer's communities at the annual "Forget-Me-Not" Gala, An Evening to End Alzheimer's hosted by the Alzheimer's Association, New York City Chapter at The Pierre. Garber, star of stage and screen, emceed the event. An ardent supporter of the Chapter, he lost both parents to complications from Alzheimer's disease.
Check out photos from the event below!
The annual event raised $1.1 million to fund the Chapter's vast array of support programs, educational initiatives, workshops and training programs for people with Alzheimer's, their caregivers and members of New York City's health care community. Part of the proceeds will also support critical research in the search for effective treatments and a cure. Today more than 265,000 New York City residents are living with Alzheimer's disease. In less than 40 years, more than one in five New Yorkers will either have the disease or will be taking care of someone who does.
Among the evening's highlights were the presentations of awards.
David Hyde Pierce was presented with the Chapter's Lifetime Leadership Award for his outstanding work as Alzheimer's most dedicated public voice. The Emmy- and Tony-award winning actor is a tireless supporter of the New York City Chapter, and serves on the Board of the National Alzheimer's Association and as a national spokesperson. Pierce's father and grandfather died from Alzheimer's.
Singled out for making a documentary about Glen Campbell's struggle with Alzheimer's were director, producer, actor James Keach and actress, artist, philanthropist Jane Seymour who received the Chapter's Public Awareness Leadership Award. The film, "Documentary on Glen Campbell's Goodbye Tour" (Working Title) is sure to be an unforgettable story of family, love and empowerment as the singer tours the country with his family on his last national tour.
"All of tonight's honorees have played a major leadership role in advancing awareness about Alzheimer's disease. And we are deeply grateful to each of them for their herculean efforts," said Lou-Ellen Barkan, President and CEO of the New York City Chapter.
"No matter how long the ride or how hard the job, David Hyde Piece is there for us. He is a champion among champions. And I am certain that everyone who sees the beautiful film being producer by James Keach and Jane Seymour will be touched by its honesty, dignity and message of hope," Barkan added.
A special new award titled Board Leadership Award was given by Chapter Board to Neil Botwinoff for his immeasurable contributions over the past six years, donating his time and talent as an attorney to manage the Chapter's real estate transactions.
Also on hand were distinguished members of the research and medical community including Dr. Karen Bell, Dr. Peter Davies, Dr. Steven Ferris, Dr. James Galvin, Dr. Samuel Gandy, Dr. Veronica Lo Faso, Dr. Mony de Leon, Dr. Richard Mayeux, Dr. Effie Mitsis, Dr. Ralph Nixon, Dr. Norman Relkin, Dr. Mary Sano, and Jennifer Williamson.
Event Chair Jonathan Teplitz, Chief Operating Officer, Global Information Technology at JPMorgan Chase & Company, received a special nod of appreciation from Barkan and the audience for his leadership in the evening's stunning success.
Barkan thanked Victor Garber, Jonathan Groff, Michael Tucker, Jill Eikenberry, Sarah Jessica Parker, John Glover, members of the science and research communities, volunteers and everyone who attended the "Forget- Me-Not" Gala. She concluded, "Your support and commitment to our mission to end Alzheimer's will not soon be forgotten."
The evening offered a cocktail reception, silent and live auctions, and dinner and dancing to Valerie Romanoff's Starlight Orchestra.
Auction items included a "Modern Family" set visit; a guitar signed by Rolling Stone Keith Richards; a Rock and Roll Hall of Fame Induction Ceremony VIP Package; an Escape to Atlantis package; a "Don't Stop Believing" Journey VIP package; and an Ultimate Yankees Package, which included a pre-game batting practice and a personal meet-and-greet with Joe Girardi. The package also included a 2012 Yankees home game for the top bidder and their three guests.
Photo Credit: Amy Y Lee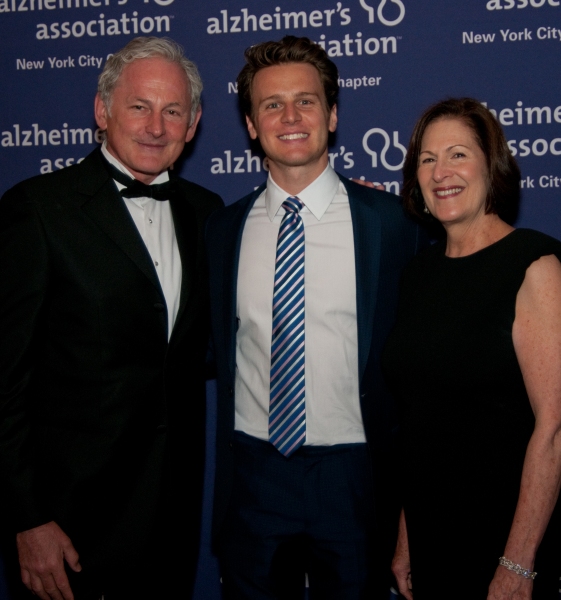 Victor Garber; Jonathan Groff; Lou-Ellen Barkan

John Glover; Victor Garber; Jane Seymour; Jeffrey N. Jones; Lou-Ellen Barkan; Jonathan Groff; James Keach

Jonathan Groff; David Hyde Pierce; Victor Garber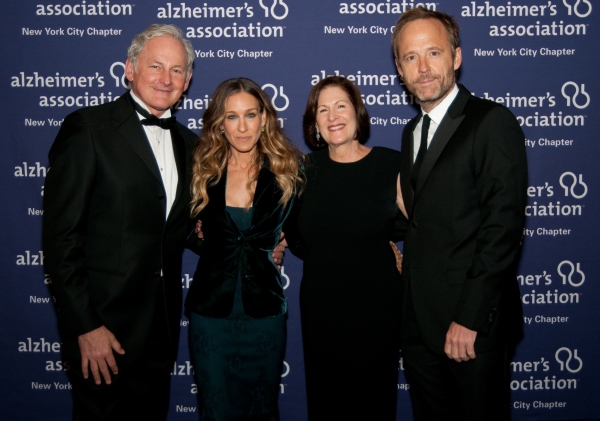 Victor Garber, Sarah Jessica Parker; Lou-Ellen Barkan; John Hickey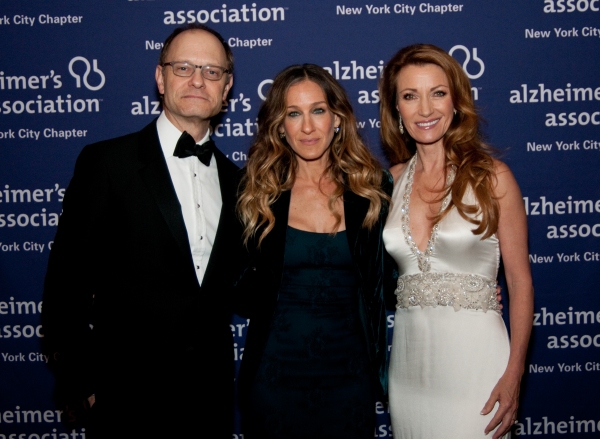 David Hyde Pierce; Sarah Jessica Parker; Jane Seymour