Photos: Danny Bolero, Mel Johnson Jr. et al. in Rehearsal for NYMF's STUCK
Danny Bolero (Broadway's In The Heights), Mel Johnson Jr. (Broadway's The Lion King, Hot Feet, The Rink), Beth McVey (Broadway's Beauty and the Beast, 42nd Street, Nine), Anita Welch (Avenue Q National Tour), Tim Young (Broadway's Next To Normal) and EJ ZIMMERMAN (Avenue Q National Tour) will star in Riley Thomas' subway tuner STUCK in the 2012 New York Musical Theatre Festival. Check out photos of the cast in rehearsal below!
Moving on is never easy, as six strangers discover when trapped between stations on the subway. As tension builds, colorful characters clash as they recognize pieces of themselves emerging in one another. With book, music and lyrics by
Riley Thomas
, this poignant and tuneful contemporary musical takes audiences on a humorous and heartfelt ride as it explores exactly what it means to be STUCK.Bolero appeared in the Broadway companies of In The Heights as Kevin and Joseph and the Amazing Technicolor Dreamcoat as Napthali. Johnson Jr. appeared on Broadway as Mufasa in The Lion King, in
Bob Fosse
's Big Deal, with
Liza Minnelli
and
Chita Rivera
in The Rink and in
Hot Feet
. He co-starred with
Arnold Schwarzenegger
in Total Recall, was a series regular on David Lynch's On The Air and appeared on Star Trek Deep Space Nine, The Practice and Fresh Prince of Bel-Air. McVey appeared in the original Broadway cast of 42nd Street, as the Star To Be in Annie, as Claudia and Carla in Nine and as Mrs. Potts in Beauty and the Beast. Welch appeared as
Gary Cole
man in the North American and Asian tours of Avenue Q and as Sela in the NYMF production of Roofless. Young made his Broadway debut with the original cast of Next To Normal and appeared in the film Young Adult. Zimmerman appeared in the 1st National Tour of Avenue Q and as Chen in the NYMF production of I Got Fired.
Michael Berry
(I Come For Love, 21 Stories A Broadway Tale) will direct the production. Jeff Award winner JOSHUA STEPHEN KARTES is the musical director. DAVID S. GOLDSTEIN (Ghostlight at NYMF 2011, The Most Ridiculous Thing at NYMF 2010) is the scenic and lighting designer. STEPHANIE ALEGADO (Mercedes Benz Fashion Week) is the costume designer. The production is being general managed by
Zachary Laks
.STUCK will be presented at The 45th St. Theatre Mainstage (354 West 45th Street). Performances will be held on Friday, July 13 at 8pm; Saturday, July 14 at 1pm; Sunday, July 15 at 8pm; Wednesday, July 18 at 4:30pm and 8pm; and Sunday, July 22 at 8pm.STUCK had its world premiere at Chicago's La Costa Theater in 2008. A developmental presentation was subsequently produced at New York's Metropolitan Room.
Riley Thomas
(Book, Music and Lyrics) is a Chicago native whose work has been performed in the West Village Musical Theatre Festival and NYTB's Composers in the D-Lounge, as well as at venues such as
The Duplex
and The Metropolitan Room.
Michael Berry
(Director) directed the critically acclaimed New York productions of I Come For Love at NYMF, Third Finger Left Hand, Five Tellers Dancing In The Rain, The Park Bench at the Blue Heron Theater, 21 Stories A Broadway Tale and The Porch at Altered Stages. He developed, directed and co-produced the short films The Day Of The Grackle and MIRA which have won over a dozen "Best Awards" at film festivals and received national and international distribution. As an actor, Berry has performed in the Broadway and national touring companies of Next To Normal, Les Miserables, Mamma Mia, Sunset Boulevard and The Who's Tommy.Joshua Stephen Kartes (Musical Director) is a featured pianist and entertainer at Greenwich Village hotspot
The Duplex
Piano Bar & Cabaret. Prior to his move to the East Coast, Joshua spent four-and-a-half years in Chicago where he was a four-time Jefferson Award nominee and winner for musical directing Theo Ubique's production of Cabaret. He also musical directed the world premiere of
Jacques Brel
's Lonesome Losers of the Night for which he won an After Dark Award for Outstanding Musical Direction.
Zachary Laks
(General Management) is a partner in Form Theatricals, an innovative consulting firm for the Off- and Off-Off Broadway theater scene. He has held numerous positions at a variety of performing arts organizations around the country, most notably at
59E59 Theaters
, the Metropolitan Opera, New York
City Center
, Santa Fe Opera and The Goodman Theater.
David S. Goldstein (Scenic and Lighting Design) New York credits include MISS K!M at the 45th Street Theatre, Jack and the Beanstalk with the New Acting Co. and Apollo and Daphne at the Riverside Church. He assisted
David Korins
on the Broadway productions of The
Pee-Wee Herman
Show, Chinglish and Godspell. Previous NYMF credits include Ghostlight. A New Musical and The Most Ridiculous Thing You've Ever Hoid. Goldstein is the resident scenic designer for the West Virginia Public Theatre's 2012 summer season.Stephanie Alegado (Costume Design) has worked at Mercedes Benz Fashion Week dressing for such designers as Oscar De La Renta,
Jason Wu
, Alexander Wang and Karen Walker.
About the New York Musical Theatre Festival Now in its ninth year, the New York Musical Theatre Festival (NYMF) is the largest annual musical theatre event in America and is widely regarded as the essential source for new material and talent discovery. NYMF provides a launching pad for the next generation of musicals and their creators to ensure the continued vitality of one of America's greatest art forms. Hailed as the "Sundance of Musical Theatre," NYMF discovers, nurtures, and promotes promising musical theatre artists and producers at all stages of development, and inspires a diverse audience through vibrant, accessible, powerful new work.For tickets, scheduling and further informaton about STUCK, visit
www.nymf.org/stuck
or find the show on Twitter @StuckTheMusical.
Photo credit: John Gebhart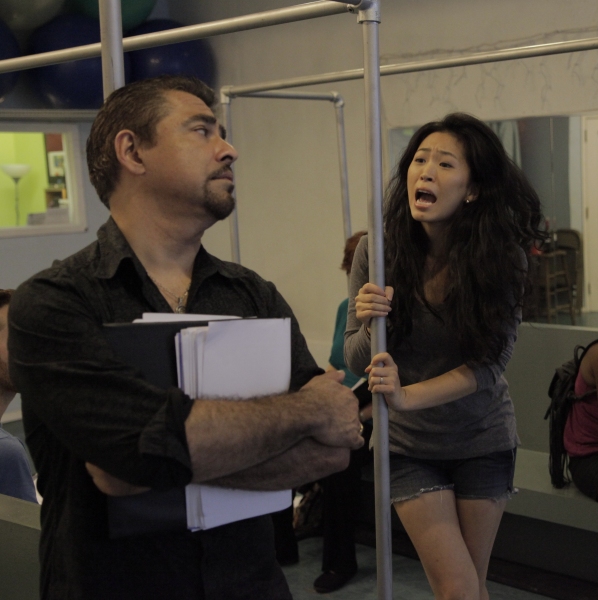 Danny Bolero and EJ Zimmerman

Danny Bolero, Tim Young, Mel Johnson Jr. and EJ Zimmerman

Julie Devore, Michael Berry and Riley Thomas
Mel Johnson
Jr.,
Michael Berry
,
Beth McVey
,
Danny Bolero
and EJ Zimmerman

Mel Johnson Jr., Tim Young, EJ Zimmerman and Anita Welch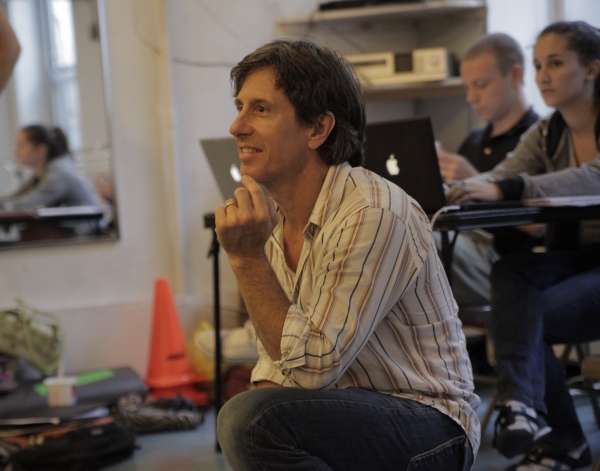 Michael Berry, Colyn Fiendel and Julie Devore

Riley Thomas and Michael Berry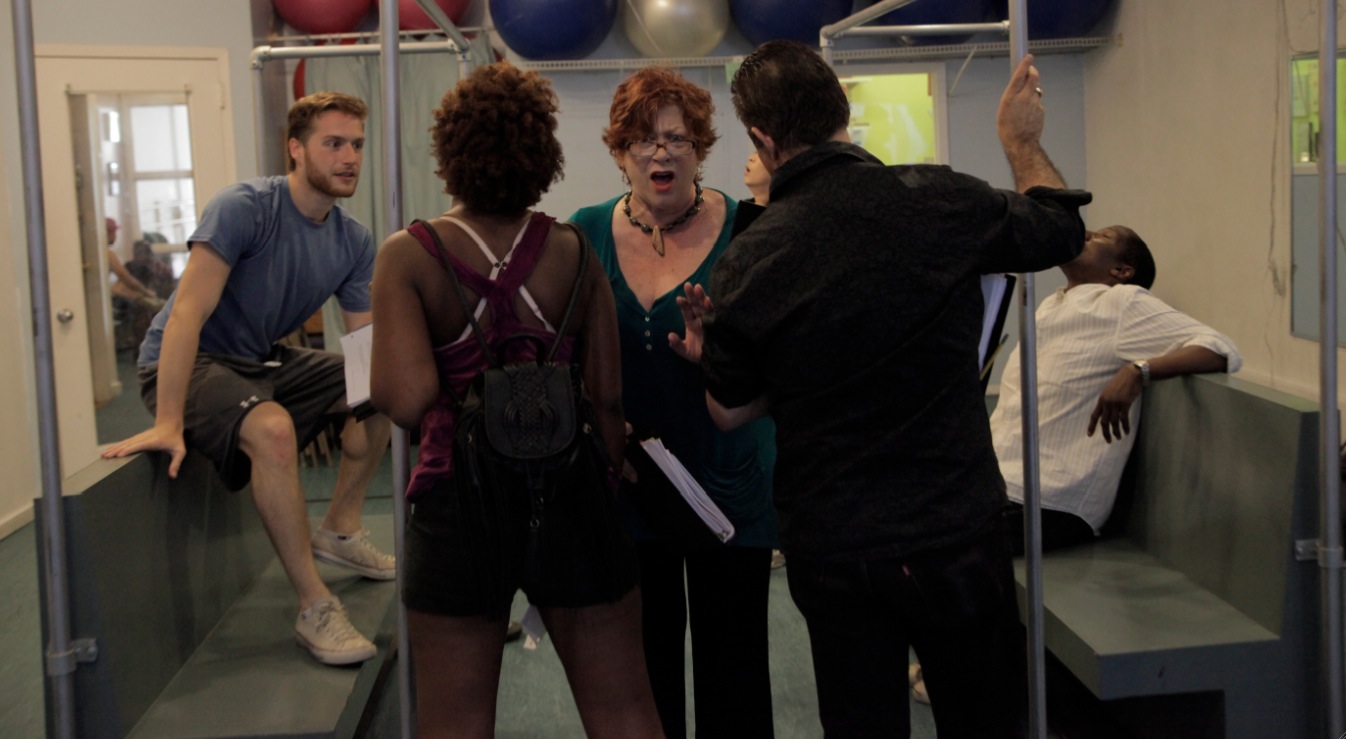 Tim Young
,
Anita Welch
,
Beth McVey
,
Danny Bolero
and
Mel Johnson
Jr.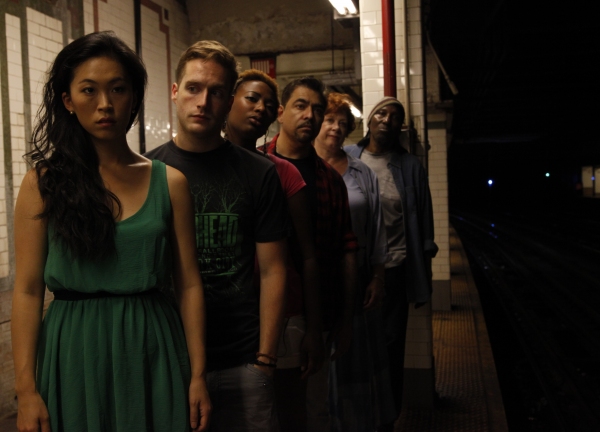 The Cast of STUCK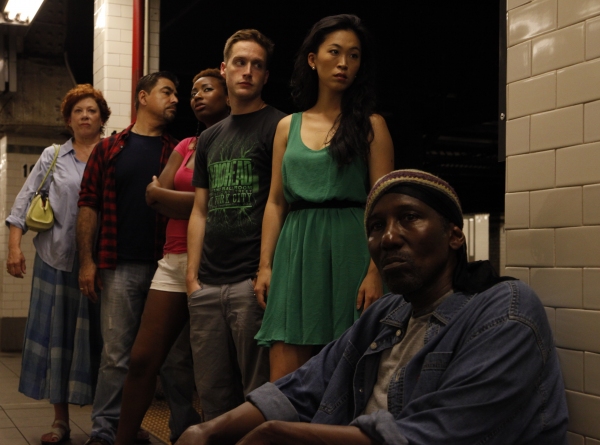 The Cast of STUCK