Photo Flash: Actors Fund Honors The Edwin Forrest Society for Shakespeare's 450th
As a pre-cursor to the Actors Fund's highly anticipated and recently record-breaking successful TONY Awards party, the organization that has been meeting the various needs of those within the field of entertainment, gathered to pay homage to the 450th birthday of William Shakespeare and arguably the first true star of the American theatre - Edwin Forrest.
On this occasion, an eclectic group gathered at the private home of celebrated thespians, Ilene Graff and Ben Lanzarone for a musical treat with a Shakespearian twist. The program included music from productions that found their roots in the quill of William Shakespeare, including "Kiss Me Kate," "Westside Story" and an original piece that put one of the great man's sonnets to music, by Ben Lanzarone. Among the individuals on hand to pay homage were Mike Burstyn, Eunice David, Paul Dooley, Julie Garnye, Carol Goldsmith, Richard Herd, Hal Holbrook, Winnie Holzman, Jane A. Johnston, James Karen, Kate Linder, Ilyanne Morden Kichaven, Penny Peyser, and David Rambo. On the bill, as performers for the evening, were Therese Lee, Christopher Youngsman, B. Harlan Boll and Grammy nominee, Ilene Graff.
Today, when you contemplate the idea of "Entertainment." You can't help but think of screaming fans fawning over their favorite stars for an autograph or the millions world-wide who tune into to watch the glamour of an OSCAR, EMMY or TONY night celebration to praise the efforts of those who have dedicated themselves to the art of acting. This has not always been the case. Through most of the 19th century, American actors and other entertainers were not highly respected and Edwin Forrest was responsible for changing much of that opinion. He was also very instrumental in supporting programs that helped those individuals who chose careers in the industry he loved. In fact, he left the bulk of his estate to do just that. During the entire 20th century, The Actors Fund has been there to offer support everyone - performers and those behind the scenes - who work in performing arts and entertainment.
They established the Edwin Forrest Society to give special recognition to those selfless individuals who followed Forrest example by making provisions for estate gifts to The Actors Fund. Membership in the Edwin Forrest Society is granted to those who have included a gift to The Actors Fund in their estate plan. The gift can be made through a will, a trust, an insurance policy or your retirement plan. Gifts can consist of real estate, royalties, jewelry, stock, cash or any other thing of value.
Today, The Actors Fund, is a nationally recognized human services organization that helps helping more than 14,500 people directly each year, and hundreds of thousands online. Serving professionals in film, theatre, television, music, opera, radio and dance, The Fund's programs include social services and emergency financial assistance, health care and insurance counseling, housing, and employment and training services. With offices in New York, Los Angeles and Chicago, The Actors Fund has been-for 132 years-a safety net for those in need, crisis or transition. Visit www.actorsfund.org.
Photo Credits: Nina Prommer / Milestone Photography


James Karen, Alba Francesca, Ben Lanzarone, Ilene Graff and HAl Holbrook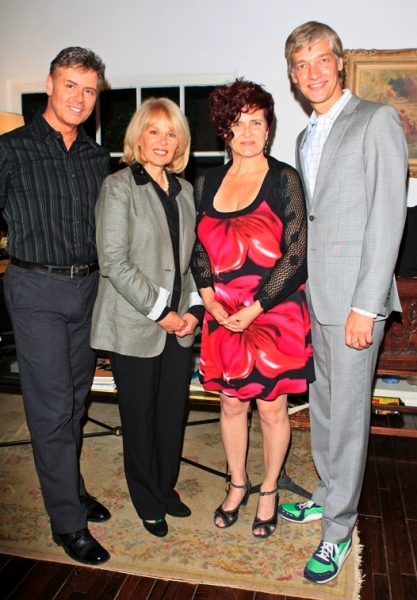 B. Harlan Boll, Ilene Graff, Therese Lee and Christopher Youngsman

Actors Fund''s Western Council

Related Articles
More Hot Stories For You