Latest News on Harlan Boll
Harlan Boll News
THE ILENE GRAFF HOLIDAY SHOW Comes To Catalina Jazz Club In Hollywood Next Month
by Stephi Wild - Nov 24, 2021
Grammy Award-nominated TV mom (Mr. Belvedere) and Broadway veteran Ilene Graff (Grease, I Love My Wife) is set to bring her holiday show to Catalina Jazz Club in Hollywood for one show only.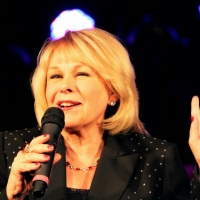 BWW Review: Ilene Graff Brings Christmas Cheer to Feinstein's
by Don Grigware - Dec 24, 2019
Actress/singer Ilene Graff may be best remembered to TV audiences for 'Mr. Belvedere' and for her varied performances on Broadway, but for Los Angeles audiences no one holds a cabaret audience more captivated than this down.to.earth yet sparklingly talented lady. On Saturday December 21, Graff brought a fun-filled holiday show to a packed audience at Feinstein's Upstairs at Vitello's. Backed by superb musical director/husband Ben Lanzarone at the piano, Jamey Tate on drums and Dominic Genova on guitar and bass, the 80 minute set was a real family entertainment with Graff's brother Tony nominated Todd Graff as special guest star. Another special guest was Harlan Boll, a pr rep by day and singer by night. Being a holiday show, Graff interspersed her anecdotes of growing up in Brooklyn and being a Jew with colorful Christmas tunes. When she was asked why as a Jew she sang Christian songs, she delightfully replied that Yiddish music is so sad and, 'OK, Im going to sing, but you're not going to enjoy it.' It is this kind of self-deprecating humor that makes Graff so loved and admired.
Photo Flash: Rip Taylor Memorial Pays Homage With Laughter
by A.A. Cristi - Dec 2, 2019
On Sunday, Nov 24th, an eclectic group gathered to pay homage with laughter to the memory of The Prince or Pandemonium, The Master of Mayhem, The Crying Comedian, The King of Camp and Confetti, Star of Screen (large and small), Broadway & Vegas Stage ... RIP TAYLOR
Ilene Graff Will Come to Feinstein's at Vitello's
by Stephi Wild - Nov 15, 2019
FEINSTEIN'S AT VITELLO'S presents THE ILENE GRAFF HOLIDAY SHOW for one night only on Saturday, December 21, 2019 at 8 P.M.
Star of Stage and Screen Rip Taylor Dies
by Robert Diamond - Oct 6, 2019
BroadwayWorld is sad to report that Rip Taylor, known for his appearances on both stage and screen died on Sunday, October 6, 2019 at 84 in Beverly Hills CA.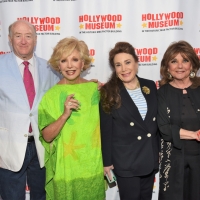 Photo Flash: America Remembers Its Favorite Shipwreck GILLIGAN'S ISLAND 55 Years Later
by A.A. Cristi - Sep 27, 2019
On Wednesday, Sept 25th, 2019, President and Founder of the Hollywood Museum, Donelle Dadigan, and her speciial guest speakers, Ruta Lee (77 Sunset/Seven Brides for Seven Brothers), Alison Arngrim (Little House on the Prairie), Erin Murphy (Bewitched), Steve Wishnoff (Director, Life Interrupted), Hope Juber-Schwartz and Lloyd Schwartz (daughter and son of creator Sherwood Schwartz) and castaway, Dawn Wells (Gilligan's Island), gathered for a lobby series tribute to Gilligan's Island in advance of the shows 55th anniversary on Sept 26th.
Emmy-winning American Comic Actor Arte Johnson Has Passed
by Marianka Swain - Jul 4, 2019
On behalf of the Gisela Johnson and the Johnson family, we are informing you that Emmy winning comedic actor, Arte Johnson has passed at 1:45am, July 3rd, 2019.  There are no services planned.  His ashes will be taken to his home away from home in HI, were a private ceremony will be held.
Tony Award-Winning 'Dolly' Bette Midler Mourns The Passing Of The Great Carol Channing
by A.A. Cristi - Jan 15, 2019
Earlier today, BroadwayWorld was saddened to report the passing of the legendary Carol Channing. Channing died at 12:31am on Tuesday, January 15th, 2019, at home in Rancho Mirage, CA of natural causes.

The Legendary Carol Channing Dies at 97
by Stephi Wild - Jan 15, 2019
BroadwayWorld is deeply saddened to report the passing of the legendary Carol Channing. Channing died at 12:31am on Tuesday, January 15th, 2019, at home in Rancho Mirage, CA of natural causes.

ALL EYES ON ROSE MARIE: Richard Jay-Alexander Talks to the Legend About 90 Years in Show Business and Her Upcoming Documentary WAIT FOR YOUR LAUGH
by Robert Diamond - Sep 26, 2017
The film is called, 'WAIT FOR YOUR LAUGH' and is directed by Jason Wise and produced by Christina Wise, Jason Wise, and co-produced by Jackson Myers. To get right to the point, the documentary is utterly fantastic. But the 33 minutes and 42 seconds I spent on phone with Rose Marie will be forever unforgettable.
Harlan Boll Videos
BWW TV: Sneak Peek at CAROL CHANNING: LARGER THAN LIFE Documentary!
by BroadwayWorld TV - Dec 22, 2011
Entertainment One US will release CAROL CHANNING: LARGER THAN LIFE in New York and Los Angeles on January 20, 2012, with additional markets to follow. The film, directed by Dori Berinstein (ShowBusiness: The Road to Broadway, Some Assembly Required, Gotta Dance), examines the life and career of Tony Award-winning Broadway legend, Carol Channing - her extraordinary stage life, her offstage struggles and survival and the extraordinary storybook romance that found her reunited with her junior high school sweetheart after over 70 years. BroadwayWorld has gotten a glimpse of the movie's trailer and brings you a sneak peek below!