Photo Coverage: WLIW's Celtic Thunder Meets the Press at Radio City
On Friday October 1, 2010, WLIW in conjunction with Radio City Music Hall and Celtic Thunder.ie hosted a Meet and Greet before the concert began.
Those that who had pledged to WLIW TV 21 (
wliw.org
) had early access to the venue and got to spend some time with members of the group and the band. The members who came to the event were: Keith Harkin,
Ryan Kelly
, Damian McGinty, Neil Byrne and Declan O'Donoghue.
Celtic Thunder vocalists Irishmen Neil Byrne, Paul Byrom, Keith Harkin,
Ryan Kelly
and Damian McGinty, and Scotsman
George Donald
son are known for their diverse musical styles and unique interpretations of classic songs such as "Standing on the Corner," "Still Haven't (Found What I'm Looking For)," "The Proclaimers," "My Life Without You" and "Hallejeuh" by
Leonard Cohen
.
The group's repertoire spans the Celtic spectrum of both Irish and Scottish, traditional and contemporary music. Prior to Byrne joining Celtic Thunder, The New York Times described the group as "a Fab Five peddling Celtic stylings...steadfast George, sensitive Keith, bruising Paul, caddish Ryan and angelic Damian." In 2009, Celtic Thunder achieved BILLBOARD's Top World Music Artist and Top World Imprint. Born into a musical family, Neil Byrne began learning the guitar and piano at age seven and by age 11, he was playing in his own band. Over the years, Neil's performing and recording career allowed him to perform throughout Ireland and with one of Ireland's most renowned jazz bass players, Frank Hess. While performing at a musical function in Ireland for Celtic Thunder producer Phil Coulter, Neil was subsequently invited to record backing vocals for the group's debut DVD, and subsequently play lead guitar player for the live show. Since then he has toured America and Canada extensively with Celtic Thunder and most recently has joined the group as 6th leading vocalist. Dublin-born Paul Byrom began voice study at the early age of seven with opera performance and vocal instructor Dr. Veronica Dunne. By his teens, Paul was a professional singer and had recorded his first album. Paul has performed at the National Concert Hall in Dublin and has sung for Irish President Mary McAlleese and Emperor Akihito of Japan. Paul recently produced a solo Christmas album.
George Donald
son is a self-taught and accomplished musician. George plays guitar, flute, mandolin, bodhran, and banjo. George's love of Celtic music stems from his childhood in Glasgow, where his main influence was his late father Bernard, who had a love and appreciation of all kinds of live music played from the heart. He has recorded folk sessions for BBC Scotland and made appearances at Glasgow's own Celtic Connections and the Glasgow West End Festival.
Keith Harkin was born in County Derry, Ireland. From the age of four, Keith has been wowing audiences with his beautiful voice and musical virtuosity. Keith is an accomplished songwriter and guitarist and has played at the Tavistock Festival, UK as well as performed as the opening act for John Martyn, The Undertons and David Kitt.
Ryan Kelly
comes from The Moy in County Tyrone, Ireland. In addition to his musical and acting career, Ryan holds a degree in Accounting from Queen's University, Belfast and a Graduate Diploma in Advanced Accounting. Ryan has been singing since the age of seven in various choirs and enjoys singing Irish Traditional and Folk Music. Ryan has performed with Westlife, Girls Aloud and Simply Red during the Children in Need Live Charity Concert. Other career highlights include winner of the SCOR competition (2007) and second place in the nationwide BBC television music competition (2003). Damian McGinty is currently the youngest member of the group, at 18 years old. He began singing at a young age in County Derry, Ireland and won his first music competition at the age of six. He has been involved with charity fundraising for his school and has produced a charity CD that raised over $2,000. In 2006, Damian won a singing competition to record his own track which led him to an invitation to audition with Celtic Thunder producers and an invitation to join the group as a soloist.
Photo Credit: Genevieve Rafter Keddy


Laura Savini (Vice President WLIW) welcomes the crowd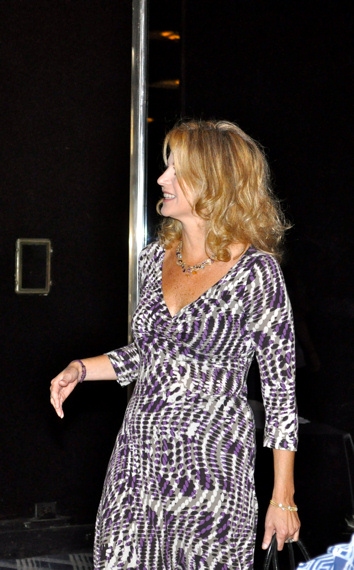 Laura Savini introducing the members of Celtic Thunder who will be at the Meet and Greet

Keith Harkin

Damian McGinty and Ryan Kelly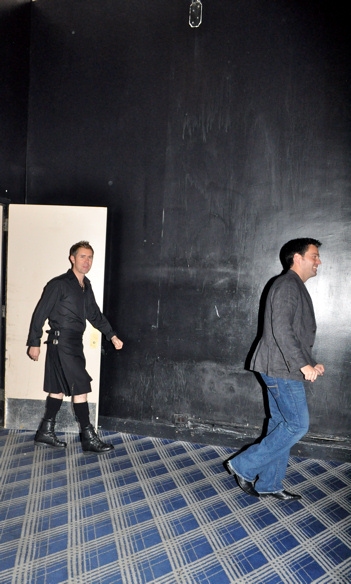 Ryan Kelly and Neil Byrne

Neil Byrne and Declan O'Donoghue

Ryan Kelly addressing the crowd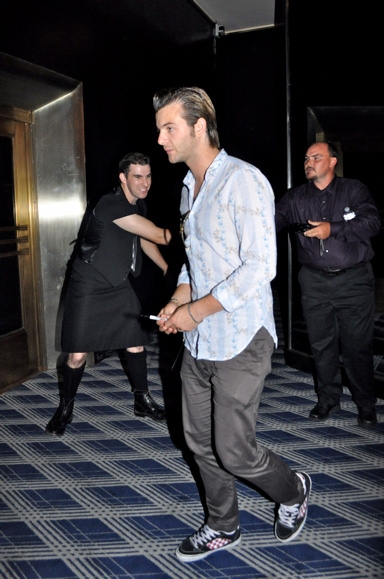 Keith Harkin heads out to the tables to meet the fans

Keith Harkin

Ryan Kelly

Neil Byrne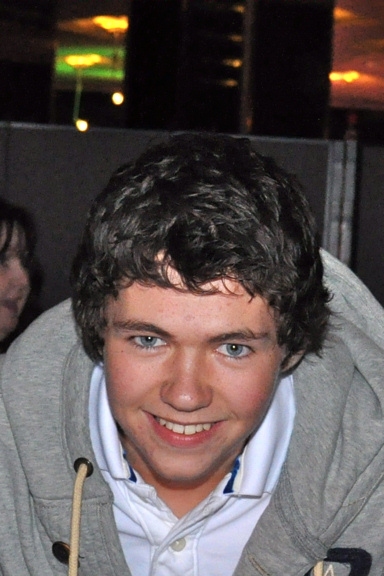 Damian McGinty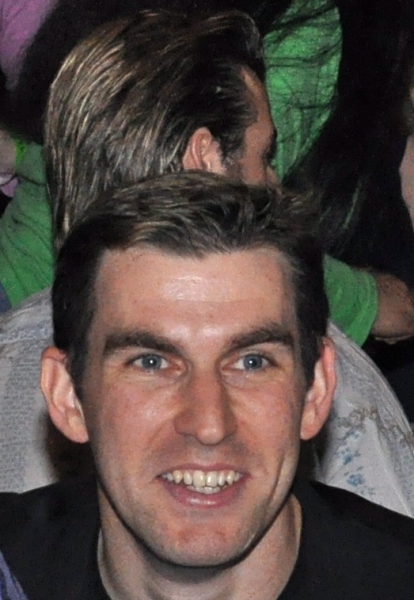 Declan O'Donoghue

Taylor McGinn and Neil Byrne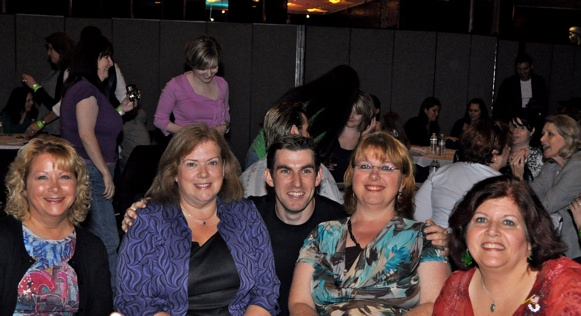 Joan Gute, Sue Kron, Declan O'Donoghue, Lynette Terjesen and Mag Paolini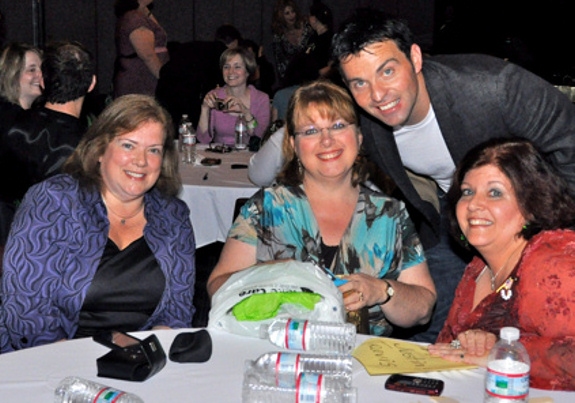 Sue Kron, Lynette Terjesen, Ryan Kelly and Meg Paolini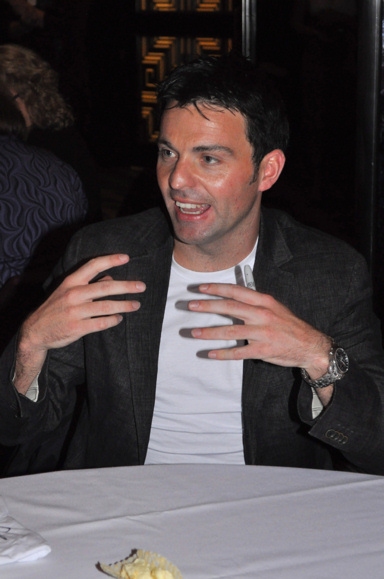 Ryan Kelly

Ryan Kelly