Photo Coverage: Trevor Project Benefit
The Trevor Project's "Harmony, Heart & Humor" summer gala event took place on June 25th with presentations of The Trevor Hero Award to Nathan Lane and The Trevor Commitment Award to Bravo. The event was held at the Hudson Theater at the Millennium Broadway Hotel (145 W. 44th Street). 
Taking part were Honorees Nathan Lane and Bravo's Andy Cohen, with special appearances by Tim Gunn ("Project Runway"); Carson Kressley ("Queer Eye"); John Glover (The Drowsy Chaperone, "Smallville"); Senator Tom Duane NYC (D); Daniel Vosovic ("Project Runway"); Brett Barsky from the Academy Award-winning short film Trevor;  "As The World Turns" stars: Alexandra Chando, Van Hansis, Jake Silbermann.  The event featured comedy from Julie Goldman, Gilbert Gottfried and Valerie Smaldone.  Live auction will include show host Chris Seiber (Spamalot, Chicago) and Lorna Kelly.  Musical performances included multi-platinum recording artist Darren Hayes (formerly of Savage Garden), The Broadway Boys, Renè Hicks and Malcolm Gets (The Apple Tree, "Caroline in the City").
The Trevor Project is a non-profit organization that operates the only nationwide, around-the-clock suicide prevention helpline for gay and questioning youth. The Trevor Helpline, 866.4.U.TREVOR, is a free and confidential service that offers hope through its trained counselors. In addition to the helpline, the organization's website provides information on identifying and assisting potentially suicidal youth and "Dear Trevor", a confidential resource where youth can ask questions about sexual orientation and identity issues. The Trevor Project also provides lifesaving guidance and vital resources to educators and parents. The organization was founded by three filmmakers whose film, Trevor, about a teenager who attempts suicide after realizing that he might be gay, received the 1994 Academy Awardfor Best Short Film (Live Action).
Visit www.thetrevorproject.org for more information.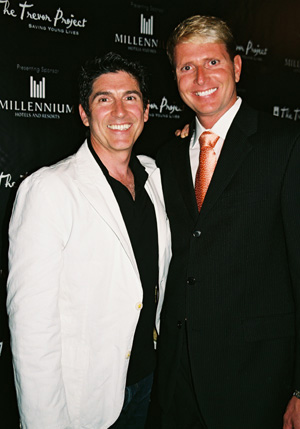 James Lecesne (Trevor Project Co-Founder) and Charles Robbins (Executive Director)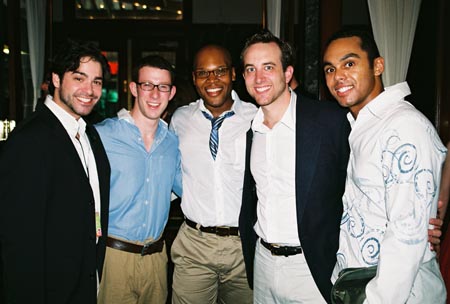 Daniel Torres, Nick Blaemire, Michael James Scott, Peter Matthew Smith and Jesse Nager

Honoree Nathan Lane

Charles Robbins and Nathan Lane

Honoree Andy Cohen (Bravo)

 Jake Silbermann (CBS, As The World Turns) and Van Hansis (CBS, As The World Turns)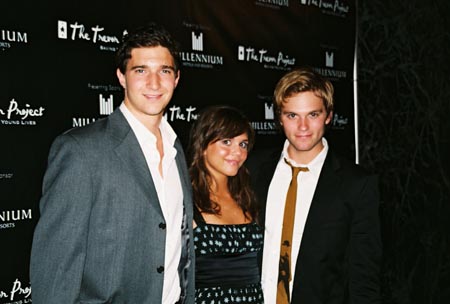 Jake Silbermann, Alexandra Chando (CBS, As The World Turns) and Van Hansis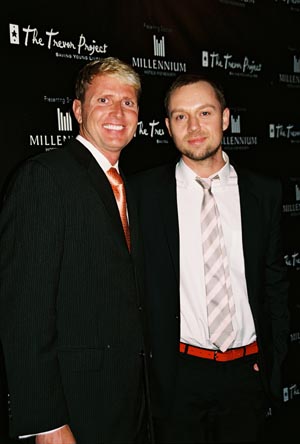 Charles Robbins and Darren Hayes (formerly of Savage Garden)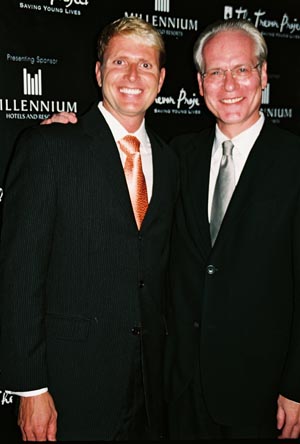 Charles Robbins and Tim Gunn (Bravo's Project Runway)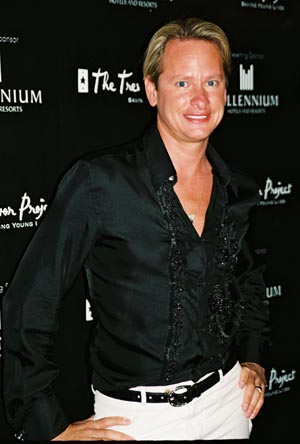 Carson Kressley (Bravo's Queer Eye for the Straight Guy)

Carson Kressley with the receipients of "The 2007 Colin Higgins Youth Courage Award" Raquel Saraswati, Ryan Bowker and Ali Abbas

John Glover (The Drowsy Chaperone)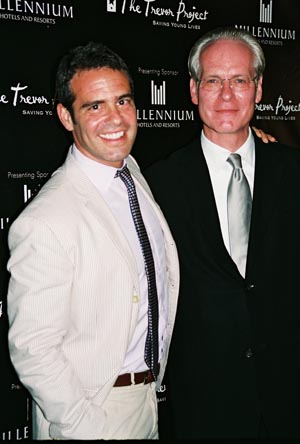 Andy Cohen and Tim Gunn

Rene Fris (Bravo's Sheer Genius)

Daniel Vosovic (Bravo's Project Runway)

Live Auction / Show Host Christopher Sieber (Spamalot, Chicago)

Ali Abbas and Christopher Sieber

Paul Riner and Christopher Sieber

Jodie Foster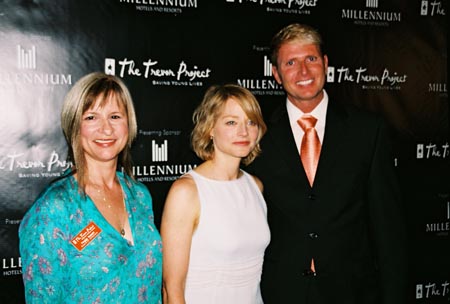 Peggy Rajski (Trevor Project Co-Founder), Jodie Foster and Charles Robbins

Ryan Bowker and Christopher Sieber