Click Here for More Articles on ROCK OF AGES
Photo Flash: 'ROCK' Gets 'TOXIC' at New World Stages
Last Wednesday night, some of the cast members from "ROCK OF AGES" came uptown - 2 blocks! - to New World Stages for some HOT TOXIC LOVE - and got it when they visited THE TOXIC AVENGER, the award-winning musical starring another "American Idol" finalist. After the show, both casts met onstage for the obligatory photo - or three.
The Toxic Avenger is a charming love story and laugh-out-loud musical that has it all -- an unlikely hero, his beautiful girlfriend, a corrupt New Jersey mayor and two guys who play...well, everyone else...bullies, mobsters, old ladies, and stiletto-wearing back-up singers. The show also features the most memorable and unbelievable duet you'll ever see on any New York stage. Audiences from teenagers to senior citizens love this hilarious new hit musical!
Based on the 1985 classic cult film from Lloyd Kaufman, The Toxic Avenger features music and lyrics by David Bryan (keyboardist and founding member of Bon Jovi), book and lyrics by Joe DiPietro (I Love You, You're Perfect, Now Change) and is directed by Tony Award® winner John Rando. Bryan and DiPietro also collaborated on Memphis now playing at the Shubert Theatre on Broadway.
The performance schedule for The Toxic Avenger is: Monday, Wednesday - Friday at 8PM, Saturday at 4 & 8PM and Sunday at 3 & 7:30PM. Tickets are $51.50 & $71.50 and may be purchased through TeleCharge at (212) 239-6200/www.telecharge.com.
The original cast recording (Time Life) is in stores and available on iTunes. For further information and fun online content, and new TOX-A-RI-FIC merchandise, please visit the show's official web site (TheToxicAvengerMusical.com).
The Toxic Avenger Toronto company just opened on October 31st - Halloween night!
In 1987 on the Sunset Strip, a small-town girl met a big-city dreamer - and in L.A.'s most legendary rock club, they fell in love to the greatest songs of the '80's. It's ROCK OF AGES, a hilarious, feel-good love story told through the hit songs of iconic rockers Journey, Styx, REO Speedwagon, Foreigner, Pat Benatar, Whitesnake, and many more. Don't miss this awesomely good time where big hair meets big dreams and the result totally wails. The show is written by Chris D'Arienzo, directed by Kristin Hanggi and choreographed by Kelly Devine.
Tickets can be purchased via Ticketmaster.com/ 212-307-4100 or in person at The Brooks Atkinson Box Office (256 West 47th Street). The performance schedule is Monday at 8pm, Tuesday at 7pm, Thursday at 8pm, Friday at 8pm, Saturday at 2pm & 8pm and Sunday at 2pm & 7pm.
Photos by "Toxie"

Alan Childs, Eric Day, Chris D'Arienzo, Michele Mais, Doug Katsaros, Erin Leigh Peck, Jeremy Woodard, Jeremy Jordan, Becca Tobin, Katherine Tokarz, Nick Cordero, Jonathon Root and Lauren Molina, front row Diana DeGarmo and Demond Green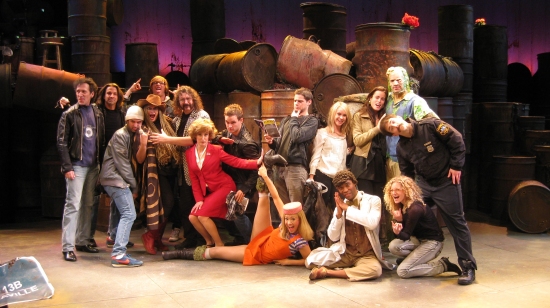 Alan Childs, Eric Day, Chris D'Arienzo, Michele Mais, Doug Katsaros, Erin Leigh Peck, Jeremy Woodard, Jeremy Jordan, Becca Tobin, Katherine Tokarz, Nick Cordero, Jonathon Root and Lauren Molina

Alan Childs, Eric Day, Chris D'Arienzo, Michele Mais, Doug Katsaros, Erin Leigh Peck, Jeremy Woodard, Jeremy Jordan, Becca Tobin, Katherine Tokarz, Nick Cordero, Jonathon Root, front row Diana DeGarmo, Demond Green and Lauren Molina

Related Articles
More Hot Stories For You