Click Here for More Articles on CORBIN BLEU
Photos: Corbin Bleu & Meredith Vieira Launch 14th Annual KIDS NIGHT ON BROADWAY
KIDS' NIGHT ON BROADWAY 2010 National Ambassador, Meredith Vieira, kicked off this year's event where kids ages 6 to 18 can attend a Broadway show for free on February 2nd, 3rd, and 7th when accompanied by a full-paying adult. Vieira, journalist, television personality, game show hostess - and mother - currently co-hosts NBC's Today and often contributes to Dateline NBC. She is the current hostess for Who Wants to Be a Millionaire.
Along with Meredith Vieira, Broadway performers from Broadway Kids Care (BroadwayKidsCare.com) and Camp Broadway (CampBroadway.com) made an appearance at the opening event held at Madame Tussauds New York in Times Square. Corbin Bleu, who appeared in "High School Musical" and recently debuted on Broadway in In the Heights, also made a guest appearance at the event and then led the way to the FanFest where dancers from In the Heights taught a Broadway Dance Studio.
KIDS' NIGHT ON BROADWAY is an audience development program created by The Broadway League to make theatre accessible, encourage theatre as a form of family entertainment, and build larger audiences for the future. A KIDS' NIGHT ON BROADWAY ticket includes pre-theatre parties, restaurant and parking discounts, Broadway fun and events, and more. At the theatre, all those in attendance receive a special edition Kids' PLAYBILL entirely written by kids who love theatre, provided by Theatre Development Fund. Enhanced educational offerings including study guides, special programs, links to educational resources will be aggregated on www.KidsNightonBroadway.com (under Great Stuff) and will be updated throughout the year.
This year's Kids' Night on Broadway salutes the Broadway Green Alliance (GreenBroadway.com) for making the Great White Way more environmentally friendly and raising awareness of Broadway's efforts to go green. This event launched Kids for BGA, (K4BGA), to encourage young audiences to become more aware of greening practices in the theatre, communities, and homes. Eco-tips for kids were given out. Working with the Natural Resources Defense Council (NRDC), the BGA is deeply committed to being a leader in environmental stewardship across all areas of the theatre industry to leave a cleaner, greener world for generations yet to come.
This year's Kids' Night on Broadway includes performances on February 2 (eve), February 3 (eve), and February 7 (matinee and evening). Tickets are still on sale and can be purchased at KidsNightOnBroadway.com. Participating shows include: Billy Elliot The Musical, Chicago, Fela! , Hair, In The Heights, The Lion King, Mary Poppins, Mamma Mia!, Memphis, Next To Normal, The Phantom Of The Opera, Rodgers & Hammerstein's South Pacific, West Side Story, Wicked, Avenue Q, and Stomp.
In addition to the launch event at Madame Tussauds yesterday, KIDS NIGHT ON BROADWAY includes additional events at Madame Tussauds this evening, February 3 from 4:00pm - 7:00pm, and a "Tailgate Party" at Planet Hollywood in Times Square on Sunday, February 7 from 11:30am-1:30pm.
KIDS' NIGHT ON BROADWAY will also take place in other cities, with different shows putting their own spin on the event, on different dates throughout the year.
To purchase tickets, find participating shows and to view the list of discounted restaurants and parking garages, theatregoers can visit KidsNightonBroadway.com. Tickets can also be purchased via broadwayoffers.com or ticketmaster.com or at the individual theatre box offices.
USE CODE KNOB2010. Follow Kids' Night on Facebook at www.facebook.com/KidsNightOnBroadway.
Follow The Broadway League on Twitter @TheBwayLeague or on Facebook at http://www.facebook.com/BroadwayLeague
Photo Credit: Brian Estrada


Kids' Night on Broadway Welcome Sign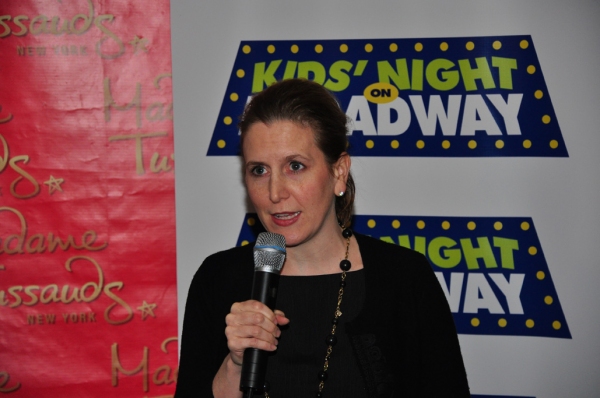 Kristin Caskey

Nick Marsh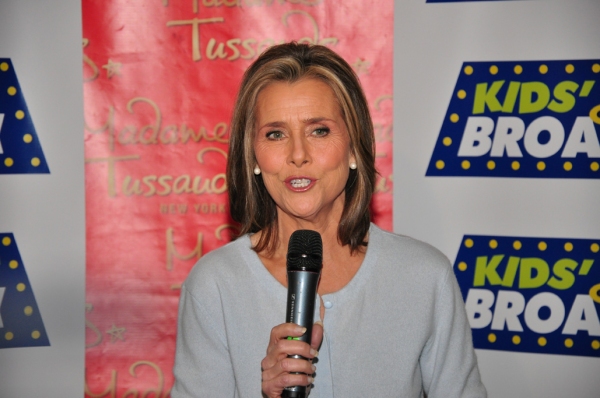 Meredith Vieira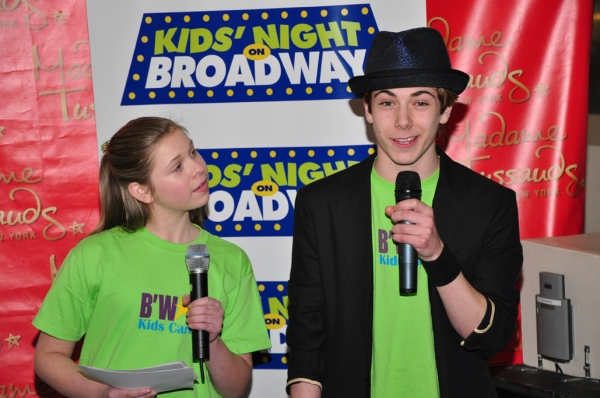 Broadway Kids Care Speakers Gabby Malek and Henry Hodges

Corbin Bleu

Camp Broadway Kids

Corbin Bleu and Meredith Vieira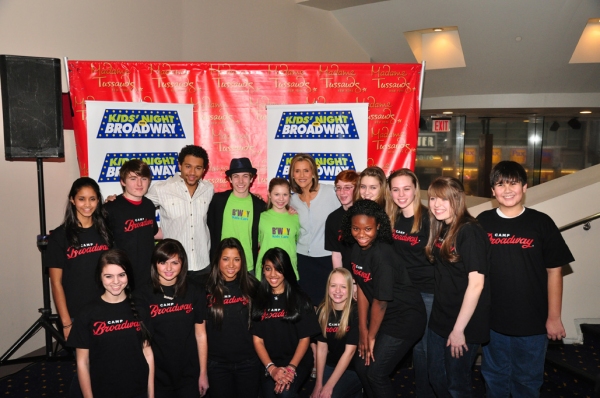 Corbin Bleu, Henry Hodges, Gabby Malek, Meredith Vieira, and the Camp Broadway Kids

Rosie Lani Fiedelman, Rickey Tripp, Jennifer Locke, Corbin Bleu teaching the kids IN THE HEIGHTS Choreography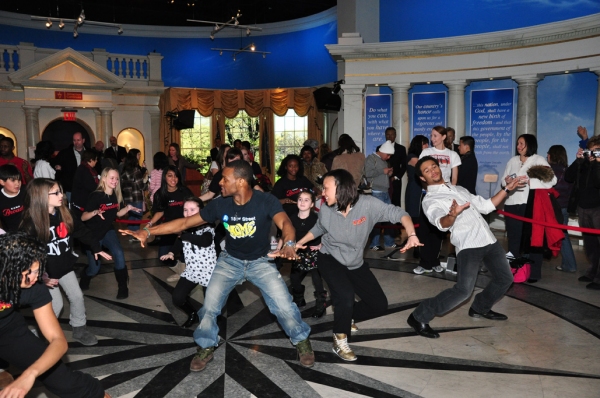 Rosie Lani Fiedelman, Rickey Tripp, Jennifer Locke, and Corbin Bleu Teach Kids IN THE HEIGHTS Choreography

South Pacific Tattoo Parlor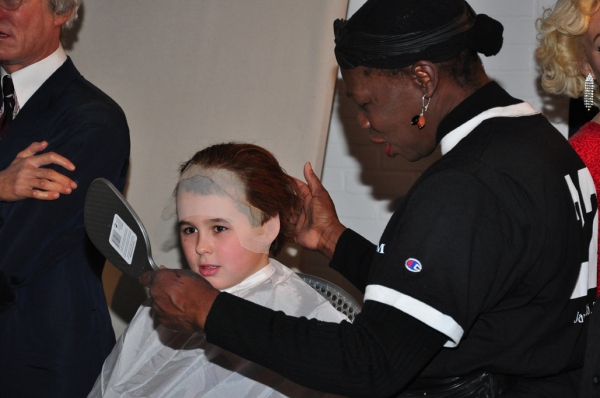 Phantom of the Opera Hair and Make-up Section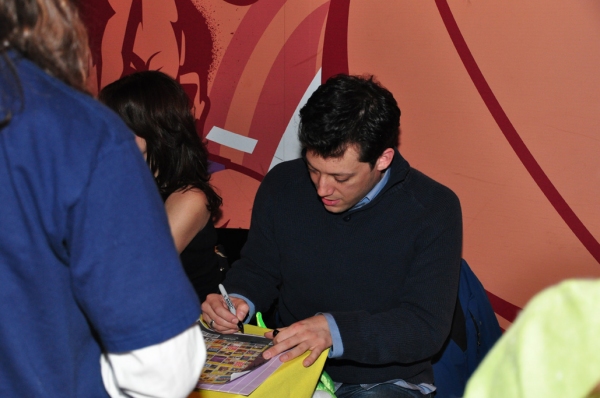 John Tartaglia at the Autograph Table