In the Heights - 2008 - Broadway
Winner of the 2008 Tony Award for Best Musical.
Welcome to the kind of musical that comes around once in a generation. A musical that builds on the best traditions of theater while forging into fresh new territory. A musical about the importance of home, family and finding where you belong.
IN THE HEIGHTS tells the universal story of a vibrant community in Manhattan's Washington Heights - a place where the coffee from the corner bodega is light and sweet, the windows are always open, and the breeze carries the rhythm of three generations of music. It's a community on the brink of change, full of hopes, dreams and pressures, where the biggest struggles can be deciding which traditions you take with you, and which ones you leave behind.
Discover where you belong, at Broadway's new Tony Award-winning classic, IN THE HEIGHTS.
Video preview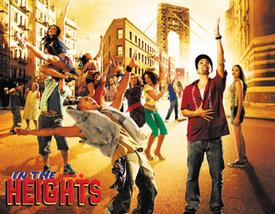 Schedule
Running Time: 2 hours and 30 minutes, with one intermission
Featured Reviews For In the Heights
With shallow story, Broadway's 'In the Heights' can't soar - New York Daily News
Despite its shortcomings, director Thomas Kail's production, which has changed slightly from last year's Off-Broadway run, has its pleasures. What it lacks in story and believability it makes up for in a vibrant rap- and salsa-flavored score, spirited dances and great-looking design. And the cast is sweeter than dollops of dulce de leche.
The View From Uptown: American Dreaming to a Latin Beat - New York Times
First seen Off Broadway last year, "In the Heights" moves uptown with its considerable assets confidently in place: a tuneful score enlivened by the dancing rhythms of salsa and Latin pop, sounds that are an ear-tickling novelty on Broadway; zesty choreography by Andy Blankenbuehler that seems to put invisible wings on the young cast's neon-colored sneakers; and a stage amply stocked with appealing actors who season their performances with generous doses of sugar and spice. Its fundamental deficiencies are also along for the ride, unfortunately. Conceived by Mr. Miranda, with a book by Quiara Alegría Hudes, "In the Heights" consists of a series of vignettes that form a vivid but somewhat airbrushed mural of urban life. Directed by Thomas Kail, it is basically a salsa-flavored soap opera, and if there is an equivalent of schmaltz in Spanish, this musical is happily swimming in it.
In the Heights Broadway Cast