In the Heights Broadway
Winner of the 2008 Tony Award for Best Musical.
Welcome to the kind of musical that comes around once in a generation. A musical that builds on the best traditions of theater while forging into fresh new territory. A musical about the importance of home, family and finding where you belong.
IN THE HEIGHTS tells the universal story of a vibrant community in Manhattan's Washington Heights - a place where the coffee from the corner bodega is light and sweet, the windows are always open, and the breeze carries the rhythm of three generations of music. It's a community on the brink of change, full of hopes, dreams and pressures, where the biggest struggles can be deciding which traditions you take with you, and which ones you leave behind.
Discover where you belong, at Broadway's new Tony Award-winning classic, IN THE HEIGHTS.
Video preview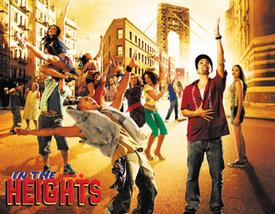 Schedule
Running Time: 2 hours and 30 minutes, with one intermission
Featured Reviews For In the Heights
In The Heights - Variety
What makes "In the Heights" so unique, however, is that despite the driving pulse of its Latin-American rhythms, blending hip-hop, rap, jazz, pop, salsa and merengue, this buoyant musical also nods reverently to the traditions of the show tune. From its catchy opening number, which tosses in references to Cole Porter and Billy Strayhorn while swiftly introducing a large gallery of key characters and placing them within a vividly drawn community, the musical's plucky marriage of youthful freshness and lovingly old-fashioned craft is hard to resist.
In The Heights - nytheatre.com
I love the idea of In the Heights, and I think Miranda's voice as performer and writer needs to be heard on the NYC stage. But this show is a jumble of ideas, some of them interesting, many others quite mundane or cliched. In the Heights has got a beat; it's got energy. But it's finally so much less than it ought to have been!
In the Heights Broadway Cast