Click Here for More Articles on Be More Chill
Photo Coverage: Meet The Pitiful Children of Off-Broadway's BE MORE CHILL!
Be More Chill, the original musical with music and lyrics by Joe Iconis (NBC's "Smash", The Black Suits, Broadway Bounty Hunter) and a book by Joe Tracz(The Lightning Thief, Netflix's "Lemony Snicket's A Series of Unfortunate Events") will have its New York premiere production this summer. The cast met the press this afternoon and BroadwayWorld was on hand to meet the new class of Be More Chill! Check out photos below!
Stephen Brackett directs and Chase Brock choreographs the limited 9-week, off-Broadway engagement July 26 - September 23 at The Irene Diamond Stage at The Pershing Square Signature Center (480 West 42nd Street, NYC). The official opening night is August 9 at 7:30PM. Tickets are now on sale at TicketCentral.com, (212) 279-4200.
Be More Chill is presented by Gerald Goehring, Michael F. Mitri, Jennifer Ashley Tepper, Marc David Levine, Fred and Randi Sternfeld, Robert and Joan Rechnitz and Gary and Marlene Cohen. Be More Chill was originally commissioned and produced by Two River Theater, Red Bank, NJ.
Based on the cult sensation novel by Ned Vizzini, Be More Chill is the story of Jeremy Heere, your average, nothing-special teenager at Middleborough High in nothing-special New Jersey. That is, until the day he finds out about "The Squip." Thus begins a journey that pits Jeremy's desire to be popular against his struggle to remain true to his authentic self. Be More Chill is an honest, edgy, super-hilarious look at coming of age in the digital age, set to some of the most exciting songs in contemporary musical theater. This original musical comedy looks at modern issues like depression, bullying, and anxiety through the lens of sci-fi films of the 50s, horror flicks of the 80s, and teen movies of the 90s. Little Shop of Horrors meets The Breakfast Club in this celebration of outcasts, teenaged or otherwise.
The off-Broadway engagement of Be More Chill will feature company members from the 2015 Two River Theater production and original cast recording including Gerard Canonico (Spring Awakening, Groundhog Day) as Rich, Katlyn Carlson (Dirty Dancing, The Unavoidable Disappearance of Tom Durnin) as Chloe, Stephanie Hsu (SpongeBob Squarepants) as Christine, Lauren Marcus (The Humans at St. Louis Rep, Company at Barrington Stage) as Brooke, and George Salazar (tick tick BOOM!, Godspell, The Lightning Thief) as Michael.
Joining the New York premiere company will be Will Roland (Dear Evan Hansen, The Black Suits) as Jeremy and Jason SweetTooth Williams (Freaky Friday, Benny and Joon, Bloodsong of Love) as Jeremy's Dad/Mr. Reyes.
Be More Chill features scenic design by Clint Ramos (Once on This Island, Sunday in the Park with George), costume design by Bobby Frederick Tilley II (Lizzie Borden, Top Girls); lighting design by Tyler Micoleau (Iowa, The World of Extreme Happiness); sound design by Ryan Rumery (Fool For Love); musical direction by Emily Marshall; orchestrations by Charlie Rosen (Prince of Broadway, Honeymoon in Vegas); casting by Telsey + Company / Adam Caldwell, CSA & Rebecca Scholl, CSA; production stage management by Amanda Michaels (The Children, The Ballad of Little Jo); general management by Lisa Dozier King; and production management by SenovvA Production Core.
"I have zero chill about the fact that Be More Chill is making its New York premiere this summer," says composer/lyricist Joe Iconis. "What a dream it is to play on 42nd Street with so many company members who have been with the Be More Chill family since the beginning, not to mention all of the new, incredible artists joining our team. We could not be more excited."
"The 'two Joes' have created an extraordinary, vibrant and original musical that speaks to young, passionate musical theater audiences," says lead producer Gerald Goehring. "The Two River Theater production and its original cast recording captured the hearts and imaginations of theatergoers around the world. The cast recording has racked up over 100 million streams, and entered Billboard's Broadway Top Ten chart its 97th week of release... one of the only shows to enter the top 10 prior to a New York run. We could not be more thrilled to present the New York premiere off-Broadway this summer."
"Before arriving in New York, Be More Chill has already amassed an unprecedented following across various online platforms, with millions of fans from Brazil to Japan to New Jersey sharing fan art, streaming the album, and talking about the show" says producer Jennifer Ashley Tepper. "In 2017, Tumblr ranked Be More Chill as the #2 most talked-about musical on their platform, following Hamilton. We are thrilled that this remarkable fandom has turned the show into an organic sensation and can't wait to celebrate the fans and also embrace new audiences this summer, as we bring this extraordinary musical back to the stage. The Be More Chill family could not be more excited for this musical's long-awaited New York debut."
The 2015 Two River Theater cast recording of Be More Chill is available from Ghostlight Records. Performance rights for Be More Chill are licensed by R&H Theatricals.
Photos by Walter McBride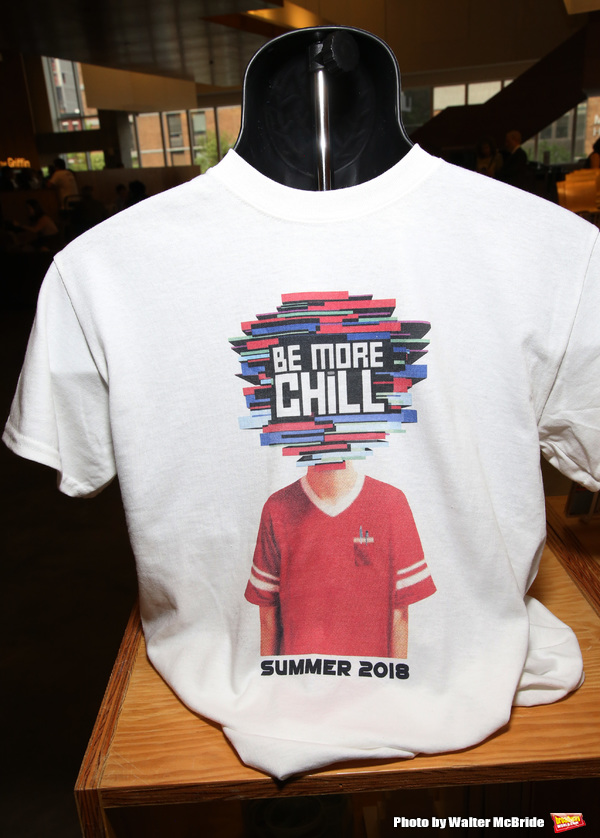 'Be More Chill' at The Pershing Square Signature Center on June 8, 2018 in New York City.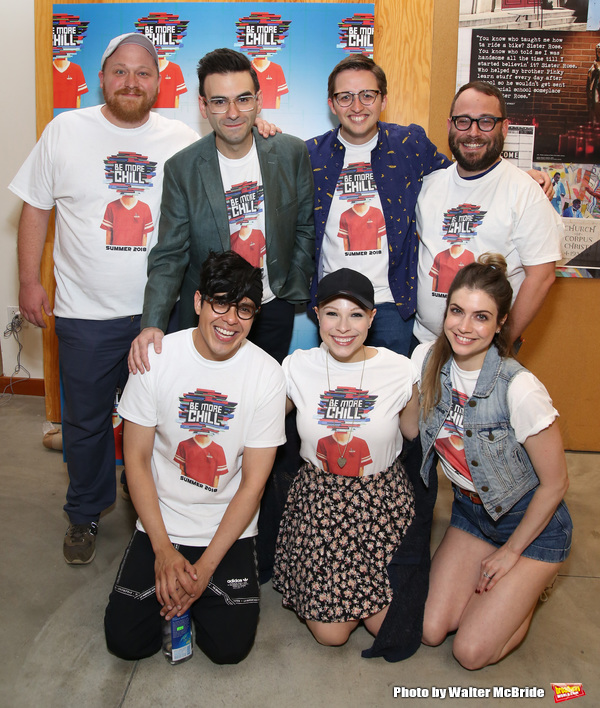 1st row: George Salazar, Lauren Marcus, Katlyn Carlson 2nd row: Jason SweetTooth Williams, Joe Iconis, Will Roland and Stephen Brackett

Merchandise

Merchandise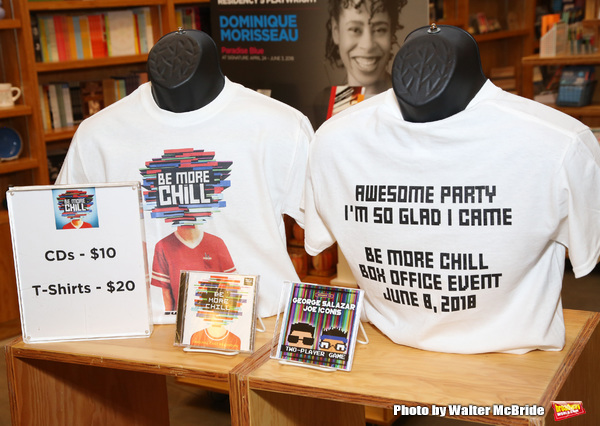 Mecrhandise
Related Articles