Photo Coverage: Mayor Bloomberg Proclaims SEASON OF CAMBODIA Day at Festival Opening
New York City will host more than 125 artists from Cambodia for a major celebration of Cambodian arts, culture, and humanities when Season of Cambodia lights up the city's cultural landscape, now through May 2013. Distinctive works from master and emerging artists and scholars-in ritual, music, visual arts, performance, dance, shadow puppetry, film, and academic forums-will be presented by 30 of New York's most renowned arts and educational institutions, marking an unprecedented city-wide partnership initiative to celebrate one of the world's most vibrant and evocative cultures.
Season of Cambodia celebrated its opening ceremonies on Cambodian New Year, April 13, at which New York City Mayor Bloomberg proclaimed it "Season of Cambodia Day". BroadwayWorld was there and brings you photos from the festitivies below!
Leading cultural and educational institutions as varied as Asia Society, BAM, Works & Process at the Guggenheim, Lower Manhattan Cultural Council, Metropolitan Museum of Art, Parsons The New School for Design, Mark Morris Dance Group and Arts Brookfield are participating in Season of Cambodia.
This historic collaboration featuring pioneering artists and organizations from Phnom Penh and Siem Reap comes at a critical moment in Cambodia's artistic revival. Only one generation ago the Khmer Rouge regime (1975-1979) set out to eliminate the artists and intellectuals who comprised Cambodia's flourishing artistic community; as many as 90 percent of them died. As a "living arts" festival,
Season of Cambodia
will serve as an international platform that not only promotes opportunities for cultural and artistic expression in a country where half of the population is under the age of 25, but also helps pave the way for long-term partnerships between members of Cambodia's burgeoning arts community and pre-eminent artists and cultural institutions in
New York City
.
Season of Cambodia is an initiative of Cambodian Living Arts, a non-profit organization based in Phnom Penh and the U.S. founded in 1998 by artist and Khmer Rouge survivor Arn Chorn-Pond. Once focused on the critical task of preserving endangered artists and traditional art forms in the country, Cambodian Living Arts today collaborates with Cambodian artists and organizations, serving as a catalyst to help develop and foster arts in Cambodia.
The Season of Cambodia line-up will feature an exciting range of public events throughout New York City. Theater and dance performances will include critically acclaimed performers and companies such as the Royal Ballet of Cambodia accompanied by HRH Princess Norodom Buppha Devi at BAM; Wat Bo Shadow Puppets at Arts Brookfield; Sophiline Cheam Shapiro and Khmer Arts Ensemble presented by The Joyce Theater; and Amrita Performing Arts presented at Abrons Art Center and at Works & Process at the Guggenheim. Rubin Museum of Art will host a Cambodian New Year's celebration featuring ritual and sacred music.
Cambodian music, ranging from rock-and-roll to folk music to contemporary chamber compositions, will be heard during the festival, with world-renowned musicians Dengue Fever and Chinary Ung in separate programs at Le Poisson Rouge and Champei Dong Veng master Kong Nay playing his traditional long-necked guitar at Asia Society.
Internationally renowned contemporary artists, Sopheap Pich, Seckon Leang, and Rattana Vandy will be featured in exhibitions and public programs alongside emerging visual artists. Artist residencies and exhibitions of contemporary Cambodian art will be hosted by Asia Society, Bose Pacia, Bronx Museum of the Arts, Lower Manhattan Cultural Council, The Metropolitan Museum of Art, Residency Unlimited, and Tyler Rollins Fine Art.
Provocative humanities events exploring themes such as cultural memory, art history, and the diaspora, as well as discussions on creative communities and urban development will be hosted by institutions including Asia Society, Cornell University, New York Public Library for the Performing Arts at Lincoln Center, New York University's Asian-Pacific American Institute, Parsons The New School for Design, and Rutgers University Center for the Study of Genocide and Human Rights at Columbia University.
Master classes of Cambodian court dance will be offered through Mark Morris Dance Group as well as at DANY studios, while master Kong Nay will collaborate with students and faculty of Jazz at the New School.
For more information and the schedule, visit the official website at www.seasonofcambodia.org.
Photo Credit: Stephen Sorokoff


Season of Cambodia - Opening Ceremonies

Rubin Museum of Art

Veasna Chea & Phloeun Prim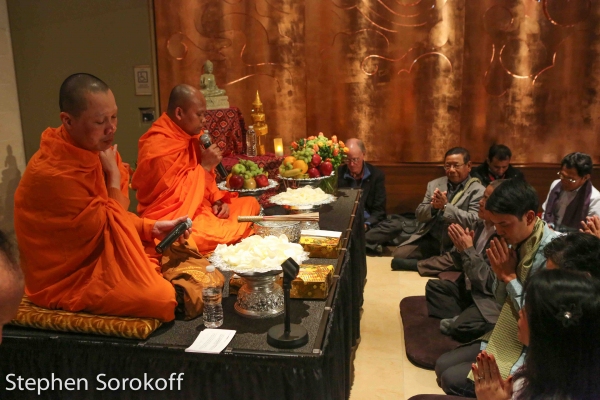 Season of Cambodia Day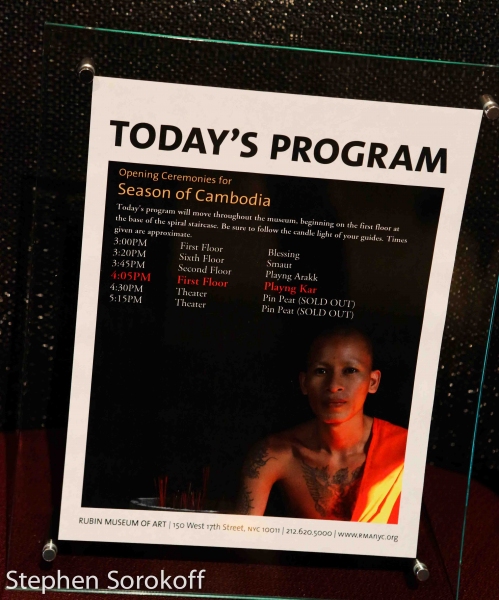 Phloeun Prim

Veasna Chea