Photo Coverage: Jamie deRoy & friends Holiday Show
Stars celebrated the start of the holiday season with Jamie DeRoy in the Holiday Show 2006 edition of her Multi MAC Award-winning variety show, "Jamie DeRoy & friends" on Wednesday, December 6th (8PM) at the New York hotspot The Metropolitan Room (34 West 22nd Street Between 5th & 6th Avenues).
This special event featured cabaret stars Tom Andersen, Scott Coulter, and Tim DiPasqua; Broadway's Donna Lynne Champlin; Grammy Award-winner Julie Gold; award-winning composer Andrew Lippa; acclaimed celebrity impersonator Chuck Sweeney; Broadway leading man Sal Viviano; and Broadway funny man Noah Weisberg, among others. Barry Kleinbort was the director of "Jamie DeRoy & friends" and Lanny Meyers served as musical director.
"The colorful cabaret series, which has been thrilling New York City audiences for the past 15 years and serves as the basis for deRoy's award-winning cable television show, spotlights a wide variety of well-known entertainers and newcomers lighting up the cabaret, theater, and comedy worlds." deRoy is an eight-time MAC Award-winner acclaimed for her work as a producer of shows, TV and film, CDs, and as an actress.
The Holiday Show also served as the launch for deRoy's new CD "If I Sing - The Songwriters Album," featuring Lippa, Gold and Stephen Schwartz, among others. The CD is released through PS Classics
Visit www.metropolitanroom.com for more on the Metropolitan Room.

Jamie DeRoy and singer/songwriter Julie Gold ("From a Distance")

Chuck Sweeney as Miss Peggy Lee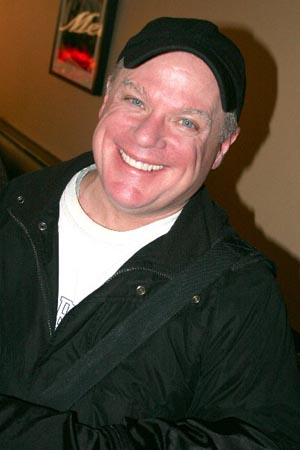 Chuck Sweeney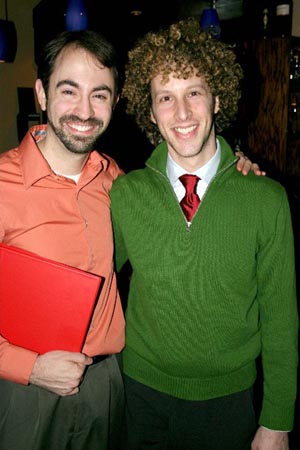 Pete Mills and Noah Weisberg, currently in rehearsals for Legally Blonde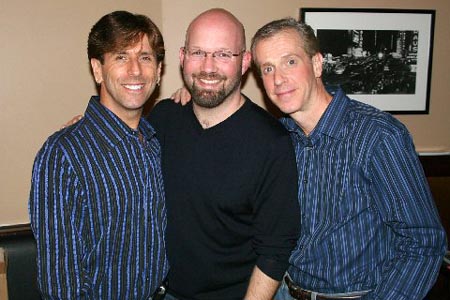 Tom DiPasqua, Scott Coulter and Tom Andersen

Christine Lavin and Sal Viviano
Related Articles
Mark Rupp, aside from working in the film and modeling industries has been a working photographer for 20+ years. His work has been published in (read more...)