Photo Coverage: Carol Channing to Release New Album in Sept.; Supports Youth Arts Nationwide
"Look at the old girl now, fellas!" There appears to be no stopping Carol Channing, who used her recently scheduled appearances in New York City on The View, Today Show, Fox & Friends, CNN, Wendy Williams and more to not only promote her new CD, but to announce that she is currently embarking on a national campaign to restore the Arts back into the public school system through The Dr. Carol Channing and Harry Kullijian Foundation for the Arts.
No sooner had she left New York, than she was to be found 3,000 miles away, in California, in order to present two grants for a total of $10,000 to the Youth Entertainment Stage (YES) Company and Great Valley Academy (GVA).
The YES Company is a living model of collaboration and diversity, engages, educates, and empowers students' discovery of talents, self-awareness, and strength of positive choice through the study, creation, and performance of high quality musical theatre that inspires them to become productive citizens with a life-long appreciation of the arts.
GVA's inquiry-based curriculum helps students become self-motivated and competent life-long learners who are critical thinkers, demonstrating confidence and creativity. They believe that all students can achieve high standards even though they may enter GVA with different strengths, abilities and life experiences.
Because GVA had a choir, they've decided to put the grant toward building a school band. Mrs. Hansen of GVA was reporter to have put out the call for help saying, "We would love to offer band next year for our wonderful GVA students. Would you like to help us? The music department needs instruments donated for our Band Program. Music ROCKS at GVA!" The Dr Channing/Kullijian Foundation responded to the call.
"We're trying to make Stanislaus County a model county in the state of California for bringing arts back in the public schools and to help children structure their lives so they are better citizens," says Harry Kullijian. "Art is the catalyst to learning and education and to being closer to one another and treating each other with more respect rather than dropping out of school and getting into all sorts of problems," adding "I hope that the example set in Stanislaus County will lead the way in not only the state, but that this call to action would be picked up across the nation."
Carol and Harry continue to Denver on August 6th to appear before the national PTA, then to San Francisco to appear in a panel discussion with friends Rich Little and Steve Rossi for Comedy Talks on August 8th, only to turn around and head to Los Angeles to meet with producers and directors on the 12th, to discuss production plans regarding a telethon for the Arts planned for 2011. While in Los Angeles, Carol and Harry will co-host an event on August 14th for Spirit or 45' honoring US Veterans of WWII on the 65th anniversary of the end of the war. Carol says, "My dear husband, Harry, and many others like him went to war so that their children could have liberty to study math, philosophy, geography, science, architecture, commerce and agriculture in order that future generations could study painting, poetry, dance, and music that could then enhance the knowledge their fathers had previously gained. Armed with these tools, they can reach beyond even the dreams their grand fathers had for them. The veterans of WWII achieved the goal of protecting these rights for today's and future generations and should always be remembered for doing so."
Carol recalls, "A general once addressed England's Parliament, saying that they had to cut the Arts to support the war effort and Winston Churchill said 'Then what are we fighting for?" On July 27th, the U.S. House of Representatives approved by voice vote H Con Res 275, a concurrent resolution expressing support for designation of the week beginning on the second Sunday of September as Arts in Education Week. The resolution had 101 cosponsors and was authored by Rep. Jackie Speier (D-CA), with encouragement and support of Broadway legend.
Portions of the proceeds from Ms Channing's recently released CD, "For Heaven Sake," will benefit the foundations efforts. The CD includes many of the songs she came to know and love as a child with spirituals that she learned from her family. The CD features handpicked spirituals from Carol's childhood, taught to her by her father as well as hymns and rousing classic gospel tunes that southern gospel fans and people of all ages will know and love. In Sept 2010, Carol is proudly releasing a new Patriotic CD, tentatively titled "American Carol," that features songs such as "Over There," "Dear Old Glory," "God Bless America," "America" and "The Battle Hymn of the Republic," among others.
Ms. Channing recently produced a PSA for California featuring friends and colleagues Lily Tomlin, Alec Mapa, Florence Henderson, Kevin Sorbo, Donna Mills, Lesley Ann Warren, Stefanie Powers, Kate Linder, Joanne Worley, and Phill Lewis with plans to produce another for national distribution. The Link to the Foundation PSA is https://www.youtube.com/user/BHBPR#p/u/26/0d3Uf-QG3Zk.
To date, the Foundation's gifts have include funds raised at benefit performances, donated Band Instruments, as well as direct Endowment Gifts to the following universities, Stanislaus State, San Francisco State, Chico State, Sonoma State, CSU San Marcos, CSU Fullerton, Pomona State, Sacramento State, Fresno State, Cal State East Bay, San Jose State, CSU San Bernadino, Cal State Bakersfield and Cal Poly. The public schools benefited include, Westside School, Widney High School, Newman High School, Great Valley Charter School and YES Company.
To find out more about Ms. Channing's national efforts visit www.ChanningArts.org.
Last two photos courtesy of SCOE Communications Department.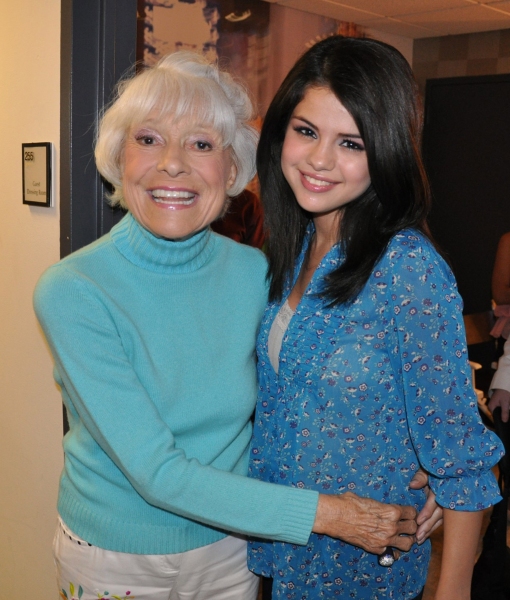 Carol Channing and Selena Gomez

Carol Channing with Wendy Williams

Hoda Kotb, Kathie Lee Gifford, Carol Channing and Harry Kullijian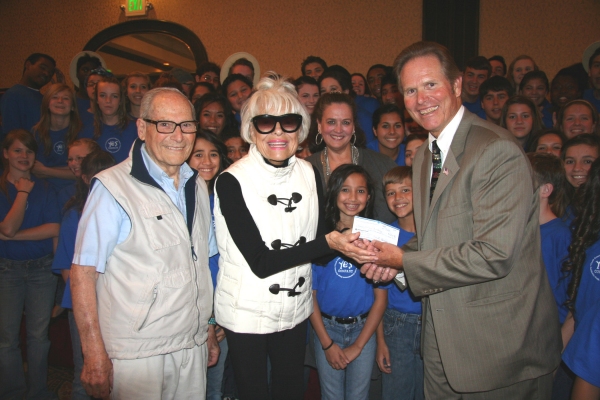 Harry Kullijian, Carol Channing, Melanee Wyatt, and Tom Changnon

Carol Channing and Harry Kullijian with YES Company

Shop BroadwayWorld

Shop this season's new musicals! Get dressed up for a night at the theatre, or just a night at home, with merch from some of Broadway's biggest hits including SOME LIKE IT HOT, KIMBERLY AKIMBO, and more!
Related Stories