PANIC: THE STORY BEHIND THE WAR OF THE WORLDS BROADCAST Adds Performance, Extended Through October 30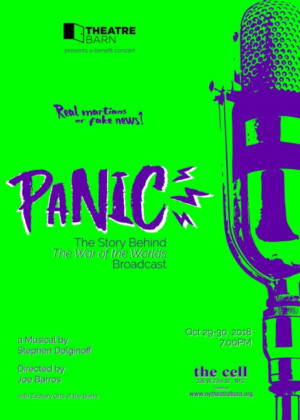 Due to popular demand, an additional performance of Stephen Dolginoff's Panic: The Story Behind The War of the Worlds Broadcast has been added. The benefit concert, presented by New York Theatre Barn, will now play Monday, October 29 and Tuesday, October 30, 2018 at 7:00pm at The Cell in New York City
Dolginoff, the Drama Desk nominated author/composer of the award-winning Off-Broadway musical Thrill Me: The Leopold & Loeb Story, which has had over 150 productions in 17 countries in 10 languages, has created this exciting musical based on another unusual historical event. Panic is a dramatization of the incredible true story behind the broadcast that panicked the nation on the night before Halloween in 1938. In an early example of "fake news," Orson Welles and his Mercury Theatre Company's radio-play adaptation of HG Wells' "War of the Worlds" seemed so realistic, that audiences across the country thought they were listening to a live report announcing that Earth was really being invaded by Mars!
Joe Barros (Bastard Jones) will direct, with music direction by Zachary Orts, and graphic design by Matias Gordon. After the smash sell-out success of last year's NYTB benefit reunion of Thrill Me, also directed by Barros, the New York premiere of Panic will arrive just in time for the 80th anniversary of the original broadcast and will once again feature the two Off-Broadway co-stars of Thrill Me. Doug Kreeger (Les Miserables, Rooms) will portray the dignified John Houseman to Dolginoff's egotistical Orson Welles. Joining them will be Christopher Totten (Original Thrill Me), as radio script-writer Howard Koch, along with Jessica Carollo, Camille Diamond (Dolginoff's Monster Makers, 54 Below), Michael Enright (Theatreworks USA's Henry and Mudge), Jason Moody (Hair, International Tour) and Jessica Carollo (Amazon's What Exit?) as the Mercury Radio Players.
An earlier version of Panic premiered at the Lamb Theatre in Sioux City, Iowa in 2009 and was subsequently produced in theatres around the United States.
The Cell is located at 338 West 23rd Street in New York City. Tickets are $35 and can be purchased at www.nytheatrebarn.org. Seating is extremely limited.
Under the artistic direction of Joe Barros, New York Theatre Barn is a Manhattan-based non-profit theatre company, founded in 2007, dedicated to incubating and producing new musicals that tell untold stories. Our stories are inspired by the lives of real people and actual events that challenge our preconceived ideas, and promote inclusion and positive social change. New York Theatre Barn has been instrumental in the development and advancement of the new musicals Sam's Room, Eastbound, I Married Wyatt Earp, The Belle of Tombstone, Small Town Story, Ordinary Days, The Boy Who Danced On Air, and more. For more information: www.nytheatrebarn.org.