Orange Is The New Black Star Dale Soules Joins Reading Of New Michael Raver Play, EVENING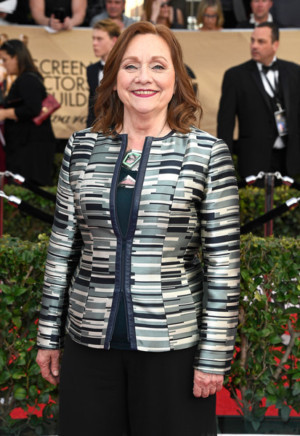 Dale Soules (Orange Is The New Black, Hands On A Hardbody) will step into a reading of Michael Raver's new political drama, Evening. Bedlam Artistic Director Eric Tucker will direct the reading on September 24th in New York. Soules replaces the previously announced Roberta Maxwell.
The piece will also feature Michael Potts (The Book of Mormon, Jitney, The Iceman Cometh) Jack Wetherall (Queer as Folk, Skintight), Vince Nappo (Reign, TFANA's The Merchant of Venice), Kelley Curran (Sense and Sensibility, TFANA's The Winter's Tale) and playwright Michael Raver (The Persians, Death Comes for The War Poets).
"Evening brilliantly interweaves the affairs of parliament with the sexual politics of a repressed era," says Tucker. "The play presents us with extremely conflicted human beings in a timeless situation. The insanity of our current administration directly mirrors the duplicity and visceral ache in what Michael has written."
It's 1832, London. Arthur Brandon (Nappo), a rising star of The House of Commons, has been campaigning for major reform of corruption that's long prevailed throughout the English government. Assisted by his tenacious wife, Margaret (Curran) and her prominent parents (Soules and Wetherall), his mission to support the English lower classes is opposed by a powerful and steadfast conservative (Potts). When a mentally unstable friend from Arthur's youth (Raver) appears, the future of the entire country is placed dangerously close to ruin.
"Our political beliefs are our personal and spiritual beliefs evidenced," Raver says. "To me, EVENING is much more than a history lesson. It's a deep dive into the emotional expenses that have unnecessarily weighed us down for centuries."
A two-time finalist for Red Bull's New Play Festival, a ten-minute version of Evening received a developmental reading at Playhouse on Park in 2014.
"I've been familiar with Michael's plays for several years," Tucker continues. "I have always been struck by their incredible humanity and sharp wit."
The September 24th reading will take place at 7 pm at TheatreLab. Seating is limited.
For reservations, email eveningplayreservations@gmail.com
As an actor, Michael Raver has performed at Lincoln Center, The Pearl Theatre Company, Tony Randall's National Actor's Theatre, regional theaters across the country and in film and television. As a writer, his adaptation of The Picture of Dorian Gray was produced by Sonnet Repertory Theatre at the Signature Theatre Center in 2012, and a reading of his pre-WWII adaptation of Chekhov's The Seagull, featuring Judy Kaye, was presented by the Pearl Theatre Company. His play, Fire on Babylon, was nominated for The Robert Chesley/Victor Bumbalo Foundation Award for Playwriting, as well as being named a semifinalist for The O'Neill Conference in 2015. Babylon went on to receive two workshops in 2016, first at Great River Shakespeare Festival and then at The Fresh Fruit Festival in New York, where it won multiple awards from All Out Arts. A short version of Evening was a two-time finalist for Red Bull's New Play Festival. His play Quiet Electricity was named a semifinalist at The O'Neill Conference in 2017 and Riptide was a semifinalist in 2018. His work has been presented by The Pearl Theatre Company, Sonnet Repertory Theater, Orlando Shakespeare Theatre, The Martha Graham Company, The Bridge Street Theater, Playhouse on Park and many others. He served as a judge for the Ferro-Grumley Award for LGBT Fiction for three years and regularly contributes cultural arts journalism for Classical TV, NYC Monthly, Hamptons Monthly, Playbill, Dance Magazine, Cool Hunting, The Huffington Post, Imagista, Art 511 Magazine and Nature's Post.
Eric Tucker was voted DIRECTOR OF THE YEAR by the Wall Street Journal 2014. Off Broadway: Vanity Fair (The Pearl); Bedlam's Sense and Sensibility (Off Broadway Alliance Award, Lortel nom., Best Director, Drama League nom., Best Revival); A Midsummer Night's Dream (Drama League nom. Best Revival, WSJ Best Classical Production 2015; NY Times Critics' Pick), Bedlam's Saint Joan (NY Times/Time Magazine Top 10; Off Broadway Alliance Best Revival 2014), Bedlam's Hamlet (NY Times Top 10; Time Out NY/Backstage Critics' Pick), Tina Packer's Women of Will. For Bedlam: Hamlet/Saint Joan: McCarter Theatre; Central Sq. Theater (Elliott Norton: Outstanding Visiting Production/Outstanding Ensemble, Boston Globe Top Ten); Dead Dog Park, New York Animals (World Premiere by Steven Sater/Burt Bacharach), Twelfth Night and What You Will (NY Times Critics' Picks), The Seagull (WSJ Best Classical Production 2014), Sense & Sensibility (NY Times Top 10, NY Times/WSJ/Time Out Critics' Picks). Other: The Merry Wives of Windsor (Two River), Disney's Beauty & The Beast (OSF); Pericles (APT); Sense and Sensibility (The Folger Theater, 8 Helen Hayes nominations including Best Director and Best Production), Copenhagen (Central Square Theater), A Midsummer Night's Dream, The Two Gentlemen of Verona (HVSF), Mate (The Actors' Gang). Eric received his M.F.A. from the Trinity Rep Conservatory. He resides in New York City where he is Founder and Artistic Director of Bedlam.

Related Articles
More Hot Stories For You