Click Here for More Articles on NEW YORK CITY
New York Philharmonic Sets 2017-18 Season of 'Insights at the Atrium'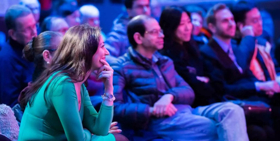 The New York Philharmonic has announced the 2017-18 season's Insights at the Atrium series, free events exploring themes of the Philharmonic's concert season through multimedia lectures, conversations, and panel discussions.
All events are held at the David Rubenstein Atrium at Lincoln Center and begin at 7:30 p.m., unless otherwise noted.
The 2017-18 Insights at the Atrium events include:
"Star Wars: Music for a Galaxy," September 12, 2017
From Tatooine to Hosnian Prime, the scope of the Star Wars galaxy is reflected in John Williams's legendary scores. Conductor and film score composer David Newman explores John Williams's compositional techniques, leitmotifs, and musical philosophy and how they allow the orchestra to bring imaginary worlds to life. Filmmaker Habib Azar, who has directed the New York Philharmonic's Facebook Live broadcasts, also speaks; New York Philharmonic Associate Director, Media Production, Mark Travis moderates.
"An Evening with Leif Ove Andsnes," October 11, 2017
Learn more about Leif Ove Andsnes, the Philharmonic's Mary and James G. Wallach Artist-in-Residence, as he discusses his education and artistry, and introduces us to the lesser-known works he has selected to perform during his residency. New York Philharmonic Vice President, Artistic Planning, Isaac Thompson, moderates.
"Inside the Orchestra: Working with Bernstein," November 11, 2017
New York Philharmonic musicians past and present reflect on the influential former Music Director as conductor and colleague. This event complements Bernstein's Philharmonic: A Centennial Festival, a three-week celebration of the late Laureate Conductor as composer, interpreter, and educator as part of the global celebration of his 100th birthday year. Philharmonic Archivist / Historian Barbara Haws moderates.
"Inside the Orchestra: Yesterday, Today, and Imagining the Future," December 5, 2017
To mark the 175th anniversary of the New York Philharmonic's first concert, on December 7, 1842, four generations of New YorkPhilharmonic musicians - dating back to 1948 - will join Philharmonic Archivist / Historian Barbara Haws to reminisce about the Orchestra they joined; how it has changed and what has stayed the same; favorite musical moments, accompanied by audio / video excerpts; and a free-wheeling imagining of the Philharmonic of the 22nd century.
"From Stage to Stage: Romeo and Juliet in Music and Dance," January 22, 2018
Although conceived as a ballet, Prokofiev's Romeo and Juliet was premiered in concert performances. Musicologist Simon Morrison, conductor Stéphane Denève, and New York City Ballet corps de ballet member Silas Farley reflect on the ballet - chronicling its conception, the composer's revisions and personal struggles, the political forces that delayed its premiere - and consider Prokofiev's musical language and dramatic sensibility. They will also compare and contrast the work's impact in both concert (as presented by the New York Philharmonic, January 25-27, 2018) and ballet performances (as presented by New York City Ballet, February 13-23, 2018).
"Bernstein's Mahler Marathon: The Sony Recordings," February 25, 2018
On the centennial of Philharmonic Laureate Conductor Leonard Bernstein, the Philharmonic explores his affinity for the music of former Philharmonic Music Director Gustav Mahler through a 13-hour expedition through Bernstein's recordings of Mahler's complete symphonies. Bernstein's marked scores from the New York Philharmonic Leon Levy Digital Archives will be projected in real time. Between each symphony, special guests will read excerpts from Bernstein's own writings on Mahler, and video clips of Bernstein talking about Mahler will be projected. The recordings were released on the Sony / Columbia label and recorded between 1960 and 1967 with the New York Philharmonic (Symphonies Nos. 1-7 and 9) and the London Symphony Orchestra (Symphony No. 8). The participants who will be guiding the listening will be announced.
"Renaissance: An Interactive Concert," March 19, 2018
Kaleidoscope, an ensemble of New York Philharmonic Teaching Artists, presents an interactive concert to demonstrate the Philharmonic's approach to education and how participation deepens the musical experience. These professionals, who combine expertise in performance and engagement to kindle a love of music in students of all ages, examine themes explored in this season's Young People's Concerts for Schools, An African American Legacy: The Harlem Renaissance, to show how listeners of all ages can respond to great works in their own ways.
"Fact or Fiction? Amadeus and the Portrayal of an Artist," April 9, 2018
Miloš Forman's 1984 film adaptation of Peter Shaffer's play Amadeus stands as the most vivid, powerful, and controversial composer biopic of all time, one of the few times classical music was thrust into the American mainstream. Ahead of the Philharmonic's presentation of Amadeus: Live (April 11-14 and 17, conducted by Richard Kaufman), Leonard Bernstein Scholar-in-Residence Michael Beckerman debates the issues, ideas, and ethics of Amadeus.
Insights at the Atrium events are free and open to the public. Seating is available on a first-come, first-served basis. Subscribers, Friends at the Fellow level and above, and Patrons may secure guaranteed admission by emailing AdultEd@nyphil.org. Space is limited. For more information, visit nyphil.org/insights.
ABOUT THE INSIGHTS AT THE ATRIUM PARTICIPANTS:
"Star Wars: Music for a Galaxy" (September 12, 2017)
David Newman is one of today's most accomplished creators of music for film. In his 30-year career he has created the scores for more than 110 films, ranging from War of the Roses, Matilda, Bowfinger, and Heathers to the more recent Five Flights Up and Serenity. His music has brought to life the critically acclaimed dramas Brokedown Palace and Hoffa; top-grossing comedies Galaxy Quest and Throw Mama from the Train; and award-winning animated films Ice Age, The Brave Little Toaster, and Anastasia. Mr. Newman holds an Academy Award nomination for his score to Anastasia, and was the first composer to have a piece - 1001 Nights - performed in the Los Angeles Philharmonic's FILMHARMONIC series, conducted by Esa-Pekka Salonen. Mr. Newman is also a highly sought-after conductor, appearing with leading orchestras throughout the world, including the New York Philharmonic, Los Angeles Philharmonic, San Francisco Symphony, Royal Philharmonic Orchestra, Deutsches Symphonie-Orchester Berlin, Schleswig-Holstein Festival Orchestra, San Diego Symphony, Boston Symphony Orchestra, Philadelphia Orchestra, and The Cleveland Orchestra. The son of nine-time Oscar-winning composer AlfrEd Newman and an active composer for the concert hall, David Newman has composed works that have been performed by the Los Angeles Philharmonic, Indianapolis Symphony, and Long Beach Symphony, as well as at the Ravinia Festival, Spoleto Festival USA, and Chicago's Grant Park Music Festival. He also composed a violin-orchestra suite for Sarah Chang based on the songs from West Side Story. Passionate about nurturing the next generation of musicians, Mr. Newman serves on the Board of the American Youth Symphony, a 51-year-old pre-professional orchestra based in Los Angeles, and in 2010 he served on the faculty of the Aspen Music Festival in the Film Scoring Program. David Newman made his New York Philharmonic debut conducting the score of West Side Story live to the complete film in September 2011; he will have most recently appeared with the Orchestra in May 2017, leading The New York Premiere of E.T. the Extra-Terrestrial in Concert.
Six-time Emmy winner Habib Azar's directing work spans a wide range of mediums from contemporary opera to film and television. His first feature film, Armless, for which he served as director and the score's composer, was an official selection of the Sundance Film Festival and went on to win awards at festivals around the world. His second feature film, Saint Janet, stars Kelly Bishop and was released by Indie Rights. Mr. Azar's stage credits include directing the World Premiere staging of Du Yun's Angel's Bone with the International Contemporary Ensemble, which won the 2017 Pulitzer Prize for Music, and the American Stage Premiere of Georg Friedrich Hass's Atthis with Opera Cabal at the Kitchen. Habib Azar specializes in directing and producing multi-camera live performing arts events for broadcast. Trained as a composer, he combines deep musical knowledge, a distinguished background in narrative storytelling, and the technical capacity to manage ten-plus-camera live broadcasts. He has directed almost 500 hours of network television, and he works regularly at Lincoln Center and Carnegie Hall. He has directed the New York Philharmonic's Facebook Live broadcasts and has filmed the Orchestra regularly for the last five years. Mr. Azar has filmed musicians and ensembles including Lang Lang, Yo-Yo Ma, Renée Fleming, Itzhak Perlman, Wynton Marsalis, Berlin Staatskapelle, Merce Cunningham Dance Company, and Mariinsky Theater Orchestra. Habib Azar is also a producer and director for The All-Star Orchestra, which returns to PBS this fall in its third season.
Mark Travis is the New York Philharmonic's Associate Director, Media Production, and has produced the Orchestra's broadcasts since 2003. He has more than 20 years of experience in the music industry as a writer, producer, broadcaster, lecturer, and audio engineer. Since 2011 he has served as a writer and producer for Chicago's WFMT Radio Network, where he wrote and produced more than 800 nationally syndicated programs, including the Bucksbaum Family Lyric Opera of Chicago broadcasts. As a freelance producer, he has produced English-language broadcasts for the Berlin Philharmonic, Orchestre de la Suisse Romande, Bavarian Staatsoper, Bavarian Radio Symphony Orchestra, and Milwaukee Symphony Orchestra. Mr. Travis also has an extensive discography as a music producer of recordings by artists ranging from the New York Philharmonic to William Warfield, Jenny Lin, Jeffrey Siegel, Susan Merdinger, Maria-Luisa Rayan-Forero, and the Chicago Chorale, released by the Deutsche Grammophon, Naxos, Random House, and Koch labels. An accomplished singer and classical guitarist, Mark Travis has also served as host and producer for numerous podcasts, and his writing has appeared in a number of trade publications, including Opera News. He has moderated events as part of the New York Philharmonic's Insights at the Atriumseries since 2011, and he also serves as a teaching artist for the 92nd Street Y Concerts Schools Project. Mr. Travis is a member of the National Academy of Recording Arts & Sciences and serves on both the Grand Jury and Radio Advisory Board for The New York Festivals International Broadcasting Competition. He has also served as juror and Music Committee Chair for the United States Artists panel in Los Angeles. The three-time Grammy nominee has been the recipient of more than 20 medals and trophies for his broadcast work, including the 2015 Grand Jury Prize from The New York Festivals and an AVA Platinum award.
"An Evening with Leif Ove Andsnes" (October 11, 2017)
Norwegian pianist Leif Ove Andsnes is the 2017-18 Mary and James G. Wallach Artist-in-Residence at the New York Philharmonic. Acclaimed for his commanding technique and searching interpretations, he performs recitals and concertos in the world's leading concert halls and with its foremost orchestras, and is an active recording artist. An avid chamber musician, he is the founding director of the Rosendal Chamber Music Festival, was co-artistic director of the Risør Festival of Chamber Music for almost two decades, and served as music director of California's 2012 Ojai Music Festival. Mr. Adsnes was inducted into the Gramophone Hall of Fame in 2013, and received honorary doctorates from New York's Juilliard School and Norway's University of Bergen in 2016 and 2017, respectively. Mr. Andsnes records exclusively for Sony Classical. His earlier discography comprises more than 30 discs for EMI Classics - solo, chamber, and concerto releases, many of them bestsellers - spanning repertoire from J.S. Bach to the present day. He recently completed Beethoven Journey with the Mahler Chamber Orchestra, in which he led the orchestra from the keyboard in Beethoven's five concertos in residencies around the world, a multiple-season project recorded for Sony Classics. A frequent collaborator with the New York Philharmonic, Mr. Andsnes's 2017-18 season Philharmonic residency features chamber music and a solo recital at David Geffen Hall, as well as performances with the Orchestra in Britten's Piano Concerto, conducted by Antonio Pappano; Rachmaninoff's Piano Concerto No. 4, led by Paavo Järvi; and Debussy's Fantaisie, with Edward Gardner. These concertos figure prominently in his 2017-18 programming: he plays the Britten with orchestras including Zurich's Tonhalle Orchestra, Vienna Symphony, and Deutsches Symphonie-Orchester Berlin; Rachmaninoff with the Bavarian Radio Symphony and Bergen Philharmonic orchestras; and Debussy with the London Philharmonic Orchestra, Orchestre Philharmonique de Radio France, Oslo Philharmonic, and New World Symphony. He embarks on an extensive European recital tour with a program featuring selected pieces by Sibelius, whose unjustly neglected solo piano oeuvre is also the focus of his upcoming Sony Classical release. Leif Ove Andsnes made his New York Philharmonic debut in February 1997 performing Rachmaninoff's Piano Concerto No. 3, conducted by Neeme Järvi. He most recently joined the Orchestra, led by Alan Gilbert, for György Kurtág's ... quasi una fantasia ... and Beethoven's Piano Concerto No. 3 in September 2012.
Isaac Thompson is Vice President, Artistic Planning, of the New York Philharmonic. He has led a multifaceted career as performer, writer, educator, and arts administrator. Appointed director of Artistic Administration for the Cincinnati Symphony Orchestra (CSO) and Cincinnati May Festival in February 2015, Mr. Thompson was responsible for creating and implementing a wide variety of artistic initiatives, including season programming, commissioning, special artistic projects, and recording projects in collaboration with music director Louis Langrée. Notable achievements included spearheading the CSO's innovative Pelléas Trilogy with director / designer James Darrah, as well as launching a new artistic model for the Cincinnati May Festival, resulting in the appointment of Juanjo Mena as principal conductor and Gerard McBurney as the first-ever creative partner. Before he joined the CSO, Isaac Thompson served as vice president of Artistic Planning for the Milwaukee Symphony Orchestra (MSO) for three years, in addition to serving as the MSO's program note annotator for two seasons. While in Milwaukee, he partnered with music director Edo de Waart in producing a much-lauded cycle of Mozart's Da Ponte operas, as well as creating the Milwaukee Symphony Orchestra's Composer Institute in collaboration with the American Composers Forum. Prior to joining the Milwaukee Symphony Orchestra, Mr. Thompson was a member of the artistic team of Music@Menlo, the San Francisco Bay Area's premier chamber music festival, where he worked directly with artistic directors and Musical America's2012 Musicians of the Year, cellist David Finckel and pianist Wu Han. There he was involved in season planning, leading pre-concert discussion events, writing program notes, and helping to design the festival's annual Winter Residency program. Mr. Thompson has consulted on artistic projects with the Chamber Music Society of Lincoln Center, Miró Quartet, ArtistLed, and The International Violin Competition of Indianapolis, and he has given lectures at numerous colleges and universities throughout the United States. As a violinist, Isaac Thompson has performed prolifically, appearing at such festivals as Aspen, Round Top, Great Mountains (South Korea), Opera and Music Theater of Lucca (Italy), Chautauqua, and Northern Lights Chamber Music Festival. He is a graduate of the University of Cincinnati College-Conservatory of Music and The University of Texas at Austin, where he served as a graduate teaching fellow in music.
"Inside the Orchestra: Working with Bernstein" (November 11, 2017)
Barbara Haws has been the Archivist / Historian of the New York Philharmonic since 1984. Ms. Haws, who has a master's degree in history from New York University, has lectured extensively about the Philharmonic's past and has curated major exhibitions in New York and Europe. In the fall of 2003 she mounted the largest-ever multimedia exhibition on the Philharmonic's history, which opened at the UBS Art Gallery and moved to Avery Fisher Hall (now David Geffen Hall). In addition to speaking at the New York Philharmonic, Ms. Haws has lectured at Harvard University, University of Michigan, and The Metropolitan Museum of Art. In 1995 she became the Executive Producer of the Philharmonic's Special Editions record label, which released award-winning and Grammy-nominated CD collections, including the 12-CD set The Mahler Broadcasts:1948-1982; the 10-CD set Bernstein LIVE (released October 2000); and the first new recording in 20 years of Stephen Sondheim's Sweeney Todd: Live at the New York Philharmonic. She has served as president of the Archivist Round Table of Metropolitan New York, and is a founder of New York Archives Week. Barbara Haws, along with Burton Bernstein, is the author of Leonard Bernstein: American Original, published in September 2008 by Harper Collins. Since 2009 she has led the effort to digitize more than 3.5 million pages of archival material from the New York Philharmonic Archives. Generously supported by the Leon Levy Foundation, the project received a major grant in 2016 from the National Endowment for the Humanities and is now freely available online at archives.nyphil.org.
"Inside the Orchestra: Yesterday, Today, and Imagining the Future" (December 5, 2017)
See Barbara Haws's biography above.
"From Stage to Stage: Romeo and Juliet in Music and Dance" (January 22, 2018)
Professor of Music at Princeton University, Simon Morrison specializes in 20th-century music, particularly Russian, Soviet, and French music, with special interests in dance, cinema, aesthetics, and historically informed performance based on primary sources. He is the author of Russian Opera and the Symbolist Movement (California, 2002) and The People's Artist: Prokofiev's Soviet Years (Oxford, 2009) as well as editor of Prokofiev and His World (Princeton, 2008) and, with Klara Moricz, Funeral Games: In Honor of Arthur Vincent Lourié (Oxford, 2014). His biography of Prokofiev's first wife, Lina and Serge: The Love and Wars of Lina Prokofiev (Houghton, 2013), garnered positive reviews in The New Yorker, The Guardian, The Boston Globe, The Daily Beast, and The Wall Street Journal. It was also dramatized as the "Book of the Week" on BBC radio and covered on BBC World News television. Professor Morrison maintains a profile as a public intellectual, having published feature articles and opinion pieces in The New York Times, New York Review of Books, Threepenny Review, London Review of Books, and Times Literary Supplement. He serves as president of the Prokofiev Foundation and edits the journal Three Oranges, produced under its auspices. Currently he is writing a history of the Bolshoi Ballet to be published by Liveright, an imprint of W.W. Norton. Future books include studies of Shostakovich and Tchaikovsky based on new archival sources. In 2005 he oversaw the recreation of Prokofiev's ballet Le Pas d'acier at Princeton, and in 2007 he co-produced a World Premiere staging of Pushkin's Boris Godunov, featuring Prokofiev's incidental music and Vsevolod Meyerhold's directorial concepts. (Both projects were covered in The New York Times.) In 2008 Simon Morrison restored the scenario and score of the original version of Prokofiev's Romeo and Juliet for the Mark Morris Dance Group. The project involved orchestrating the newly discovered, original happy ending plus adjusting the content throughout. He also oversaw stagings of John Alden Carpenter's jazz-ballet Krazy Kat and Debussy's La Boîte à joujoux at Princeton. Professor Morrison's distinctions include the Alfred Einstein Award from the American Musicological Society, an American Council of Learned Societies Fellowship, a Phi Beta Kappa Society Teaching Award, and a Guggenheim Fellowship.
Stéphane Denève is music director of the Brussels Philharmonic, principal guest conductor of The Philadelphia Orchestra, music director designate of the St. Louis Symphony, and director of the Centre for Future Orchestral Repertoire (CffOR). He served as chief conductor of the Stuttgart Radio Symphony Orchestra (2011-16) and music director of the Royal Scottish National Orchestra (2005-12). He has a special affinity for the music of his native France, and is a passionate advocate for new music. As a communicator and educator, he is committed to inspiring the next generation of musicians and listeners, and has worked regularly with young people at the Tanglewood Music Center and New World Symphony. He is a frequent guest with orchestras such as Amsterdam's Royal Concertgebouw Orchestra, Orchestra della Accademia Nazionale di Santa Cecilia, The Cleveland Orchestra, Los Angeles Philharmonic, San Francisco Symphony, New York Philharmonic, St. Louis Symphony, and Toronto Symphony Orchestra. Other recent appearances include the Vienna Symphony, Boston Symphony Orchestra, Munich Philharmonic, Orchestre National de France, Czech Philharmonic, and NHK Symphony. Stéphane Denève has led opera productions at Glyndebourne, Milan's Teatro alla Scala, Deutsche Oper Berlin, Saito Kinen Festival, Gran Teatre del Liceu, Dutch National Opera, La Monnaie, Deutsche Oper am Rhein, Paris Opera, and The Royal Opera, Covent Garden. As a recording artist, he has won critical acclaim for his recordings of the works of Poulenc, Debussy, Ravel, Roussel, Franck, and Honegger. He is a triple winner of the Diapason d'Or of the Year, has been shortlisted for Gramophone's Artist of the Year Award, and has won the prize for symphonic music at the International Classical Music Awards. His most recent releases are a disc of the works of Guillaume Connesson with the Brussels Philharmonic (awarded the Diapason d'Or de l'année, Caecilia Award, and Classica Magazine's CHOC of the Year), and a disc with Lucas and Arthur Jussen and Amsterdam's Royal Concertgebouw Orchestra, both for Deutsche Grammophon. Stéphane Denève made his New York Philharmonic debut in February 2015, leading works by Faure, Tchaikovsky, and The New York Premiere of James MacMillan's Piano Concerto No. 3, The Mysteries of Light, with pianist Jean-Yves Thibaudet.
Silas Farley is a member of New York City Ballet's (NYCB) corps de ballet. He began training at age seven at King David Christian Conservatory in Charlotte, North Carolina. At nine he was accepted on scholarship into Charlotte Ballet Academy (then North Carolina Dance Theatre), where his teachers were NYCB alumna Patricia McBride, Kathryn Moriarty, and Mark Diamond. At 14 Silas Farley attended the summer course at the School of American Ballet (SAB), the official school of NYCB, and was then invited to enroll as a full-time student. A choreographer since age 11, he created ballets for SAB's 2010 and 2011 Student Choreography Workshops, for the 2013 and 2014 SAB Winter Balls, for three sessions of SAB's Summer Choreography Workshop, and for both the summer 2012 and spring 2015 sessions of The New York Choreographic Institute. In the summer of 2017 he served as the choreographer for the Practicing Silence workshop at Grace Farms Foundation in New Canaan, Connecticut. In 2012 he was one of two advanced SAB students selected by Peter Martins for a student teaching pilot program at SAB. Silas Farley has served as a Teaching Fellow on SAB's faculty since January 2016. He has guest taught for Charlotte Ballet, Ballet Austin, and Southern Methodist University, and he conducted a weeklong series of masterclasses in the fall of 2016 on the teaching and work of George Balanchine at The Academy of the Performing Arts in Bratislava, Slovakia. Mr. Farley was an inaugural Jerome Robbins Dance Division Fellow at The New York Public Library for the Performing Arts, which included his writing an essay that compared the lives and works of August Bournonville and George Balanchine. The recipient of SAB's 2012 Mae L. Wien Award and Lincoln Center's 2015 Martin E. Segal Award, he became an apprentice with NYCB in August 2012, and joined the Company as a member of the corps de ballet in August 2013.
"Renaissance: An Interactive Concert" (March 19, 2018)
Kaleidoscope is an ensemble of Teaching Artists of the New York Philharmonic. The New York Philharmonic Teaching Artist Faculty is composed of professional performers and educators who bring a depth of passion, education, and experience to their teaching artistry. Their credentials include doctorates in music and education, success as published composers and authors, and acclaim as active, internationally-renowned performers. They are committed to producing innovative and transformative educational experiences, whether the audience is a classroom of third graders, a high school orchestra, or an auditorium of families. Their dedication and musicality have made the Philharmonic Schools program - in which they partner with elementary school teachers in all five boroughs of New York City - a successful and engaging model for educators around the world.
"Fact or Fiction? Amadeus and the Portrayal of an Artist" (April 9, 2018)
Michael Beckerman, The Leonard Bernstein Scholar-in-Residence at the New York Philharmonic for the 2017-18 season (a role he previously served in during the 2016-17 season), is Carroll and Milton Petrie Chair and Collegiate Professor of Music at New York University. He has written articles on such subjects as film scoring; music of the Roma (Gypsies), Mozart, Brahms, exiled composers, and music in the camps; and many studies and several books on Czech topics, including Dvo?ák and His World (Princeton University Press, 1993), Janá?ek as Theorist (Pendragon Press, 1994), New Worlds of Dvo?ák (W.W. Norton, 2003), Janá?ek and His World (Princeton, 2004), and Martin?'s Mysterious Accident (Pendragon, 2007). He has been a frequent contributor to The New York Times and was a regular guest on Live From Lincoln Center and other television and radio programs in the United States, Europe, and Japan. Dr. Beckerman lectures nationally and internationally and has organized many concerts and symposia. He was awarded the Janá?ek Medal by the Czech Ministry of Culture, is a recipient of the Dvo?ák Medal, is a Laureate of the Czech Music Council, and has twice received the Deems Taylor Award. He was chair of The New York University Department of Music (2004-13), served as distinguished professor at Lancaster University (2011-15), and last year received an honorary doctorate from Palacký University in the Czech Republic. The Leonard Bernstein Scholar-in-Residence at the New York Philharmonic program honors and recognizes the enduring contribution of Leonard Bernstein, the Orchestra's Music Director from 1958 to 1969 and subsequent Laureate Conductor. The position was created in the 2005-06 season to coincide with the 15th anniversary of Bernstein's death, on October 14, 1990. Charles Zachary Bornstein served as the first Leonard Bernstein Scholar-in-Residence, from 2005-06 through 2007-08. New York Philharmonic Program Annotator James M. Keller, The Leni and Peter May Chair, held the post in the 2008-09 season; baritone Thomas Hampson, in combination with the role of The Mary and James G. Wallach Artist-in-Residence, in 2009-10; Jack Gottlieb, in 2010-11 until his untimely passing in February 2011; Harvey Sachs, through the 2012-13 season; Carol J. Oja, through the 2014-15 season; and Matthew Mugmon in the 2015-16 season.
Related Articles
More Hot Stories For You