Click Here for More Articles on SHAKESPEARE IN THE PARK
NEA Confirms It Did Not Fund The Public's Trump-Themed JULIUS CAESAR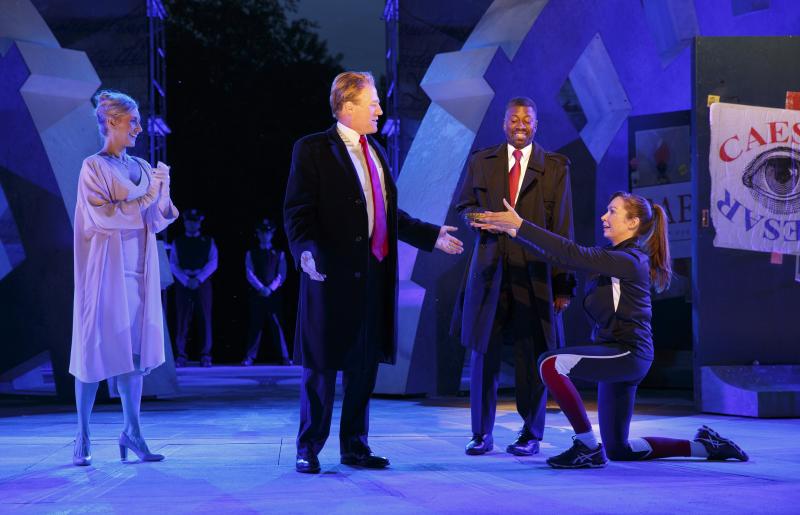 Following news that two major sponsors, Delta Air Lines and Bank of America, had pulled financial support for The Public Theater in response to their Donald Trump-themed Shakespeare in the Park production of JULIUS CAESAR, the National Endowment for the Arts has clarified in a statement that none of its funds have been used to support the show.
"The National Endowment for the Arts makes grants to nonprofit organizations for specific projects," the organization wrote. "In the past, the New York Shakespeare Festival has received project-based NEA grants to support performances of Shakespeare in the Park by The Public Theater. However, no NEA funds have been awarded to support this summer's Shakespeare in the Park production of Julius Caesar and there are no NEA funds supporting the New York State Council on the Arts' grant to Public Theater or its performances."
The Public released a statement on the controversy earlier today, saying: "We stand completely behind our production of 'Julius Caesar.' We recognize that our interpretation of the play has provoked heated discussion; audiences, sponsors and supporters have expressed varying viewpoints and opinions. Such discussion is exactly the goal of our civically-engaged theater; this discourse is the basis of a healthy democracy. Our production of 'Julius Caesar' in no way advocates violence towards anyone. Shakespeare's play, and our production, make the opposite point: those who attempt to defend democracy by undemocratic means pay a terrible price and destroy the very thing they are fighting to save. For over 400 years, Shakespeare's play has told this story and we are proud to be telling it again in Central Park."
Julius Caesar, Shakespeare's play of politics and power, was last seen in the Park 17 years ago. Rome's leader, Julius Caesar, is a force unlike any the city has seen. Magnetic, populist, irreverent, he seems bent on absolute power. A small band of patriots, devoted to the country's democratic traditions, must decide how to oppose him. Shakespeare's political masterpiece has never felt more contemporary.
The complete cast of Julius Caesar will feature Tina Benko (Calpurnia); Teagle F. Bougere (Casca); Yusef Bulos (Cinna the Poet); Eisa Davis (Decius Brutus); RoBert Gilbert (Octavius); Gregg Henry (Caesar); Edward James Hyland (Lepidus, Popilius); Nikki M. James (Portia); Christopher Livingston (Titinius, Cinna); Elizabeth Marvel (Antony); Chris Myers (Flavius, Messala, Ligarius); Marjan Neshat (Metullus Cimber); Corey Stoll (Marcus Brutus); John Douglas Thompson (Caius Cassius); and Natalie Woolams-Torres (Marullus). The non-equity company will include Isabel Arraiza (Publius Clitus); Erick Betancourt; Mayaa Boateng (Soothsayer); Motell Foster (Trebonius); Dash King; Tyler La Marr (Lucillius); Gideon McCarty; Nick Selting (Lucius, Strato); Alexander Shaw (Octavius' Servant); Michael Thatcher (Cobbler); and Justin Walker White (Pindarus).
JULIUS CAESAR will feature scenic design by David Rockwell; costume design by Paul Tazewell; lighting design by Kenneth Posner; sound design by Jessica Paz; original music and soundscapes by Bray Poor; and hair, wig, and makeup design by Leah J. Loukas.
Photo Credit: Joan Marcus