Music Before 1800 to Continue 43rd Season with CONSTANTINOPLE at Corpus Christi Church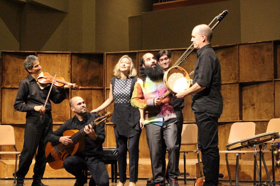 NYC's longest-running early music series Music Before 1800 continues its 43rd season on Sunday, December 17 at 4PM at Corpus Christi Church with Constantinople.
The intrepid and ever-curious Montreal-based ensemble, with Director/Co-Founder Kiya Tabassian, presents Metamorfosi: Baroque Impressions.
The group, joined by soprano Suzie LeBlanc, will perform madrigals by Claudio Monteverdi, Barbara Strozzi, Stefano Landi, and others. LeBlanc is among the most sought-after early music vocalists of her generation. Her lithe soprano voice will accompany an ensemble featuring the bold addition of setar and percussion. Interspersed are Giovanni Girolamo Kapsberger's quirky and imaginative instrumental pieces. To salute the season, music for the nativity rounds out this lively program.
---
IF YOU GO:
CONSTANTINOPLE
Metamorfosi: Baroque Impressions
Sunday, December 17, 4PM
Corpus Christi Church
529 West 121st Street
Tickets: $10-50
212-666-9266 / www.mb1800.org
---
MB1800, a NYC institution, is the city's longest-running series devoted exclusively to early music. Since the series' inception, concerts have been presented at Corpus Christi Church in Morningside Heights, giving audiences a uniquely satisfying experience. The 2017-18 season places an emphasis on choral music (especially Renaissance), welcoming back esteemed vocal ensembles Stile Antico, Blue Heron, and Cappella Pratensis. Series debuts will be made by exciting NYC ensembles LeStrange Viols and House of Time.
Louise Basbas is the founder and director of the series. The New Yorker praised MB1800, calling it "the essential series." Time Out New York remarked: "The resonant acoustics of Corpus Christi Church will deliver you into your own personal solitude.... Few other venues can claim this fusion of strong programming and quality auditory surroundings."