Michael Moore Among Artists Recognized At United Solo Festival Gala
United Solo, the world's largest solo theatre festival, concluded its eighth season with a Gala at Theatre Row in New York. Throughout its ten-week run, the festival offered 120 stage productions, representing six continents, performed mostly in English, but also in Bulgarian, French, German, Italian, Japanese, Polish, Russian, Spanish, and - in the category of physical theatre - through body language. Nearly 60 shows sold out, and were presented several times due to popular demand. Fiona Show called United Solo "the mecca of the solo shows in the world." This past season, the festival presented productions created by new talents, as well as show business veterans, including Oscar winner Milton Justice and Emmy winner Bill Oberst Jr. This year's festival also offered Master Classes led by Pau Aran Gimeno, a performer at Tanztheater Wuppertal Pina Bausch; James Lecesne, an actor, activist, author of the screenplay for an Oscar-winning film; and Austin Pendleton, a renowned actor and director, and a recipient of the Drama Desk Special Award.
At the Gala held on Sunday, November 19, 2017 many artists were recognized with awards for their achievements in the art of solo performance. On behalf of the United Solo Academy, Omar Sangare, the Artistic Director of the festival, presented the United Solo Special Award to Michael Moore for his show, "The Terms of My Surrender." In his acceptance speech, Mr. Moore said: "I wanted to stand in a room with a few hundred other people each night and have a conversation. I have never done that in that way before - it was very powerful," and added "It's that connection to the people in the room, and that the cliché that no two audiences are the same, turns out to be true."
The full list of 2017 United Solo Award winners includes:
Best Production: "'A' TRAIN" by Anne Torsiglieri, directed by Risa Brainin
Best Direction of a Play: Gretchen Cryer, "Reconciliation," "CALL MY PUBLICIST!" & "MAD...OR DAD?"
Best Direction of a Musical: Milton Justice, "FROM SHIP TO SHAPE"
Best One-Man Show: "TENNESSEE RISING" by Jacob Storms
Best One-Woman Show: "All In Good Time" by Tulis McCall
Best Encore: "Beat the Devil!" by Glen Williamson
Audience Award: "Everything Is Fine Until It's Not" by Doreen Oliver
Best Actor:
John Fisher
in "A History of World War II: The D-Day Invasion to the Fall of Berlin"
Best Actress: Megan Metrikin in "Finding Fellini"
Best Comedian: Guerassim Dichliev in "A Monologue With A Suitcase"
Best Mime:
Bill Bowers
in "BEYOND WORDS"
Best Storyteller: Christina Augello in "Denial Is A Wonderful Thing" Best International Show: "Spirit of the Ring" by
Andrew Dawson
Best Drama: "Brazil" by Angus Chisholm
Best Comedy: "The Very Perry Show" by Kate Perry
Best Storytelling Show: "Let Me Spell It Out For You" by
Todd Cerveris
Best One-Woman Musical: "FRENCHY" by Jen Fellman
Best One-Man Musical: "FROM SHIP TO SHAPE" by
Walker Vreeland
Best Physical Theatre: "Hide Your Fires" by Yokko
Best Autobiographical Show: "MAN" by Steve Berglund
Best Avant-Garde Show: "Freebird Goes to Mars" by Betsy Moore
Best Poetry Show: "Rahmell's INFERNO" by Rahmell Peebles
Best Satire: "What would Cathy do?" by Skye Wansey
Best Cabaret: "Mad Women in my Attic!" by Monica Salvi
Best Stand-Up: "Even Olympians Have Asthma" by Rosemary Cipriano
Best Experimental Show: "Star-Crossed: Dances for Lovers" by Deborah Lohse
Best Educational Show: "Memoirs of A Painted Woman" by Karleigh Chase
Best Horror: "
Ray Bradbury
's Pillar Of Fire" by Bill Oberst Jr.
Best Concert: "Sing Bibi Sing" by Elise Arndt
Best Performance Art: "Eden, transplanted" by Eva Petric Best Storytelling Script: "My Stroke of Luck" by Diane M Barnes,
David Ford
Best Non-Fiction Script: "CALL MY PUBLICIST!" by
Joshua Ellis
Best Educational Script: "DISORDER" by Natalie Blackman
Best Premiere: "One Woman" produced by Ego Actus, starring
Pooya Mohseni
Best Emerging Actor: Justin Lemieux in "Warm Soda"
Best Emerging Actress: Ana González Bello in "245 Acts of Unspeakable Evil"
Best Festival Debut: Kaye Winks in "Token" Best Choreography:
Janis Brenner
, "Eden, transplanted"
Best Production Design:
Guy de Lancey
, "Finding Fellini"
Best Lighting Design: Derek Van Heel, "Hide Your Fires"
Best Costume Design: Deepsikha Chatterjee, "Hide Your Fires"
Best Sound Design: Jorge Olivo, "Hide Your Fires"
First Sold-Out Show: "Regeneration" by Nancy Rappaport For eight years now, United Solo has supported members of the performing arts community by fundraising for The Actors Fund - which helps professionals in times of transitions; and this year, especially those impacted by Hurricanes Irma, Harvey, and Maria. The Festival also joined efforts to promote services provided by the newly-opened Friedman Health Center for the Performing Arts. On behalf of The Actors Fund, David Engelman, Director of Communications and Marketing, accepted a check for the donation, and offered his gratitude to thousands of audience members at United Solo this season, and to artists who brought their performances to the stage at the festival.
Through its mission, United Solo continues to share local and international talents, discover original stories, connect artists with their audiences, exchange diverse perspectives, foster a dialogue for change, entertain, and now also educate through its newly developed professional training program led by distinguished artists and cultural icons.
Artists and companies interested in being presented at The United Solo Festival at Theatre Row on 42nd Street in New York in 2018 are now welcome to submit their applications. Instructions can be found online at www.unitedsolo.org/submit
*The winner of the Audience Award was chosen in an online poll, presented in partnership between United Solo and Backstage Magazine.
**Winners are selected by an independent panel of over seventy theatre professionals, including The United Solo Academy Members.
Related Stories
More Hot Stories For You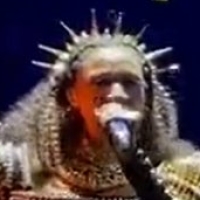 Video: The New Queens of SIX Perform A Fabulous Finale for Their First Performance!

December 5, 2022

The Broadway production of SIX, the hit musical by Toby Marlow and Lucy Moss, welcomed its newest cast of queens tonight! See video of Broadway's newest Tudor pop divas in action here!
---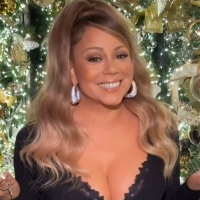 Video: Mariah Carey Takes Part in Radio City Rockettes Tik Tok Challenge

December 5, 2022

Watch Mariah Carey's TikTok stitch, joining in on The Radio City Rockettes' new TikTok challenge – #ChristmasObsessed.
---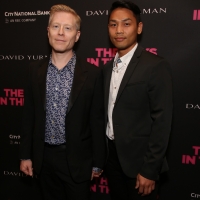 Anthony Rapp and Ken Ithiphol Welcome First Child

December 5, 2022

Anthony Rapp and Ken Ithiphol have a son! Rapp shared to Instagram, 'Ken and I are thrilled to share that our family has grown! Our son, Rai Larson Ithiphol, was brought into the world on Friday, December 2, 2022, by an incredibly generous surrogate, to whom we are eternally grateful.'
---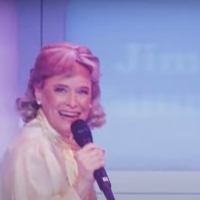 Video: See Katie Brayben & Andrew Rannells in TAMMY FAYE World Premiere at The Almeida Theatre

December 5, 2022

See footage from the world premiere of Tammy Faye, a new musical from Elton John, Jake Shears and James Graham, that ran at The Almeida Theatre from October 13 - December 3, 2022.
---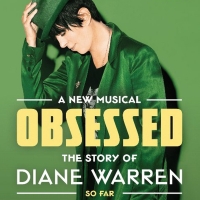 New Musical OBSESSED, THE STORY OF DIANE WARREN...SO FAR in Development, Directed by Kathleen Marshall

December 5, 2022

OBSESSED, The Story of Diane Warren...so far, a new musical based on the incredible life of one of the most famous and successful songwriters of all time, is in development.
---